A new, gleaming sign hangs on top of the Canadian Mental Health Association storefront on Gottingen Street. That sign would not have been possible without Catherine Giffen.

A fourth-year Commerce student at Dalhousie, Giffen spent her third co-op term working for the Canadian Mental Health Association (CMHA) with the help of the C3 Mentoring Program, formerly known as the National Mentoring Program.

"The third co-op term was the cherry on top of the cake of awesomeness," says Giffen.  

She was not the only who benefitted. The C3 Mentoring Program, organized by Dalhousie Management Career Services, pairs corporate sponsors with not-for-profit organizations, funding a student's job at the organization for the summer co-op term.

The program was recently renamed the C3 Mentoring Program to better illustrate what it does and how it makes a difference. The three Cs stand for "Corporate Community Connectors."

"It provides the not-for-profits the chance to have an extra person work for them and get additional projects accomplished," Giffen says
Support for local non-profits

This year, with the help of the C3 Mentoring Program, six Management and Commerce students from Dalhousie were sponsored by companies, including Giffen's sponsor, Emera Inc. These six students were paid a living wage to work at not-for-profit organizations.

"To have that extra human resource was just a tremendous support to the other staff and volunteers," says Margaret Murray, the CMHA branch manager and Building Bridges coordinator. "I think people underestimate what this kind of position can bring."

Giffen had worked for not-for-profit organizations for her other two co-op jobs but says her time at CMHA solidified her passion for using her Commerce degree in the not-for–profit sector.

"The power of seeing your work go back to the people right in your community is so empowering, fulfilling and enlightening," Giffen said.

After applying for the C3 Mentoring program, Giffen was selected for an interview with the CMHA.  She was hired as the storefront developer and Mosaic for Mental Health coordinator.

"Not only did she bring a lot of skill, creativity and new ideas, but she has brought a lot of enthusiasm," said Murray. "It was wonderful to have Catherine around for the summer."
Taking the initiative

The Halifax branch of CMHA moved to its new Gottingen Street location in July, which gave Catherine two months of preparation and two months of implementation to make the storefront look professional.

She was in charge of designing the storefront, which acts as a hub for mental health services and as a store to sell mosaic tiles, an ongoing fundraiser for the organization. And she had to be cost-efficient and resourceful.

She found colour-coordinated curtains and affordable furniture, and designed the layout of the mosaic tiles to make them attractive for purchasing. The tiles, which are sold for $25, are painted by artists and locals around the community and sold at the annual Mosaic for Mental Health fundraiser. The leftover tiles are sold in the store.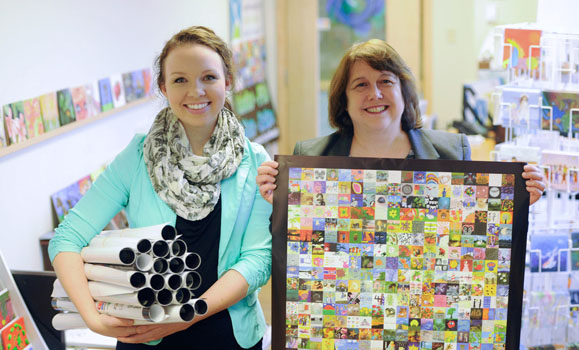 Giffen (left) with CMHA's Margaret Murphy.
She says her greatest accomplishment was the sign that identifies the CMHA office for passersby.

"We've never had a sign before, and signs are very expensive," she says. It took a month to acquire and hang a sign.

"The main purpose of the storefront is mental health services and that huge sign helps guide people in," Giffen says. "It's so people know [the services] are here and are able to seek help if they need it.
Careful coordination

Giffen's other task at the CMHA was to help coordinate the Mosaic for Mental Health event by supporting the event's committee, keeping in contact with existing tile artists, establishing new artists and seeking sponsorship for the event.
 
The CMHA doubled its sponsorships for the Mosaic for Mental Health this summer.

"For me, it didn't feel like a stereotypical job; the entire focus was helping people," GIffen says. "It wasn't going to me, it wasn't going towards my bosses; it was going directly to the people in the community."

The CHMA Social Club, which is a meeting place and hub for mental health services, sits behind the storefront on Gottingen Street.

"It was easier to work 150 times harder because you could see directly in front of you where the money was going. It's for the people in Halifax, and in Dartmouth," she said.

Mentorship support

The C3 Mentoring Program also pairs the students up with a mentor from the corporate sponsor who is available for advice and guidance in the field.

Giffen's mentor, Anne-Marie Curtis, director of marketing and sales at Nova Scotia Power, was able to give Giffen a second professional point of view on the projects she was working on when they met a few times each month.

"My involvement provided an opportunity for Catherine to get different ideas about her work than she had already received from other channels," says Curtis. "She filled an immediate need for the organization, its clients and the community neighbourhood and it was rewarding for me to be involved."

The combination of a mentor in the corporate world and the experience working in a not-for-profit agency solidified Giffen's passion.

"I've always wanted to work for not-for-profit but the overall experience at CMHA has reaffirmed that and now I know without hesitation that's what I'm supposed to be doing with my life."
Learn more about the C3 Mentoring Program at its website.