Racism is softly killing African Canadians, according to Dr. Wanda Thomas Bernard.

Dr. Bernard's talk last Thursday, part of the Distinguished Lecture Series of the James Robinson Johnston Chair in Black Canadian Studies, made explicit a topic that parts of society are often too quick to ignore.

"There are still people who believe that racism doesn't exist," she said.

Dr. Bernard presented her research showing evidence on how racism and violence affects the mental health and well-being of African Canadians.

Dr. Bernard, who has been awarded the Order of Canada and recently the Order of Nova Scotia, joined Dalhousie's faculty full-time in 1990.  She was the first African Nova Scotian to be hired in a tenure track position.

With 25 years of research and 39 years of social work practice, Dr. Bernard presented evidence as to how racism is "killing us softly" from two different research projects. One study looked into how racism and other forms of violence impacts African Canadian men, their families and communities in Toronto, Halifax and Calgary. The second project looked at how racism is affecting the health of African Canadian women, as well as their families and communities in rural Nova Scotia.

She said people were lining up to participate in the studies.

"They became involved because they really believed in the project," she said, acknowledging the drastic shortfalls in existing academic literature about health issues for African Canadians.
Mental health effects

Evidence from her research showed that African Canadians are feeling the mental health effects from racism in communities, workplaces, places of education and from the system, as a whole.

According to Saper's Canada's Prison Watchdog, there has been 69 per cent increase in African Canadians among the Canadian prison population in the past 10 years — the highest rate of increase of any ethnic group.

The Canadian Government doesn't collect health data by race which, Dr. Bernard explained, is creating discrepancies and injustices to the health of African Canadians.  

One nine-year-old participant in her studies said that she sometimes missed school because she hates being called names. "They make me hate myself," she said.

"That sense of hopelessness creeps into our souls; racism is killing us softly," said Dr. Bernard.
Finding "critical hope"


She discussed how changing these realities requires community-driven action, starting in the political arena. There needs to be "critical hope," a concept she described as, "hopeful action that is based on the critical analysis of a situation."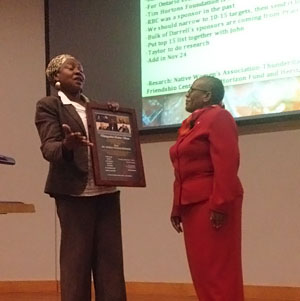 That starts with community, including teaching children how to deal with racism and politicizing the issues.  We also need to facilitate institutional change.

"It's not that our issues aren't being addressed; they aren't even being identified," she said.

Quoting Ghandi, she said that in this case, "being the change" isn't enough to address and resolve the real effects of racism.

"We need to lead the change. I want change yesterday, not 10 years from now."

Following the lecture, a community member said "we need more discussion on this; it could even be a lecture series.. The James R. Johnston Chair will partner with others to continue the dialogue on this important topic.

The James R. Johnston Chair is a national academic post based at Dalhousie focused on making a significant contribution to black studies in Canada and bridging the academic community with communities beyond the university. Learn more about the chair at its website.