A pillowcase filled with candy and chocolate bars is sweet, but playing a role in ending local hunger is even sweeter.

Over 75 costume-clad Dal students volunteered their time last Friday night to participate in Trick or Eat, a national youth-led event that puts a new spin on the Halloween spirit of giving. Instead of asking for candy, Trick or Eaters raise awareness about local hunger and go door-to-door to collect non-perishable food items for local food banks. The Dal event was a partnership between the Dal Student Union, Feed Nova Scotia and the Dal After Dark program.

Prior to the event, student and community volunteers gathered in the lobby of the SUB to learn briefly about local hunger and break into teams of 3-5. Since both Dal and SMU participated in the event, Halifax was separated into zones to ensure that houses would not be visited more than once. Trick or Eaters received shopping carts to collect cans, pamphlets to raise awareness about local hunger and maps of their route, each of which took around two hours to complete.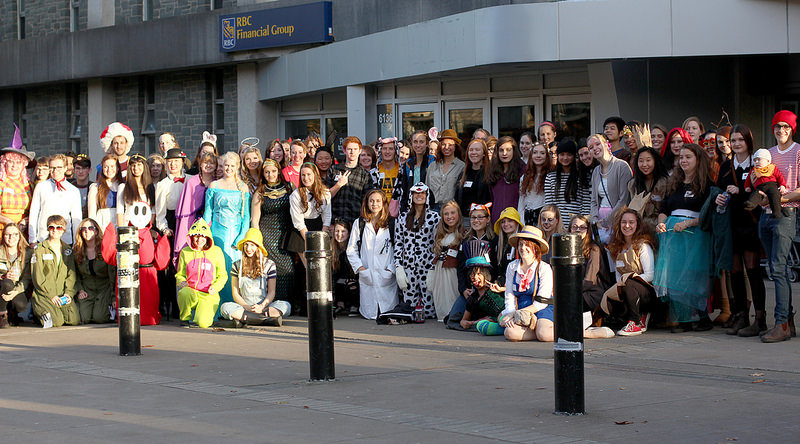 "It's so rewarding too to see students giving up their Friday night and spending their Halloween doing something like this," said Jessica Burrage, treasurer and veteran member of the Dalhousie Meal Exchange society. "I think it's important to give students an opportunity to serve in their community, because there are so many needs here, and there are so many people who benefit from organizations like Feed Nova Scotia."

This was Burrage's second year participating in the Trick or Eat event, and she's pleased with how the number of volunteers has grown. While this year's event was presented by the DSU, Burrage and other members of the Dal Meal Exchange facilitated last year's Trick or Eat. She said the support and funding from the DSU will help make this event bigger and even more successful in the coming years.
Fighting fear, fighting hunger

For Shannon Hall, a third year Oceanography student, volunteering in the event was a no-brainer. "Halloween is meant to be scary, but what's even scarier are the statistics around hunger in Canada," she said.

And indeed, the numbers are more frightening than any costume. According to a 2013 report, the rate of food insecurity in Canada has increased 15 per cent since 2012. Currently, there are 1.4 million Canadian households that experience food insecurity, and 4 million individuals who do not have access to safe, nutritious and affordable food. One of the major ways combat hunger is through food donation, making the Trick or Eat initiative an important event for the Dal After Dark program of campus activities.

"Halloween is such a busy time of year and people spend crazy amounts of money on costumes, decorations, and candy; it's easy to lose sight of what's important," said Olivia Croxall, a third-year Biology major who volunteered as a Trick or Eater this year. "This event is reminding people to give back to the community we live in."

Following the event, all food donations and monetary proceeds collected will go directly to Feed Nova Scotia to aid in their fight against local hunger.

"Feed Nova Scotia gives food to people who may not otherwise get it," said Hall. "And if we can help, why wouldn't we?"
In total, the students collected 1,370 kg (3020 lbs) of food items, as well as $350 in coin donations. Put together, using Meal Exchange's calculation formula (1 lb of food as $2.50, $1 as one potential meal), a total of 7,901 potential meals were collected over the course of the evening.