For the fourth year in a row, Dalhousie has been named one of Canada's Top 100 Employers. The list of 100 organizations was published in today's Globe & Mail.

"Dalhousie continues to make the list year after year, and it is a true testament to our dedicated faculty and staff," said President Richard Florizone. "The university is a special place to work and it is in large part because of the incredible sense of community that our employees have helped create."

Dalhousie is among only five universities in the country to receive the prestigious recognition this year.

"The university is committed to providing its faculty and staff a positive working and learning environment, and one that is diverse and inclusive," says Katherine Frank, assistant vice-president, Human Resources. "We continue to work hard to ensure that Dal is viewed by its faculty and staff as a valued employer."
Caregiver support for employees

In this year's Top 100 citation, Dal earned an "A" rating in "Health and Family Friendly Benefits," which highlights such benefits as parental leaves, flexible work schedules, telecommuting and eldercare support.
Many of the university's employees are raising a family, working full time and sometimes caring for an elderly parent or loved one. This generation, known as the "sandwich generation," faces particular challenges with being a caregiver while working.

Recognizing the need, Janice MacInnis, manager of organizational health with Human Resources, began a caregiver support group in 2012 to provide employees a place to talk with people facing similar situations and to provide support and resources to help caregivers.

Kim Stewart, University Pathways manager with the College of Continuing Education, is a member of the support group. She cares for her elderly mother who has osteoarthritis, is raising a teenage daughter, and supports her husband who has been out of work for some time.

"It is so great to have this support group and I look forward to going whenever we get together," says Stewart. "It's amazing that as new people join the group, I can always find common ground with them.

"It is also a great forum to ask questions about things we don't know such as power of attorney and assisted living facilities," adds Stewart. "The best thing is just knowing that you're not alone on this journey. It is difficult as a child to see your parent in a needy and vulnerable situation, dependent on you."

The caregiver support group meets quarterly throughout the year, and is open to all faculty and staff. Notice of the meetings is posted regularly to the Today@Dal newsletter, inviting employees to attend. When needed, experts come to speak to the group about a particular topic that is of interest to caregivers. In January, for example Faye Woodman of the Schulich School of Law will speak about documents related to caregiving, such as power of attorney and personal care directives. She was a caregiver for her mother and says she wished there was such a support group for her then.
A place to share, to connect

Violet Beattie, senior clerk with the Processing Unit of the Registrar's Office, is also a member of the support group. She cares for an elderly woman at her church, who has dementia and is like family, while she works full-time at Dalhousie. She works part-time as well, all while taking care of her own family.

"More people need to know about the caregiver support group offered at Dal," says Beattie. "You get the support and guidance that you need to make it through those challenging days, and if you need a shoulder to cry on, a hug or a word of encouragement, you can get that, too.

"As a caregiver, there are days which are extremely stressful and are like an emotional roller coaster," she adds. "You will have good days and bad days, and as the disease of dementia progresses for your loved one, the bad days will sometimes outweigh the good. It is very important for you to surround yourself with positive individuals who understand and encourage you every step of the way."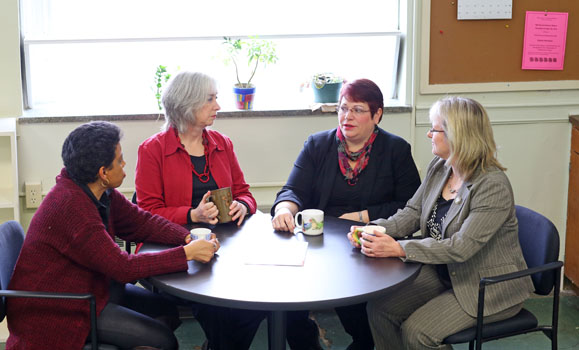 Paula Beed, administrative secretary for ITS Business Operations, has attended the support group since its inception. She cares for her two elderly parents, both 91 years old, along with other members of her immediate and extended family.

"There is something comforting to know that you are not alone in giving caregiver support," she says. "I encourage others who are caregivers to attend the support group sessions. You will surely find benefits and you might even hear a similar story to your own."

Brad Meisner, assistant professor in the School of Health and Human Performance (Division of Health Promotion), attended one of the support group sessions and has since begun a research project that will look at the employed caregivers' experiences with their work and caregiving roles and will explore potential strategies to promote personal health and workplace productivity.

"The roles that people juggle who are caregivers are tremendous, all while trying their best to be a good employee on top of everything," says Janice MacInnis. "My hope is that this research project will help inform the development of a caregiving policy or set of guidelines for Dal. That would put us well ahead of many employers in Canada."  

Interested in joining the group? Email HealthyDal@Dal.ca to be added to the caregiving contact list.
Continuing to improve

Being named one of Canada's Top 100 Employers is cause to celebrate the university's achievements, says Katherine Frank, and also a reminder of how important it is to receive feedback from Dal's faculty and staff and to act on it.

Dalhousie conducts a bi-annual workplace survey for faculty and staff, and will be launching its fourth one in the spring 2015.

The 2013 survey results [PDF], along with the 100 Days of Listening report, gathered valuable input from faculty and staff that helped shape the university's Strategic Direction launched earlier this year.

One of the initiatives that stems from the new strategic priorities is the development of a human resource strategy that will focus on performance development, offering more support for leaders and strengthening the labour relations culture to ensure it aligns with our HR strategy and values.

"While we are very proud to be recognized as one of Canada's Top 100 Employers, we also understand that we have work to do to make Dal an even better place to work," adds Katherine Frank.

See the complete list of employers and read Dal's citation at the Canada's Top 100 Employers website.