College Royal holds a special place on the Dalhousie Agricultural Campus. The decades-old tradition honours the history of the Faculty of Agriculture while encompassing livestock showmanship, agriculture awareness and good old-fashioned fun. Hundreds of students continue to participate each year in the livestock demonstration, showing dairy, poultry or sheep as well as participating in Farmers' Olympics.

The weekend kicked off with Farmers' Olympics on Thursday night at MacMillan Show Centre. Activities such as a hay bale toss, wheelbarrow race, straw bale roll, fertilizer tote race, tug-of-war and, of course, the infamous milk chug, took place with 10 teams of four. The large number of first-year student participants will certainly ensure this tradition lives on.

The livestock show on Friday afternoon saw more than 200 students participate including a full roster of faculty and staff.  Joy Galloway-Jones from Extended Learning was excited to show her cow, Amelia. "This is my first time showing a cow and I'm going to do my best!" Galloway-Jones worked with a group of students who helped prepare Amelia for the show. 
Dean David Gray was on hand to take in the livestock show, held at the Ruminate Animal Centre on campus. "Getting faculty and staff in here, working with students is really important; it builds the collegiality of the campus," he said. "I respect all the students who show, especially those that have never done this before."

Ben Hollingsworth, student co-chair for College Royal, also highlighted this distinctive feature. "It's an event that gives people from non-farming backgrounds a chance to work with animals hands-on."
Preparation, presentation

Fourth-year Animal Science student Sarah MacDonell worked as co-chair for College Royal with Hollingsworth. "College Royal was one of the first events I took part in on campus so I figured it would be a suitable fit to finish with it as well," she said.

First-year students and sheep handlers Laura Groves and Ashley Oates heard about College Royal through the Pre-Vet Club. "I had no experience with farm animals or 4-H but wanted to get involved," explained Groves. College Royal was the perfect opportunity to do just that.  
   
Much time and work goes into preparing an animal for the livestock show. Heifers and sheep must be washed and clipped and sheep's wool must be carded. Students spend a great deal of time practicing leading their sheep or cow.  


On show day, students could be seen putting the last minute touches on their animals before they entered the show ring. Classes included Novice and Experienced Sheep and Dairy, and Open Poultry. Students were judged on showmanship: how the student handled the animal, how they addressed the judge and so on. Despite pouring rain for much of the afternoon, students and judges did an exceptional job, drawing out a large crowd of spectators.
A new celebration


This year's College Royal featured a new honour.  One of Dalhousie Agricultural Campus' most beloved professors, Nigel Firth, passed away in May 2014. He was a favorite among students and fellow colleagues for generations, withhands-on demonstrations and valuable class lectures that left a mark on students fortunate enough to have been taught by him. Dr. Firth never missed a College Royal and was always there to cheer on students.

To recognize his dedication to the Faculty of Agriculture, chairs Hollingsworth and MacDonell worked to rename the Grand Champion Livestock Award in Dr. Firth's honor.

"Dr. Firth was a legend here on campus and will forever be remembered for his unique teaching style, his very gentle, loving personality and the occasional belt made of hay string," said Hollingsworth. "Every year no matter the weather, Dr. Firth was at ringside supporting his former and current students.  It was a natural choice to name the top award after the greatest College Royal supporter."

Keltie Jones, assistant dean for students, shared her thoughts on the new award in memory of Dr. Firth.  "When I first came to campus and attended my first College Royal, Nigel and Tarjei [Tennessen] were the only faculty watching. Nigel has always been here and now, he will always be here."
Alumni also returned to take in the College Royal experience as part of Homecoming weekend. Jeff Campbell, Class of 07 and soon to be Class of 2015, said coming back to campus "makes me feel like I'm home."
 
As part of their co-chair duties, Hollingsworth and MacDonell worked to recruit students, book facilities, hold animal handling sessions, design t-shirts and find judges.  Their hard work paid off with a very successful event and ever-sought-after "I BARLEY survived College Royal 2014" T-shirts.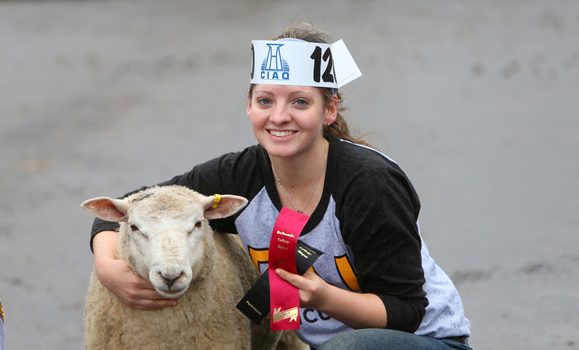 Livestock Show Results
Dr. Ted Semple- Maritime Genetics Major Sponsor

Grand Champion Overall (In Memory of Dr. Nigel Firth): Alana Bent
Reserve Champion Overall: Brittany Carkner

Dairy Champion: Alana Bent (Experienced), Brittany Carkner (Novice)
Sheep Champion: Emily Sutherland (Experienced), Emily Rose (Novice)
Poultry Champion: Kaitlin McDonnell (Experienced), Janine Crockett (N)
This year, Farm Credit Canada's Drive Away Hunger campaign was also held on Friday of College Royal. Donated food was collected at the Ruminate Animal Centre and picked up by a tractor that afternoon. The Dalhousie Agricultural Campus raised nearly 1,700 lbs of food for local Truro food banks.
More photos