At Thursday night's Alumni Dinner, Dalhousie celebrated four outstanding alumni and one of its exceptional teachers with the Dalhousie Alumni Awards for 2014.
The awards, presented by the Dalhousie Alumni Association, honour members of the Dalhousie community to celebrate these notable achievements and the diverse ways that alumni contribute to the university and to society.
They include four awards for alumni — for lifetime achievement, volunteerism to Dalhousie, volunteerism to the community and for early career accomplishments — as well as the university's top award for teaching.
Here are the citations for this year's award recipients:

Lifetime Achievement Award: Dr. Ronald Gilkie (BSc'60, BEng'62, MEng'64)

The Lifetime Achievement Award recognizes alumni for exceptional accomplishments in career and community service.


Growing up in his family's boatyard in Melville Cove, Nova Scotia, Dr. Ronald Gilkie (BSc'60, BEng'62, MEng'64) says you were always expected to go above and beyond.

"My dad said if someone gave you a job, you shouldn't just do it -- you should do it well," says Dr. Gilkie. "That attitude sort of gets ingrained in you."

He was inspired to teach at just six years old, when he recognized that even the most difficult teachers were trying to make him a better person. When he was a senior engineering student at Dalhousie, one of his professors saw a spark in him.

"He kept finding excuses for why he couldn't do the tutorial, and he'd say, 'Would you mind taking it from me today, Ron?'" recalls Dr. Gilkie. "He was grooming me to be a professor someday, although I didn't realize it at the time."

Dr. Gilkie started out as an assistant professor in 1967, and quickly proved himself as a professor who cared. When his students were working with terrible-smelling polyester resins, he would be right there under the fume hood with them.

He volunteered on more than 70 university committees during his 40-year teaching career, and was instrumental in the merger of TUNS and Dalhousie University. Dr. Gilkie also helped make the engineering program a fair, progressive environment for female students back in the late 1960s, and co-chaired the DalTech Women on Campus Committee.

Even during his retirement, Dr. Gilkie spends his days volunteering on 11 different boards and committees, as well as frequently snow-blowing the sidewalks for his neighbours on his street. He was elected a Fellow of the Canadian Academy of Engineering in 2012, remains the Chief Warden of Iron Ring Camp 7, and plays electric bass in three bands.

But Dr. Gilkie's most powerful legacy might be his commitment to giving back to the school that's been a part of his life for nearly 55 years. Starting in 1962, he began donating $1 to the Tech Continuing Fund for each year since he'd graduated — and promoted the idea among his students.

"It's something that becomes a habit, without being a financial burden as they're starting out," says Dr. Gilkie. "I hope they realize how much Dalhousie has meant to their lives, and how much they can continue to make a difference to the students coming behind them." -- Heather Laura Clarke
A. Gordon Archibald Award: Dr. Dale Ells (Agriculture'59)

The A. Gordon Archibald Award recognizes alumni for outstanding volunteer contributions to Dalhousie.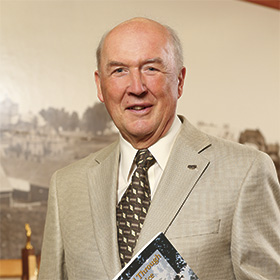 As a boy, Dr. Dale Ells (Agriculture'59) would travel from his family's farm in the Annapolis Valley to the Nova Scotia Agricultural College. As he stepped up for 4-H judging in livestock and vegetables, and later in 4-H leadership camps, there was no doubt in his mind he'd be studying there one day.

After graduating from the NSAC and McGill, he got into agricultural marketing and began traveling the province. But in 1966, Dr. Ells was named Dean of Vocational and Technical Education when the school announced a substantial expansion. The job fitted him to a tee.

"The Agricultural Campus is the third-oldest centre for agricultural education and research in Canada — and although small, we've had many types of agricultural education and research here," says Dr. Ells, who was deeply involved with expanding facilities, boosting enrollment and launching new programs during his 28-year stretch as dean. "Our facilities have always been among the top in Canada. Just because we're in Nova Scotia didn't mean we were one step behind -- we were often leading the charge."

Dr. Ells was instrumental in organizing the Faculty of Agriculture's international programming, which includes development programs in several countries and now involves more than 100 students each year at the Agricultural Campus. He was named Dean Emeritus in 1998, and Alumni Volunteer of the Year in 2005.

Although he retired two decades ago, Dr. Ells remains actively involved with the Faculty of Agriculture. He volunteered with the Colchester Historical Society to launch a display depicting 100 years of campus accomplishments, and wrote a comprehensive illustrated history of NSAC. The 279-page book, Shaped through Service, has become an invaluable resource to staff, students, and alumni -- but Dr. Ells modestly describes it as "an interesting retirement exercise."

As secretary of the Class of '59, Dr. Ells writes newsletters to his classmates twice a year and he has helped raise more than $40,000 in donations for the Class of '59 Teaching Development Fund. He promotes the Faculty of Agriculture at every opportunity, and says he feels immensely proud when students and graduates win national or international awards.

"A high percentage of our graduates contribute to the Atlantic region," says Dr. Ells. "The Faculty of Agriculture continues to be well-connected to the industry and the people it serves." -- Heather Laura Clarke
Christopher J. Coulter Award: Dr. Christy Sutherland (MD'08)

The Christopher J. Coulter Award recognizes recent graduates for innovative accomplishments and notable contributions to society, the community or Dalhousie.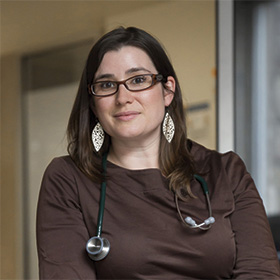 Dr. Christy Sutherland (MD'08) understands that addiction is a chronic disease, not a choice. As an addiction medicine physician in Vancouver, her life's focus is to help some of society's most marginalized individuals.

"Being an addiction doctor often feels like an uphill battle," says Dr. Sutherland. "Cardiologists don't have to argue that a heart attack is an illness. We have imaging studies that show brain changes that happen because of addiction. There are DNA transcription changes that happen. But there's still this leftover narrative from long ago that addiction is a choice."

For thousands of Canadians, there is no choice. There's only the addiction that takes over their lives, making it impossible to hold down a job, keep a roof over their heads or stay out of jail. But so long as there are people like Dr. Sutherland focused on treating addiction, there is hope.

The Dalhousie Medical School and UBC graduate has been making a difference as a family doctor and addiction medicine physician with the Portland Hotel Society in Vancouver. This non-profit is unique in Canada for providing social housing – known as hotels – and support for people living with addiction and related disorders. Experience has taught her that a place to live and access to healthcare are vital in helping addicts on the journey toward abstinence, not only giving them a greater sense of dignity and a better quality of life, but also helping to make our communities safer.

"Police have told us that crime is down in the neighbourhood," says Dr. Sutherland, who has served as executive director of the Society's Bosman Hotel Community and is now co-medical director of the Society. "We did a study looking at court dates and the number dropped from an average of 12 a year to two once people moved in here. Hospital visits went down, and admissions went down. We've also seen people develop relationships and get involved with hobbies. These are victories worth celebrating."

As for future plans, Dr. Sutherland is looking to expand clinical services in all of the housing operated by Society. But would she transition into politics to advocate for her patients?

"Maybe, someday. I've discovered I really love clinical work, so I know I'm going to be a clinician my whole life long, but we'll see what happens." -- Mark Campbell
Volunteerism Award: Dr. Colin Van Zoost
The Volunteerism Award recognizes alumni for outstanding volunteer contributions to the community.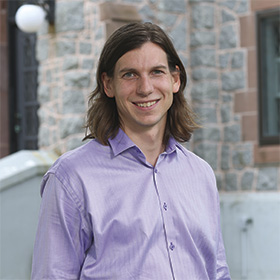 His classmates describe him as their "very own Patch Adams," but Dr. Colin van Zoost (MD'09) is quick to share the credit with the other volunteers on his teams.

In his first year of medicine, he began serving at the Sunday Suppers at St. Andrew's Church in Halifax-- and discovered their foot-care program had dwindled down into nothing but a wooden box of free shoes.

People living below the poverty line have a higher risk of developing chronic diseases, and an infection in their feet makes them more vulnerable to serious complications. So he began collecting shoes and socks, helped people get a proper fit, provided basic foot care, and encouraged local retailers to donate footwear.

Dr. van Zoost teamed up with a pair of foot-care nurses, sisters Marcienne and Deborah Mason. They registered as a not-for-profit clinic -- Walk in Our Shoes Foot Care -- and the weekly clinic now runs with a small army of volunteers.

"We have six to 12 volunteers each week, and most of them are nursing or medical students from Dalhousie -- along with a few healthcare professionals," says Dr. van Zoost, an internal medicine physician. "We treat about 20 people each week, and give out 40-60 pairs of shoes and several hundred pairs of socks."

Next. Dr. van Zoost turned his attention to vaccinating the homeless population. In the course of his research, he discovered many people were receiving flu vaccinations in the fall -- but few were getting the pneumococcal vaccine.

Dr. van Zoost reached out to the North End Community Health Centre and MOSH (Mobile Outreach Street Health) and assembled a team of volunteers -- HaliVax -- to help them provide the vaccine on a larger scale. They doubled the pneumococcal vaccine rates, and plan to cast their net a little broader each year.

Dr. van Zoost says he hopes to inspire future Dalhousie medical and nursing students to take on initiatives in their community.

"You can almost measure the health of a population by how well you treat the most marginalized group, so we can actually improve the health of the general population by making this group of people healthier," he says. "When they see a homeless person, I want them to see that under the dirty clothes, there's a person with a story." -- Heather Laura Clarke
Award for Excellence in Teaching: Dr. Roberta Barker
The Award for Excellence in Teaching recognizes a professor who, in the eyes of students and peers, displays the qualities of superior teaching, enthusiasm for the subject and interest in the needs of students.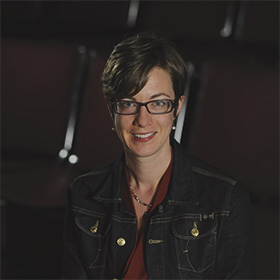 When Roberta Barker was a high school student, she was asked what she wanted to do for a career.

"I said I wanted to be a university professor because I just think that's the best job on earth," she says.

Now an associate professor in the Department of Theatre, she still feels that way, approaching her work with an enthusiasm that rubs off on her students. Dr. Barker has long been one of the university's most popular professors – topping The Coast's poll best prof in Halifax several years running.

Dr. Barker has taught 16 different courses at Dalhousie and the University of King's College during her 13 years on campus.

"I teach theatre, literature and performance; these are things that I really love and that I look to for joy in my life," she says. "Just the opportunity to share that joy and inspiration with the students, I think this is an aspect of teaching that just grows over the years."

Dr. Barker says she's honoured to have been nominated and chosen for the award but adds that she can't take all the credit. "There are so many great teachers at Dal and King's," she says.

"I think that I'm also incredibly lucky to work with the students that I work with," she continues. "The Theatre students and the King's students  are pretty famous for being very passionate and having a lot to say, as well as being full of insight. It's not very hard to go into class with these students; the enthusiasm and engagement are very much there already."

Dr. Barker's nominators had plenty to say about her. "She can command a room and draw attention to her words in ways few of us can," wrote one. Added another: "I am confident to say I have never encountered a professor with such striking dedication to her students' success."

Obviously, being such a dedicated teacher and mentor is no small feat. When asked about what keeps her going, Dr. Barker again mentions her students and the dynamic quality of the profession. "It's that aspect of teaching where you're learning all the time, and where things are changing all the time. It's always in flux and therefore always surprising and refreshing." -- Kevin Bradley