Dalhousie was transformed into a sea of pink on Tuesday in support of anti-bullying, respect and inclusion.

Pink Day has become an annual tradition across all four Dalhousie campuses, with celebrations taking place at the end of September for the past five years.  

"It's a time to bring the community together," said Gaye Wishart, advisor for harassment prevention/conflict management advisor at Dalhousie.

"It's broader than anti-bullying; it's about how we treat each other every day," she said.

Following morning festivities with free cake and snacks on Carleton, Sexton and the Agricultural Campuses, the Studley quad filled with pink over the lunch hour as faculty, staff and students gathered for BBQ, pizza, fun and games.
See also: Photo essay: What does "respect" mean to you?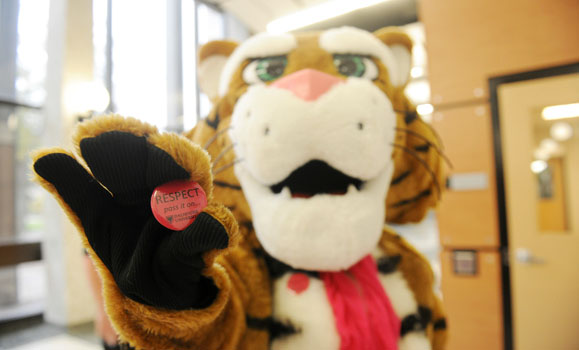 Art, food and fun

Dal Student Health Promotion, a peer-to-peer education service on campus that promotes healthy living, showcased its "Rock the Bike" installation.

Jennifer Blodgett, a fourth-year Dal student, explained the stationary bike with a blender on the back as a "fun way to eat healthy and get exercise." Attendees made their own pink smoothies by pedaling the bicycle.

"Preventing bullying and having respect for people is a huge part of mental health on campus," said Blodgett.

Facilities Management painter and artist Zeqirja Rexhepi spent the afternoon working on and helping others contribute to his paint-by-numbers style metaphorical art piece.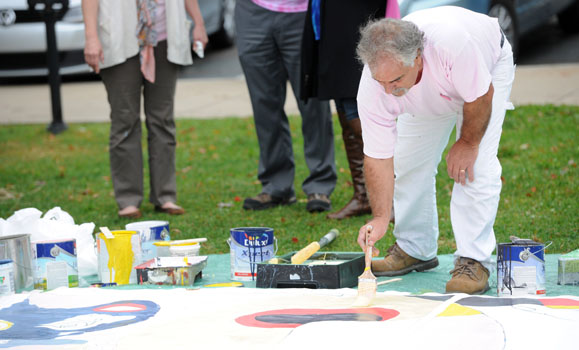 The huge painting was an abstract work embedded with metaphors. With plenty of pink paint involved, the artwork featured books, hands, parts of faces and straight lines which Rexhepi said symbolized education, hands-on approach and respect for other cultures.

"It's all about bullying," Rexhepi explained. "We want to educate other people to be good."

Pink Day was a partnership between Student Services, Human Resources, the President's Office, the Dalhousie Student Union and the University Club, who provided the BBQ. Bill Barker, the University Club's president, says the Club's involvement in the event reflects its spirit of inclusion. (The club recently expanded its membership to include all faculty, staff, postgraduate and graduate students.)
"A sea of pink"

The colour pink has come to symbolize anti-bullying and respect after a student at a Nova Scotia high school was bullied for wearing a pink polo in 2007. Two of his older peers took a stand by wearing and distributing pink shirts around the school the next day to create a "sea of pink."

Even given the prominent association between pink and anti-bullying that now exists, proud Pink Day supporter and DSU President Ramz Aziz said in his remarks that he was harassed by another student last year for wearing pink for the event. Clearly, the message of Pink Day is still important.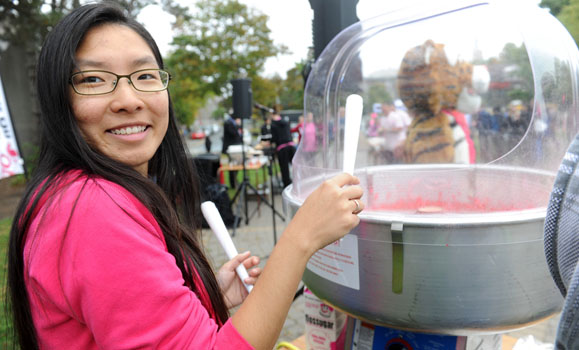 Thankfully, there was no such harassment to be seen on the Studley Quad as waves of pink-clad faculty, staff and students waited in line for eats and chatted with one another.

Get Real Dal, a not-for-profit and newly ratified society at Dalhousie, is selling neon pink hats as a fundraiser. Their society promotes the un-learning of homophobic and anti-LQBTQ language from everyday language.

"It's about how the words you use can affect the people around you," said Victoria Kayal, a third-year Dalhousie student and executive member of Get Real Dal.

Indeed, it's about respect — not just on Pink Day, but every day.
Check out our additional Pink Day photos below, and don't miss our photo booth essay from the day: "What does 'respect' mean to you?"

Photo credits:
Studley/Carleton Campuses: Danny Abriel
Studley/Sexton Campuses: Nick Pearce
Agricultural Campus: Provided