After a hiatus last year, the Volunteer Fair returned to the second floor of the SUB on Wednesday with 90 non-profits, charities, and other local organizations looking for Dal students eager to help their causes.
The free event (for students as well as exhibitors) was an opportunity for students to meet directly with the organizations, find out what they all do, and discover ways they can get involved as volunteers to make positive contributions to the community. Eric Donovan, the coordinator of Experiential Learning Opportunities with Dal's Career & Leadership Development Centre (and organizer of the Fair), says it was also a chance for students to make connections for life after university.
"For many students, it can be difficult to gain work experience relevant to their field of study," he says. "Some of the more rewarding experiences and opportunities to apply knowledge, which ultimately benefit their future careers, are often gained through volunteer work. But volunteering also helps us develop stronger connections to our community as well as to one another, which directly impacts our city in a positive way."
Beth Mulvale came back to Dal after graduating to take courses before applying to nursing and grad programs. She stopped by the Volunteer Fair with the hope of finding opportunities that would help strengthen her applications.
"I just want to get more involved," she says. "I like meeting people and volunteering is really important for job prospects and applying to grad schools. It opens up doors. There are a lot of health-related opportunities here, which is perfect for me and what I'm hoping to do with my career."
Tapping into the talent pool
Colleen Ritchie does communications and fund development for Shelter Nova Scotia. The charitable organization operates five emergency shelter facilities, including Metro Turning Point for men and Barry House for women and their dependent children. It also runs support programs to assist people who are moving from shelter living or prison living back into community living.
For Ritchie, the Volunteer Fair offered the organization the chance to connect with a potential volunteer base of 18,000+ students.
"We want to use students' brain power and talent to help us help our client," she says. "And we want to give them useful tools to help them apply their skill sets outside of school. Certain students, like ones studying psychology or sociology, could work in the houses directly with clients. Others could do promotional and fundraising work. They could talk to the public about breaking down the stigma that surrounds homelessness."
Since Shelter Nova Scotia's clients can be as young as 16, Ritchie says that students who are experiencing homelessness can use its services. "We've actually had students who were previously homeless come back and volunteer with us," she says.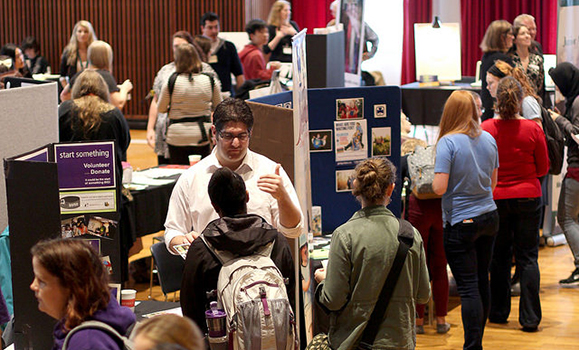 Another exhibitor, Junior League of Halifax (JLH), came to the Fair hoping to meet with a specific segment of Dal's student population.
"We're looking for women, 19 years and older, to recruit as new members," says past-president, Jocelyn Jackson. "We're interested in any who want to get involved with the community."
JLH has been in the community for over 80 years, bringing together women from a wide range of backgrounds—everyone from students to stay-at-home mothers, working professionals, and entrepreneurs. It has three main missions: to promote voluntarism, develop the potential of women through professional development training, and to improve the community.
Its current focus is fighting childhood obesity and promoting healthy families by partnering with other local organizations. Recently it has worked with Supportive Housing for Young Mothers (teaching its clients about healthy eating and cooking), Boys and Girls Clubs in various areas of metro Halifax (organizing run clubs, building community gardens, and teaching healthy cooking), and Girls Gone Gazelle (promoting healthy living through exercise).
JLH also runs Homes for the Holidays, an annual event in November that has local designers decorate a number of Halifax homes for public tours. The event is in its 25th year, and grosses about $40,000 every year to help fund its programs and training for its members.
"Our members receive some good professional development training—particularly leadership skills and project management skills," says Jackson. "It's great for building your resume."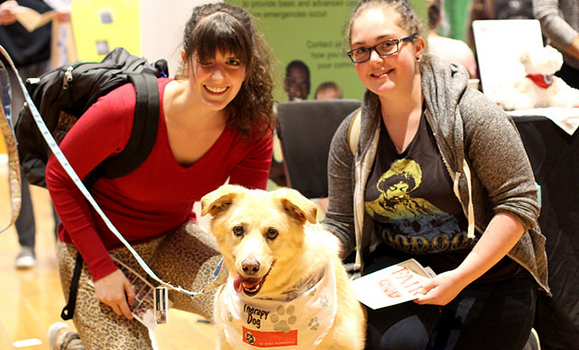 Finding the right fit
Connor Lewis, a 3rd-year political science and law student from Oakville, Ont., visited the Fair to get back to the types of things he was doing in high school.
"I volunteered for things like the Salvation Army back then, so I now want to get more involved with the community here," he says. "I'm here to hopefully find some leadership opportunities. SHINE seemed interesting and a good way to get to know the community better."
SHINE Academics, a math and science tutoring program for kids in Halifax's North End, was created two years ago by Dal students, Chloe Zinck and Loran Morrison. Last year they were joined by fellow student, Jackie Nguyen.
While doing some tutoring on campus they discovered there was a lack of affordable options available for school-age kids in the city. So they secured space in the Halifax North Memorial Public Library on Gottingen St. and financial support from Gordon Stirrett Wealth Management, and opened up free private and group tutoring services.
"When we first started, Loran and I were each spending up to four hours a day tutoring," says Chloe, who's in her third year of therapeutic recreation. "We knew we needed to expand and really wanted to create a safe space where everyone could gather together."
By the end of the last school year, 30 kids were being tutored on a regular basis and 20 university students were volunteering an hour of their time every week. The program has not only improved its clients' math grades, it has become an integral part of the community—something Connor thinks every student should strive for.
"Dal provides such a great environment to learn, and it's a shame if you can't give back in some way," he says.