A silent movie with melodramatic acting and a beautiful contemporary score — certainly, a great way to spend a Thursday evening.

On September 18, the Gilsig Series in Jewish Arts & Culture at Dal presented the 1918 silent film The Yellow Ticket. The film follows a young Polish Jewish woman who travels to anti-sematic Russia to study but must live in a brothel and carry a yellow ticket with her at all times to indicate that she is an "undesirable."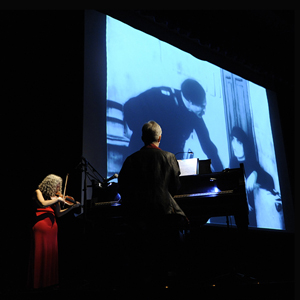 Like many silent films, the acting is over-the-top and melodramatic (though that's true of many modern films/TV shows as well) and it was accompanied by award-winning New York violinist Alicia Svigals and her frequent musical collaborator, Toronto pianist Marilyn Lerner.
Svigals was commissioned by the Foundation for Jewish Culture to write a brand new score to the film in 2013. It has since been performed at the iconic Lincoln Center in New York City. (Left, a photo from a previous performance.)

The music ingeniously interweaves several themes to accompany the presentation of relevant material in the film. During the question period after the multimedia performance, Svigals spoke of to some of the inspirations she had in mind as she wrote the music.

"Feelings of shame suffuse the whole film: sexual shame for being a woman and shame for being a Jew," she said. "I knew that was something that needed to be brought out."
Bringing film to life

Other thematic content included orthodox Christian and Jewish worship sounds and melodies, eastern European motifs, a mazurka (which is a sort of polish dance) and Turkish folk music. The Turkish motif is first introduced in a playful and carefree scene and later returns perverted in the scene in which the young heroine tries to take her own life.

Of the fantastic score, Svigals said it took her about two months to write and rewrite the hour and a half of music. That included originally completing the project, only to find out the film she had access to had been sped up, and at its correct speed she would have to write another 20 minutes of music. Once the music was written, Svigals and Lerner began to work at its performance, as it was written to allow a great deal of interpretation and improvisation. It was essential they both understood the goals of each sound and motif.

The film also featured rare footage of what would become the Heroes of the Warsaw Ghetto Street in Poland. Some said this deepened the adoration for the film, and the way the score brought the film to life to perfect the extraordinarily touching event.