It's an exciting time at Halifax Public Libraries, with the incredible-looking new Halifax Central Library building set to open this fall and yesterday's announcement of a new chief librarian and chief executive officer.

The new CEO will be quite familiar to the Dal community: it's Åsa Kachan, who has been Dalhousie's assistant vice-president enrolment management and registrar for the past decade.

Kachan came to Dalhousie from the University of Saskatchewan in 2004, but she's no stranger to libraries. She has a Masters in Library and Information Science from the University of Western Ontario, worked in Saskatchewan public libraries earlier in her career and is past president of the Saskatchewan Library Association.

"[Kachan] is an innovative, strategic and collaborative leader," said Paul Bennett, chair of the Halifax Regional Library Board, in a release. "She has a passion for libraries and a demonstrated understanding of what it takes to serve diverse communities."

Kachan will start her new position with the Libraries on November 1 and is clearly thrilled by the opportunity.

"We have 14 branches serving as many unique communities and a new Central Library that is creating local, national and worldwide interest," she says. "I have an opportunity to play a part in transforming Halifax in new and interesting ways."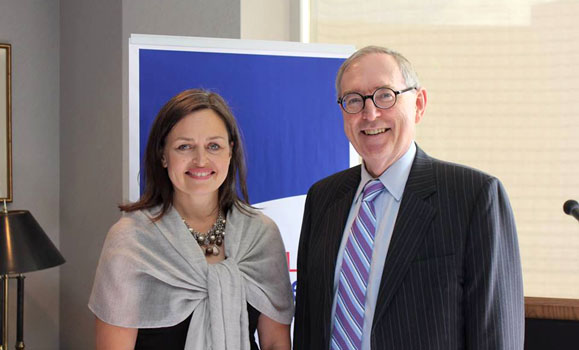 Kachan with Halifax Libraries Board Chair Paul Bennett. (Halifax Public Libraries photo)

A new opportunity

Of course, in her own way, Kachan has already been helping transform Halifax through her work with Dal students. Announcing Kachan's pending departure in a memo to Dal faculty and staff, Provost and Vice-President Academic Carolyn Watters noted Kachan's broad impact, with the Registrar's Office touching nearly every stage of the Dal student experience in some way. (Not to mention that, in her capacity as University Beadle, Kachan has led thousands of students to the stage at Convocation and handed them their degrees.)

"It is wonderful to see one of our university's most able and accomplished leaders taking the reins of such an important and vital public institution in our community," wrote Dr. Watters, who noted her hope that there will be opportunities for Dal to work with Kachan in her new role in the future.

"I have no doubt Åsa will bring the same vision and leadership she's shown in her 10 years at Dalhousie to the Libraries at a key moment in their history."

When asked about her proudest contributions to Dal, Kachan cites the revamp of Dal's entrance scholarship program — more renewable bursaries, expanding eligibility criteria to consider accomplishments in leadership and community service — as well as improvements to front-end customer service in the Registrar's office, which included everything from new phone queuing systems to replacing "teller-style" front counters with accessible service stations. She's particularly proud of the role her team played in growing Dal's undergraduate enrolment to where it is today (18,500-plus students) and working to attract more students to Dal from outside Nova Scotia and around the world.

"When I arrived 10 years ago, our enrolment was at 14,200, and we knew with the steady decline in Maritime high school graduates that even stable enrolment was going to be a challenge into the future if we didn't diversify the markets our students came from," she explains. "We made significant changes in how we approached recruitment domestically and internationally and how we worked with Communications and Marketing and others across campus, and I'm very proud of the result. I often get feedback that our recruiters are the most well-trained and professional team out there."
Proud to support students

When Kachan leaves for the Libraries on November 1, Mairead Barry, who is presently deputy registrar and executive director of enrolment services, will serve as the acting AVP and registrar until a search for Kachan's replacement is completed.

Kachan says she'll miss working with her team, as well as with colleagues across campus in Faculties and departments who were key partners in the Registrar's Office's work. And she'll miss working with students, who were the inspiration behind many of the improvements she led in her time at Dal.

"I feel grateful for those on campus who spoke up when a regulation or process didn't make sense to them and for everyone who works together to make Dalhousie a better place," she says.