Working on cancer research has always been Wasundara (Wasu) Fernando's dream.

So when she applied for the Cancer Research Training Program Award last March she was hopeful. Not only did she receive the prestigious award, she is the first student from Dalhousie University's Faculty of Agriculture to ever receive the honour.

It was Wasu's passion and dedication to breast cancer research and her extensive studies of the anti-cancer properties of a novel molecule created from apple peel and fish oil elements that earned her the award.  

The Cancer Research Training Program (CRTP) is a program of the Beatrice Hunter Cancer Research Institute funded by the Harvey Graham Cancer Research Funds. Supported by the Terry Fox Strategic Health Research Training Program in Cancer Research in the Canadian Institutes of Health Research, the program is offered twice each year to a limited number of graduate students, postdoctoral fellows, medical residents and clinical research fellows students who are involved in cancer research at a recognized institute in Atlantic Canada.

Along with financial support, the CRTP award offers training through programs and workshops, access to advanced research facilities and interaction and collaboration with successful cancer researchers from across Atlantic Canada. The program is also designed to allow trainees and researchers to integrate their research, discussing their work and interacting with their peers.

"I feel very honored to have been awarded this opportunity," says Wasu. "It will not only help me in my career, but it will allow me to contribute more to cancer research across Atlantic Canada."

Food molecules as potential treatment

Born in Sri Lanka and now a master's degree student under the supervision of Vasantha Rupasinghe, Wasu is studying molecules in certain foods that could potentially treat breast cancer.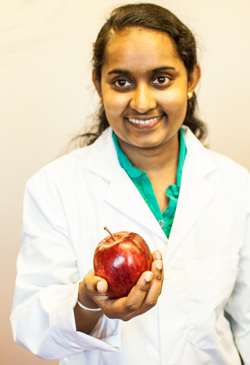 "I'm looking at a combination of two components: one from apple peels and one from fish oil and investigating their anti-cancer properties to see how they can act against triple negative breast cancer."

Triple negative breast cancer is a form of breast cancer that tests negative for estrogen receptors, progesterone receptors and human epidermal growth factor receptors. It is reported that triple negative breast cancer has a low prognosis and it cannot be treated by hormone therapy or Human Epidermal Growth Factor Receptor 2 therapy. Nearly 15 per cent of all types of invasive breast cancer are triple negative.

Wasu is investigating certain flavonoids found in apple peels and fish oil and the effects they have on triple negative breast cancer.

"Flavonoids are polyphenol compounds that have tremendous disease-fighting capabilities, especially against chronic diseases such as cancer," Wasu explains.

Wasu explains that Phloridzin (PZ), a compound found in apple peels, has poor bioavailability, while docosahexaenoic (DHA), an omega-3 fatty acid in fish oil, is unsaturated. making it unstable and highly vulnerable to a reaction with oxygen. When combined, we expect the bioavailability of PZ is enhanced and DHA becomes more stable which then acts against triple negative breast cancer cell lines.

"In my thesis research, my findings so far indicate that the combinations of these compounds do in fact show promise as a treatment for triple negative breast cancer." Wasu explains.

From Sri Lanka to Truro

Wasu has always had a passion for breast cancer research and she has always known that it was something she wanted to do. Wasu completed her bachelor of science in Sri Lanka at the University of Colombo with a special degree in pharmacy. Her undergrad research was also on natural product chemistry.
"I was interested in finding plants that can heal many kinds of diseases," she explains. "My research was on the anti-inflammatory and painkilling properties of a natural plant extract."

Wasu is currently a faculty member of the University of Sri Jayewardenepura in Sri Lanka on a study leave to complete her graduate studies. In August, she will complete her Master's degree. She will then move on to complete her PhD in the Department of Pathology at Dalhousie Medical School.

Wasu explains that her research wouldn't have been possible without the help of some very important people, including her supervisor, Dr. Rupasinghe, as well as Dr. David Hoskin and their research groups. "They are all such nice awesome people," she says.  

As for her future plans, Wasu wants to continue her research on breast cancer. She plans to expand her research to both triple negative breast cancer and estrogen dependent breast cancers. She hopes to apply her research beyond Canada too. Her goals are big and it's her passion for research and helping others that will help her reach them.

"Working on cancer research has always been my dream," Wasu explains.
And with her hard work and dedication, her dream has become a reality.