They swarmed onto campus nervous and excited, unsure of what to expect. Who are they? Dal's incoming first-year class, of course.

On Sunday, thousands of Dalhousie students were busy moving into residence and meeting new people at the massive field party on the Studley quad, organized by the DSU.

In Truro, the day was equally festive. "It's been very emerged," said Emily Davis, first-year experience assistant on the Agricultural Campus. "People had their team T-shirts on and so it was very colourful. The mentoring welcome sessions had great tips and tricks for university. Overall it's been very vibrant; students and parents are very excited to be here."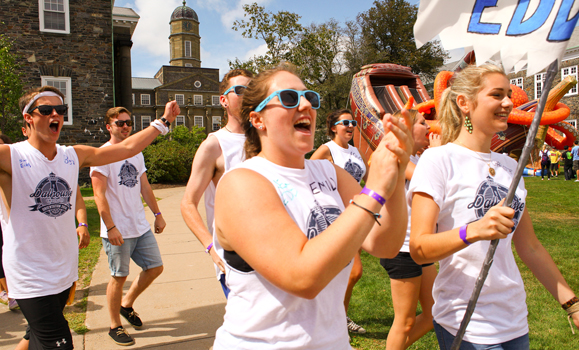 The sentiment heard again and again from new students was that they were eager to get to know their new home, meet new people and open this new chapter of their lives. Many students also shared they were feeling a bit nervous about being so far from home for the first time, and about finding balance in their courses while embracing their newfound independence.

"Everyone here has been so friendly and I'm loving meeting all of these new people," said Megan Macphee, a new Commerce student from Ottawa. As for her concerns: "I'm mostly worried about staying organized and keeping up in my courses." Like many students, the adjustments from high school to university are exciting and a little nerve-wracking for Megan.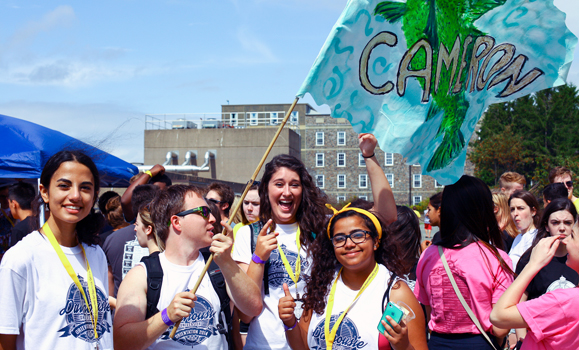 Kinesiology first-year Miranda Stewart had a bit of a different perspective. While she was feeling energized about the academic aspects of university, she was also focused on the athletic side of campus life. "I'm a big hockey fan and I'm going to be trying out for the women's team," she said. "I'm also excited to live on the coast."

As the day progressed, and the boxes and bins piled into residences, the new students grabbed their new DalCards and headed over to the field party with their O-Week leaders. Walking across campus the sound of group cheers echoed from Edward St. to the Killam library. "H-O-W-E, Howe Hall is the place to be," was among the many loud cheers being led by enthusiastic Dal students.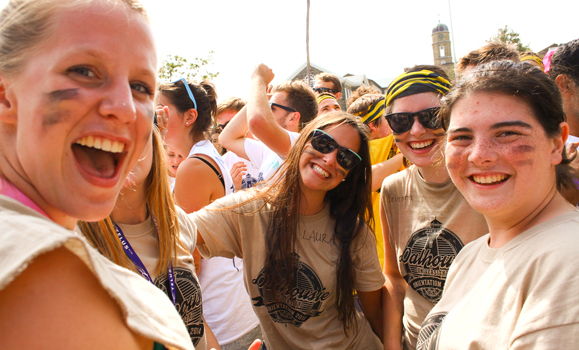 The field party was filled with food, hugs and O-week t-shirts. Students seemed particular excited about the inflatable bouncy castles, with lines extending far across the field to experience a last taste of childhood before leaping into the adult world of university.

A big welcome to incoming Dalhousie students as they embrace university life — and all of the nerves and joys that come with it.