What do you call a building that's a little bit of everything?

After all, Dal's newest building on LeMarchant Street isn't just a residence, though it does offer bright, spacious new accommodations for more than 300 students. It also brings Dal's student health and wellness services — Student Health Services, Student Health Promotion and Counseling and Psychological Services — together under one roof, while also offering a new location for the International Centre as well as Dal's Welcome Centre and Recruitment Office.

It's a place that's inviting, a place that supports students and a place for many of them to call home… so why not simply "place"?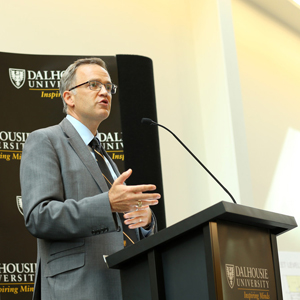 On Thursday, at its formal opening ceremony, Dal President Richard Florizone announced LeMarchant Place as the official name for the newest physical addition to campus.

"The building is the first of its kind at Dalhousie," said Dr. Florizone, speaking to the mixing of services and features within LeMarchant Place. (It had previously been known by the working name of the LeMarchant Mixed-Use Building.)

"We wanted to make this a space where students feel at home, where they feel welcome, and where they have a sense of belonging," added Dr. Florizone. (Nick Pearce photo)
Residence space and more

The 165,000-square-foot building was designed by DSRA Architecture with Zeidler Partnership Architects. Its top five floors feature 143 residence units, accommodating 326 students in a mix of single rooms and two-, three- and four-bedroom suites.

The suites are a new addition to Dal's offerings, featuring a shared common space between roommates with a full-sized fridge, microwave and sink facilities, as well as a lounge area and private washrooms. Students have access to a full-service kitchen on each floor and a TV lounge as well, both with incredible views overlooking Wickwire Field. There are also gender-neutral "washrooms for everyone" on each floor.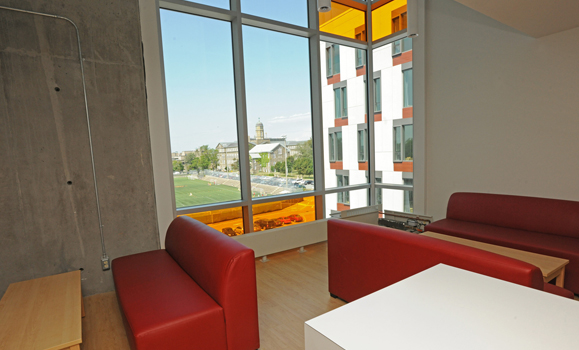 (Danny Abriel photo)

The residence space is secure and separate from LeMarchant Place's bottom two floors, which bring together a number of students services previously spread across campus. The ground floor features Dalhousie's Welcome Centre and Recruitment Office, moving from Shirreff Hall, which last year welcomed more than 4,500 future students and their parents to Studley Campus. Also on the ground floor is a spacious new location for the International Centre, featuring a full-service kitchen facility for hosting events and plenty of space for students from around the world to hang out and get to know one another.

On the second floor are Student Health Services, Student Health Promotion and Counseling and Psychological Services. Verity Turpin, executive director of student wellness at Dal, spoke to how excited her team is to finally all be able to work together in one location.

"For the first time, we have our physicians, our nurses, our Student Health Promotion team, as well as our psychologists and a psychiatrist, under one roof, all available to assist our students with their health and wellness needs," she said.

She also noted plans for some exciting new projects in partnership with Dal's health faculties, including the School of Health Promotion, the School of Nursing and the Faculty of Dentistry, that will involve everything from student internships to mobile flu and STI clinics.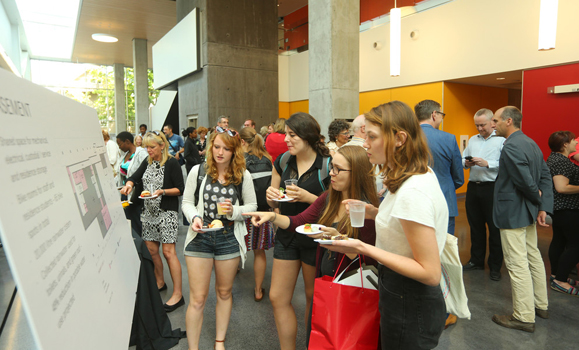 (Nick Pearce photo)
A green addition

LeMarchant Place is one of seven buildings on campus targeting or certified as a LEED building by the Canada Green Building Council. LeMarchant Place is targeting LEED Gold for New Construction which, once successful, will make it the first residence space on campus to meet that target.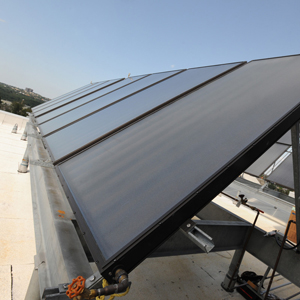 Some of LeMarchant Place's green features include:
46 flat-plate solar hot-water collectors on the roof, expected to provide 1.2 million litres of water to the building each year.
A Variable Refrigerant Flow (VRF) heat-recovery heat-pump system redistributes waste heat to other parts of the building as needed.
A three-winged design (an "E" shape) designed to maximize natural lighting.
In demolishing the four houses that were on the building site, over 86 per cent of materials were diverted from the landfill through salvage and recycling effort. (On the full project, 88 per cent of materials were diverted.)
A living roof, soon to be installed, covering 2,300 square feet and featuring 10 different plant species.
94 new bike racks, as well as 132 new trees planted on campus to offset the trees removed during construction (in accordance with Dal's Natural Environment Plan).

"It serves to demonstrate how Dal strives to not only reduce its environmental impact, but to show the way to students, its staff and the public," said Keith Robertson with Solterre, who consulted on LeMarchant Place's green features.
A home away from home

In bringing together various components of Dal's student experience, LeMarchant Place will be an important addition to campus, especially considering Dal's changing student population. President Florizone noted that now more than half of Dal's students come from out-of-province, with over 14 per cent of them coming to Dal from other countries.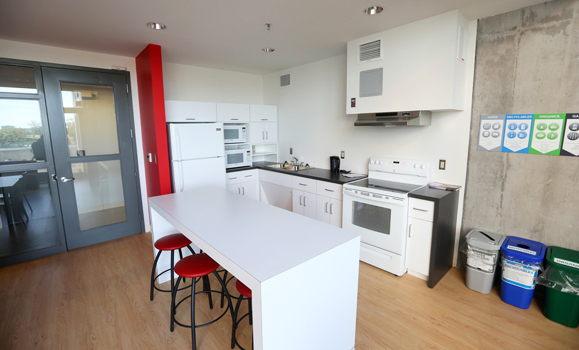 (Nick Pearce photo)

"That means creating a welcoming space, creating residence space, creating the kinds of services they need is increasingly important," said Dr. Florizone. "Our responsibility, as a community, is to enable the success of those students: in the classroom, of course, but also outside the classroom."

"We want students to live well during their time at Dal: to be comfortable, to stay healthy, and to have what they need to achieve their ambitions."