It's a residence, but it's more than a place to live. It's full of campus services, but it's no mere service facility.

Dal's newest building is welcome its first student residents this weekend. Members of the Dal community as well as the university's neighbours were able to get a sneak peek at the LeMarchant Mixed-Use Building during tours this past Wednesday.

The 165,000 square foot building, designed by DSRA Architects with Zeidler Partnership Architects, is the first mixed-use building of its kind at Dalhousie. It includes five floors of new residence space — 143 units to accommodate 326 students. The bottom two floors consolidate some of the university's key services for students: the International Centre, Counselling and Psychological Services, Student Health Services, Student Health Promotion, and the Welcome Centre and Recruitment Office.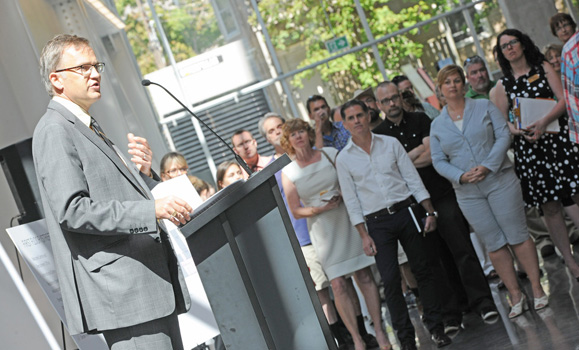 "It's really about weaving together the strands of Dal's student experience to better support our students," said President Richard Florizone, speaking to the crowd of staff and faculty who gathered for a chance to tour the building early at noontime on Wednesday. That evening, tours were held for Dal's neighbours as well.

Mateo Yorke, facilities manager with Ancillary Services, took attendees through the building's residence spaces. The suite-style layouts are a new addition to Dal's offerings, with two-, three- and four-bedrooms suites available along with single rooms (with adjoining bathrooms; each floor also features a gender-neutral "washroom for everyone"  in the hallways). Visitors were able to see the building's incredible view over Wickwire Field from the floor kitchen lounges and explore one of the suites, decked out in gear from the Dalhousie Bookstore and Bed Bath & Beyond for show. (Immediately following the tour, it went back to being prepared for students.)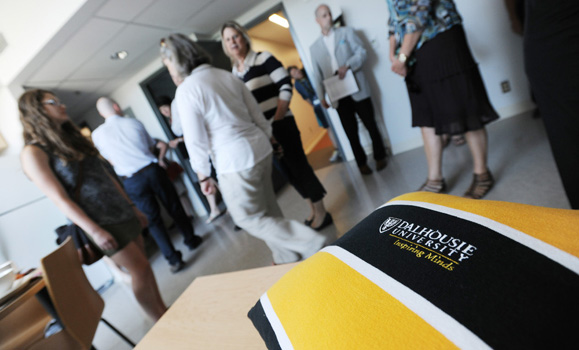 On the lower floors, Katherine Cross, assistant registrar for recruitment and campus visits, walked visitors through the bright, welcoming new spaces for the various student services in the building, all of who have moved in over the summer. The tours also highlighted the building's green features, including its soon-to-be-installed green roof and solar hot-water collectors that help produce its own energy. The building is targeted for LEED Gold status.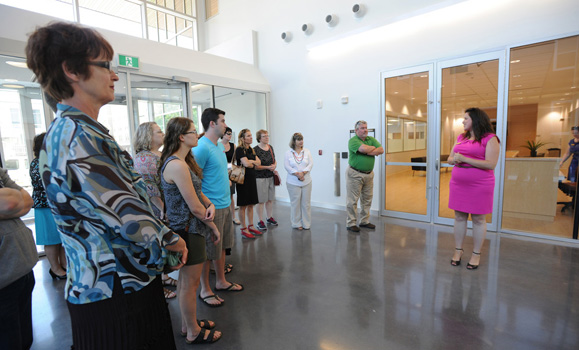 All of the building's services are open and welcoming students, and the first residence guests begin moving in this weekend. An official opening for the building will be held next Thursday.