Feeling a little cooped up in the city this summer? Perhaps an evening kayak excursion is exactly what you need — and what better place than off the coast of Lower Prospect, a small fishing community only 30 minutes away from Downtown Halifax.

All summer long, and every Tuesday for the rest of August, East Coast Outfitters is taking groups on two hour long tours as part of a program called Seacology by Kayak. What makes the tour unique is that each involves a local naturalist who provides insight and intimate knowledge of the area — and the bulk of them are faculty or graduate students from Dalhousie's Faculty of Science, including the Departments of Oceanography, Biology and Earth Sciences.
Reaching out

Dalhousie Oceanography alum Michelle Lloyd and Biology Instuctor Allison Schmidt developed Seacology by Kayak in partnership with East Coast Outfitters. The program kicked off last year during Oceans Week and was immediately met with positive feedback.

"Most of the naturalists are researchers or graduate students," Dr. Schmidt explains. "We came up with the idea of trying to get naturalists out there to get scientific information and research concerning the coast to the general public."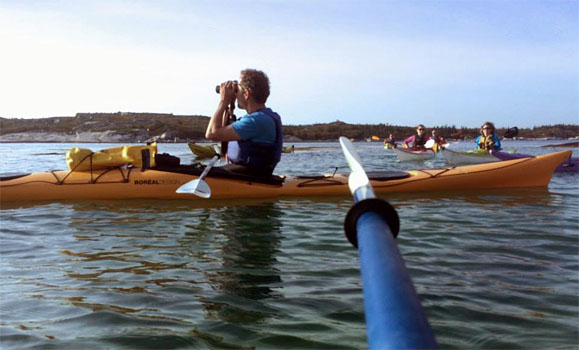 "For the general public, it's great to have that connection. It's like the university paying back to the community. We're doing all this research back here behind the scenes, it's funded by taxpayers' money for the most part, and [often] nobody really knows what's happening. With these tours we're hoping to foster a sense of discovery and enjoyment for the oceans, and the coast in general."

The tours also give budding naturalists a chance to practice their own science presentation skills, a skill that is often hard to acquire.

"Being able to communicate science in an effective way to people who are not experts is a really important skill," Dr. Schmidt says. "Even if they don't go on to do science after they finish their masters or PhD, these students might be called upon to be local experts."
Eco-tourism

Some of the faculty members who have led tours so far this summer include Grant Wach from Earth Sciences and Boris Worm from Biology. Then there's the newer scholars: Oceanography postdoc Katie Brennan, graduate students Will Burt (Oceanography) and Reba McIver (Biology) and recent Resource and Environmental Management graduate Robin McCullough.

There's a little bit for everyone on these tours, as tourists and locals alike are informed on issues facing local communities and coastlines, as well as oceans beyond our shoreline. "There's usually some conservation goal, to really get people aware of local and global issues," Schmidt says. "Each naturalist brings their own unique experience and knowledge to the tour, so it's always different."

Seacology by Kayak is a great way to get out of the city for an evening and learn about local marine life and coastal ecosystems, as well as current ocean issues and modern problems facing small maritime fishing communities, like Lower Prospect. It's also a great way to relax on the water and get some exercise at the same time.

Tours run every Tuesday, 6-8pm from East Coast Outfitters in Lower Prospect. For more information about Seacology by Kayak, check out its Facebook page.