Another successful Dalhousie Agricultural Campus Community Open House
The dark clouds hovering overhead didn't dampen the spirit and enthusiasm of adults and children alike who attended the Dalhousie Agricultural Campus Community Open House on Thursday, July 24.

More than 1,000 community members from Truro and surrounding areas attended the annual event featuring returning favorites such as the Department of Engineering's Bubble Barn - with guests running through the hypoallergenic bubbles created by a simple machine built right on campus — sheepdog demonstrations and the ever-popular tractor and wagon rides.  With the rain holding off until just after the event wrapped up, Tiger ice-cream smiles could be seen everywhere.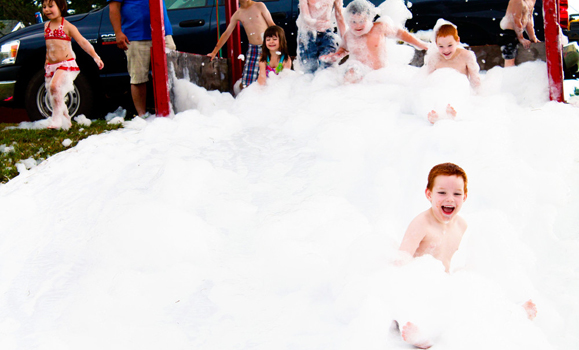 Parents and children flocked to the Ruminant Animal Centre to get a glimpse of a new calf, born just that morning, and entered a contest for a chance to name her. While there, Fred Hamilton and his talented canine companions put on quite a show as they demonstrated how dogs and handlers work together to tend the flock. Visitors also learned how hawks help protect crops from pests and explored the vision exhibit to see how important sight is for these birds of prey.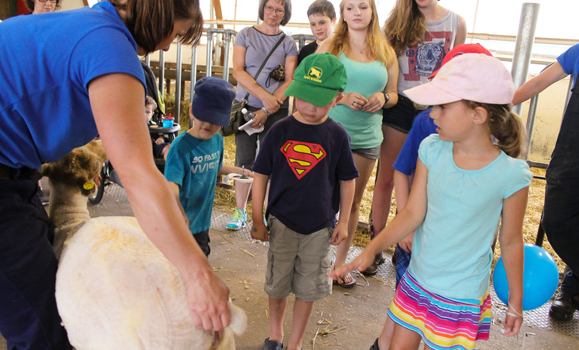 Community Open House also featured aquatic farming and aquaculture: people of all ages had the opportunity to hold some unusual creatures from the sea, including hermit crabs, starfish, green crabs and other marine invertebrate animals. They also learned about seaweed and the bioproducts being created with this amazing organism.

With the theme of International Year of Family Farming, a new attraction encouraged people to step outside their comfort zone. Alumnus Charles Purdy and his wife Nancy attended the Open House with an exhibit from their oyster farm in Malagash, N.S. featuring an oyster shucking demonstration and tasty samples.

The Agricultural Campus Community Open House has been a summer tradition for more than 20 years and boasts a heap-load of interactive activities, exhibits and stops around campus. If you missed out, save the date for next year: see you in Truro on July 23, 2015!