Ahoy, mateys! Fancy ye some programming?

Robot pirates aren't just the stuff of The LEGO Movie anymore. This year's Electrical and Computer Engineering Robotics Competition theme was all about pirate treasure — though, admittedly, of the "landlubbing" variety.

Students in Sara Stout-Grandy's Design Methods II course tested their engineering skills, creativity, stamina, multi-tasking ability and endurance developing their final projects for the third-year course. In teams of two, they each designed a pirate robot that had to navigate the course under its own power. The goal: to reach the end of the maze and collect the treasure.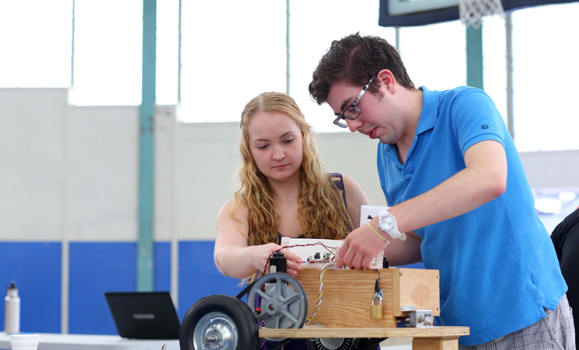 The students gave the robots names like Jolly Rogers, Pirates of the Caribbean, Pegasus and The Punisher.

Teammates Mohamud Abdi and Alex Harding opted for a distinctive name for their pirate robot.  "We named our robot Scylla, after a monstrous sea goddess in Greek mythology — one that would sink enemy ships that sailed too close and not allow them to pass," says Harding.

This year marks 23 years of the competition. Dr. Stout-Grandy has been teaching the course and running the competition for the past four years. "It's a great course to teach, and the robot competition at the end is a lot of fun for the students," she says.


The competition's surface is made up of both fixed and knock-able obstacles. "We painted the surface blue to represent the ocean, and a wooden box with an internal light represents a treasure chest," explains Dr. Stout-Grandy. "When the buttons on the box are depressed the light turns on and the lid opens revealing a bright wealth of gold and riches."

Teammates Abdi and Harding's strategy for Scylla was to block other robots from entering into the competition surface — and that strategy worked for most of the competition. However, Scylla's luck ended when the final round pitted Scylla up against Corey Venturin and Jacob Starratt's creation, Robotimus Prime, which won the competition in fine style by finding the treasure nearly five times.

Venturin and Starratt were presented with the course trophy and willingly accepted full bragging rights for Robotimus Prime named best pirate. None of the pirate robots were able to locate any secret buried treasure, however — but there is always next year!