Advocate. Champion. Ally. Friend.

Those were just a few of the words used to describe Bonnie Neuman's passionate commitment to Dalhousie students at an event last week to celebrate her nine years at the university.

Dr. Neuman, vice-president of Student Services, announced last month that she is retiring this summer. Students, faculty, staff and friends gathered at the University Club last Wednesday afternoon to give her a proper sendoff.

"It's the end of an era," said DSU President Ramz Aziz. "Bonnie has been a tireless advocate for students, as evidenced by the long days and long nights, the work she led to bring students into decisions being made, encouraging them to take leadership and ownership of what happens at the university."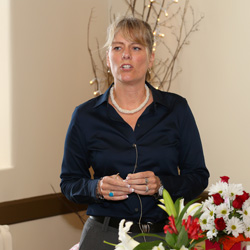 Verity Turpin, executive director of student wellness, spoke on behalf of Dr. Neuman's staff in Student Services.

"Working in a vice-president's office, you get a really clear sense of how tough the job is: there are long hours, there are tough decisions and tough conversations that take place," she said. "As staff, we never experienced that, because you [Dr. Neuman] always came to our offices with a smile on your face. You always showed up at our meetings present and ready to hear what we had to say. And more often than not, you'd lean over to me and others and ask how we were doing."
Making a difference for students

Dr. Neuman has served with two Dal presidents, and both were on-hand for the sendoff. President Emeritus Tom Traves remembered his first time meeting Dr. Neuman following her job interview, where over breakfast he was taken by her energy, her belief in the importance of the university, and her passion for students.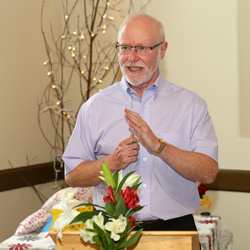 "This was not a managerial job for you," he said. "This was a job that you saw as allowing you to make a difference in the lives of students. You had done so in other positions at other universities, clearly you had a successful track record, and this was something you wanted to continue to do and saw Dalhousie as a place where you could make a significant contribution in this regard. And clearly, you've done that."

Current President Richard Florizone spoke to some of those contributions. He noted her leadership in Dal's significant enrolment growth over the past decade, and her integrated strategic planning for Student Services that led to new advising options, student wellness programming, major enhancements in recreation, the opening of the Mark Hill Accessibility Centre, the launch of the Co-Curricular Record and too many other accomplishments to name.

Dr. Florizone noted that one of Dr. Neuman's most visible contributions to campus life has been the series of Adirondack chairs across camps — an initiative she spearheaded. And while he was wary of summing up Dr. Neuman's legacy just by those chairs, he also saw them as a rather fitting tribute.

"They're colorful, they're strong, and they support our students," he said.
Moving onto her next adventure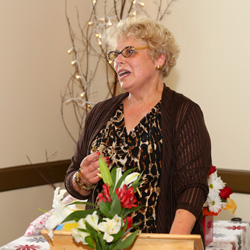 So what's next for Dr. Neuman? She says she plans to move out to Victoria to be closer to her siblings and her son and daughter-in-law, who are expecting Dr. Neuman's first grandchild. (As for her portfolio at Dal, Anne Forrestall, assistant vice-president of student success services, is serving as the senior leader for Student Services in the interim through September 1.)

Dr. Neuman had the last word at the event, making sure to note that her accomplishments are really shared with those who made them possible.

"Nothing happens because of just one person, or even one person with some ideas," she says. "They happen because people get together, decide there's some merit, improve ideas and implement them together. It's about all of us working together: the staff, the faculty, the students, the administration. That's how we got so much done together."

And, as you might expect, she saved her final moments to pay tribute to Dalhousie students.
 
"Yes, I love our students, and I am so pleased and proud to have a lifetime career where I hope my presence has made a difference in their lives. It has been an incredible privilege to work in universities because that's really what we do at the end of the day."