The cover story of the Spring 2014 issue of Dalhousie magazine features three alumni-led startups, exploring how students' Dal experience has set them up for entrepreneurial success. We'll be publishing these stories here on Dal News throughout the week.
From University Avenue to the luxury designs of Park Avenue and beyond: it's not the trajectory you typically associate with a Dal history degree. But for entrepreneur Stephanie Mark (BA'07), it's the route she's traveled — with a stop-over at Parsons: The New School for Design in New York and Elle magazine along the way.

Mark is co-founder and market director of The Coveteur, a fashion and lifestyle website that takes readers inside the closets of the rich, stylish and fabulous — and offers a chance to do a bit of shopping along the way.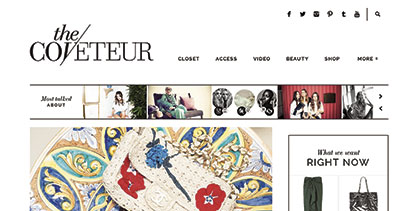 After graduating from Parsons' fashion marketing program, Mark held a variety of jobs including assistant buyer and freelance stylist. By 2010 she found herself back in her hometown of Toronto, brainstorming business ideas over brunch with friend and fellow fashion enthusiast Erin Kleinberg. While 'street style' was the current trend, Mark and Kleinberg didn't think that was the right fit for them.
"We really liked that whole insider aspect. And then we thought what we would really love to see is all of their clothes and their wardrobes and their style philosophy and aesthetic. " And so, The Coveteur was born.

"I think the timing was right," says Mark. Mark and Kleinberg started sending out email requests. And to their surprise, people responded to them and Jake Rosenberg, The Coveteur's photographer, who's been onboard since their brainstorming brunch and shares the co-founder title.
A growing audience

Before their launch, the trio already had collaborations established with Elle.com and Vogue.com, and had crisscrossed North America building up content — and closets — for their debut. "In the beginning, Jake, Erin and I all shared a hotel room," says Mark. "We shot three or four closets a day so that when the site launched, we could have a steady stream of things coming out."

Thankfully, The Coveteur team has grown to a full-time staff of 10 — but so has the work. Within the next few months, The Coveteur will be expanding, including content from more European cities. Initially self-funded, the team now generates revenue through a combination of advertising, e-commerce and affiliate models, and collaborations.

"It was really just a creative outlet," says Mark of the site's beginnings. "We all had other jobs so it wasn't necessarily a 'we're going to go out and be our own bosses' situation. It was more just something we were passionate about, and were lucky enough that it turned into a business."
Lessons learned

The learning curve has been steep, but Mark says the most challenging aspects of her job have been figuring out how to manage a team full time — and that confrontation and saying 'no' doesn't have to be a bad thing.

The most important lesson that Mark has learned through running her own business? "Don't take things personally," she explains. "It's important to remember that your decisions should always be for the good of the business."

Mark speaks fondly of her time at Dalhousie and how it laid the foundation for her next step at Parsons. "The [Dalhousie] environment was key for me. I worked hard, but the laid-back East Coast vibe has really translated to who I am today and how I approach work situations."

That laid-back East Coast vibe will serve Mark well in a business that's constantly evolving. "We're always trying to see what we can do better and looking forward," says Mark. "We're more than thrilled and thankful to the industry but also, to our readers and our followers. Without them, The Coveteur would still just be a great idea."