The cover story of the Spring 2014 issue of Dalhousie magazine features three alumni-led startups, exploring how students' Dal experience has set them up for entrepreneurial success. We'll be publishing these stories here on Dal News throughout the week.
Before Peter Burbridge (BA'06, MBA'09) even started his MBA at Dalhousie in 2007, he knew he wanted to launch his own coffee roastery business after graduating. But, as career paths often do during university, his focus changed — in his case, from brown beans to sustainable suds.

Burbridge can't quite pinpoint when his transformation began, but a class on zero-emissions brewing in his Patterns for Sustainable Development course played a part. It was his first exposure to the idea of using a brewery's waste streams to make new products. Burbridge, a homebrewer and supporter of sustainable business, was hooked. "After that class, it just stuck in mind," he says. "I thought it would be really interesting to pull off in my own business or see how close I could come."

Four years later, in 2013, his goal came closer to reality when he opened North Brewing Company in the heart of Halifax's burgeoning north end. Though the microbrewery is a long way from being zero emissions, Burbridge thinks they're on the right track with initiatives like giving all of its spent grain to a farm for animal feed. In the meantime, he and partner Josh Herbin are focused on producing a range of preservative-free Belgian ales meant to satisfy even the most discerning beer buff.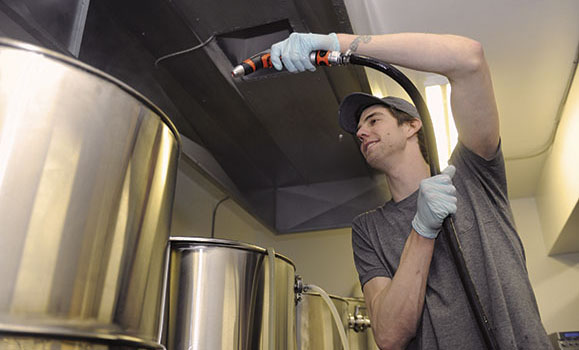 It was no easy feat getting the business to this point, however. After graduating, Burbridge continued mastering his own homebrews while working in wholesale at Java Blend, a popular roastery and café. Owner Jim Dikaios's mentorship was invaluable, but Burbridge always knew he'd have to move on. "Doing one repetitive job over and over again doesn't really work for me," he says. "With your own business, it's much more dynamic; you're always doing something different and always being presented with new challenges."

The biggest challenge he faced in getting the taps flowing was money. By June 2012, he had raised enough funds through equity, friends and family to get in the doors of 2576 Agricola Street but barely enough to stay in business. "I realized that I severely underestimated what we might need, which was about twice as much as we had."

He never stopped believing he'd get North Brewing open, however, and took the advice of people like Dalhousie Assistant Professor David Roach, who taught the entrepreneurship portions of courses Burbridge took during his MBA. He eventually secured about $65,000 in loans and financing, mostly through the Centre for Entrepreneurship Education and Development (CEED), a non-profit that supports entrepreneurs in Nova Scotia, and on January 23, 2013, he opened the bright red doors of North Brewing Company for the first time. There were lineups out to the sidewalk.  

A year later, customers are still lining up, asking for the newest brews or seeking out North Brewing's concoctions at 10 bars and restaurants throughout the city. "A lot of people thought that we couldn't possibly break even at this tiny scale within one year, but we've definitely proven that we can," says Burbridge. "It's nice when people say that you're probably going to fail, and then you don't."

So what's the secret? "My advice to any aspiring entrepreneur is pretty simple. First, don't let anyone discourage you, and second, get an advisory team in place. The more people you can talk to and get involved that have some experience and wisdom — people like David Roach — the more hard lessons you'll save yourself from having."