Dixie cups, popsicle sticks and "googly" eyes: not exactly the first tools that leap to mind when you think about science, technology, engineering and math (often known as the "STEM" topics).
But they're the fun tools of the trade on one particular Thursday for 20 children from Demetreous Lane, a public housing development in Dartmouth, participating in an outreach camp with Dalhousie's SuperNOVA program.

The Dixie cups are legs for a raised maze. "I did it," calls out Morgan, five, when she succeeds at taping the fourth "leg" to the maze she drew herself.

The googly eyes decorate a "magnetic creature" — its body made of Styrofoam glued onto a magnet — that Morgan will guide through the maze with another magnet glued onto a stick.

Liz Everett, going into her fifth year of Marine Biology studies at Dal, is one of the SuperNOVA staff guiding the rambunctious group through the activity.

"I can think back and think of a lot of teachers that made me care," says Everett, who became a counselor-in-training at 14 and has worked officially with SuperNOVA for two years. "Even if I can get one or two kids more interested then it's a really cool opportunity to have an impact on a kid."
Targeting key communities

For 18 years, SuperNOVA has been getting kids excited about STEM subjects through an ongoing series of camps and workshops. While SuperNOVA is best known for its summer camp program, its outreach camps throughout the year are where the organization does some of its most important work, targeting youth from communities underrepresented in STEM studies at the moment. The camp at Demetreous Lane, for example, was targeted at African Nova Scotian youth. This outreach aspect of SuperNOVA's work is supported by Actua, a national registered charity that connects 35 similar programs across Canada.

"We basically look at who are the scientists of the day and who isn't being represented or who doesn't have the opportunity to engage with science, technology engineering and mathematics otherwise," says Sagar Jha, currently SuperNOVA's co-director.

Jha, a recent Marine Biology graduate, is best known to the Dal community as last year's Dalhousie Student Union president. Starting in September, he'll take the reins as SuperNOVA's sole director, helping the organization advance its important mission.

"It's not like, 'Let's parachute into this community, do a science camp, and parachute out.' We're more focused on that deeper longer-term relationship," says Jha of SuperNOVA's outreach work across Nova Scotia, Prince Edward Island and Newfoundland. Partner organizations — in the case of the Dartmouth camp, the Demetreous Lane Community Centre and First Baptist Church — provide the logistics and the youth, and SuperNOVA comes in and delivers the program.

This summer, for example, two teams of SuperNOVA staff are in Labrador to run camps in seven communities, both on the coast and inland.

"Our goal is to have all youth realize that a career in [STEM] is possible if they want it," says Jha.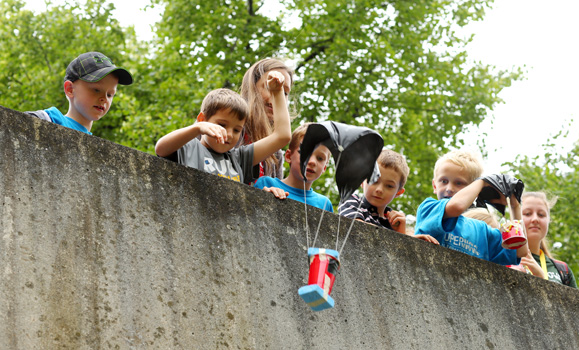 New programs, new outreach

Before summer camp season kicked off, SuperNOVA also did workshops in elementary and junior high classes across Nova Scotia and Prince Edward Island, reaching some 3,500 students.

"We also do girls-only outreach for those male dominated fields," notes Jha, who followed his three older sisters, and their father before them, to study at Dal.

"I.T.S. (Industry, Technology and Science) for Girls" is both a series of summer camps and a club program that operates throughout the school year with support from the Canadian Women's Foundation.

"That's one of the programs that as a director I'm really excited about," says Jha, "to know that SuperNOVA can provide an empowering experience for a group of girls and young women with very positive and strong role models who are already in those fields."

As a Marine Biology alum, Jha — whose first-name, Sagar, means "ocean," fittingly enough — is also excited to see the oceans component of SuperNOVA grow, with a $100,000, three-year grant from NSERC.

"We're connecting engineering back to oceans. We're connecting computer science back to oceans," says Jha, of the camps happening this summer. In addition to rolling out a new ocean themed classroom workshop in the spring, SuperNOVA will also offer its first weeklong camp focused solely on ocean science and technology in late August.

"With the opening of the new [Steele] Ocean Sciences Building, and being on the coast, and Dalhousie really establishing itself as the ocean research institute of the nation, I think SuperNOVA gets to play a fun role … in terms of sending that message to the Halifax community," Jha continues. "The kids from the community are coming into the university and seeing some of the cool ocean activities and research that's going on here."
Discovering science and technology

Jha notes that SuperNOVA is 18-years-old in 2014: "Ready to go to university, which is kind of cool to think about." He hopes to see its success grow by having former participants become staff members.

Back in Dartmouth, some older children reflect on what they've learned at SuperNOVA so far. The clear standout activity: building a landing pad and testing its properties by dropping an egg on it from the top of a ladder.

"We all got the same materials to do it… duct tape, masking tape, garbage bags — for a parachute — and a Styrofoam cup," rhymes off Xavier Buckley, 10. "My egg survived."

Buckley says the camp has got him interested in structures. Joel McCombie, 11, echoes that. "We had to build structures out of certain materials — like popsicle sticks, straws, tape and stuff like that," says Joel. "You had to make it stay together through a whole bunch of stuff — like fans, water."

A smile lights his face.
Learn more about SuperNOVA at its website.