No farmer wants too much water on their farm land — except for the Purdy family. In fact, 200 acres of their farm land is on the bottom of the ocean.

Charles (Class of '71) and Nancy Purdy, with the help of their daughter Rachel, own and operate Bay Enterprises, an oyster farm in Malagash, N.S. Charles took over the family farm management from his grandfather in 1962, and in 1996 restarted the oyster farming that the Purdy ancestors had been involved in since 1868. The Purdy family's agricultural farm started in 1783 with both land and sea farming. They currently only farm at sea, but still own much of the original farmland.
A farming legacy

The Purdy operation is one of the few oyster farms in Eastern Canada. Inspected to sell almost anywhere in the world, they sell their oysters locally in Nova Scotia as well as ship to some parts of Quebec, Ontario and the United States.

For Charles, there's nothing else he would rather be doing than working on his farm. He gives a great deal of credit to the Dalhousie's Faculty of Agriculture (formerly Nova Scotia Agricultural College) for helping him keep his family farming operation alive for so many years.

"I graduated from the NSAC in '69," Charles explains, "then again in '71. I had so much fun at that school, I had to go back!"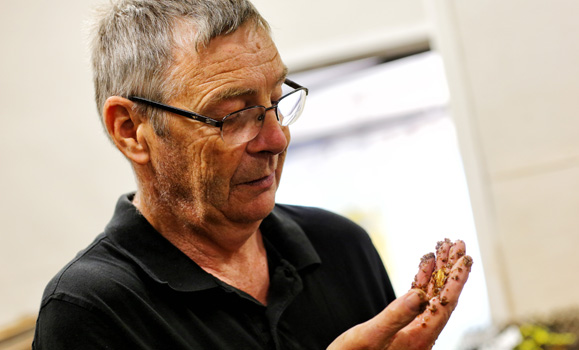 Bay Enterprises supplies the Faculty of Agriculture with some of their shellfish to use in the Aquaculture Centre, a leading centre in aquaculture research. Charles will also be attending this year's annual Community Open House to demonstrate oyster shucking.

"I'm so glad that I am able to give back to the school," Charles smiles. "That place taught me a lot."
Four generations

Bay Enterprises is an oyster hatchery and a packaging facility, inspected by the Canadian Food Inspection Agency. They raise oysters from larvae, producing their own algae for feed. The larvae are fed and monitored in the hatchery and once the oysters are mature enough, they are placed in the bay. There, they feed off the ocean for about four to five years until they are mature enough to harvest using both manual and mechanical methods. The mechanized machine used to harvest the oysters is environmentally friendly — something of great importance important to the Purdy family.

For Charles Purdy, farming with his family is also important. Started by his great-grandfather, the Purdy farm has been in Charles' family for three generations and will move into the fourth generation. His daughter, Rachel, is preparing to take over the farm in the near future.

"On a family farm, you know everyone and every animal," Charles describes. "You know every personality and, since you're family, you have no choice but to make things work."

Charles and Nancy Purdy take pride in their operation. Having kept it in the family for so long, they are glad to see Rachel taking it over. For the Purdys, there is only one way to farm — with your family.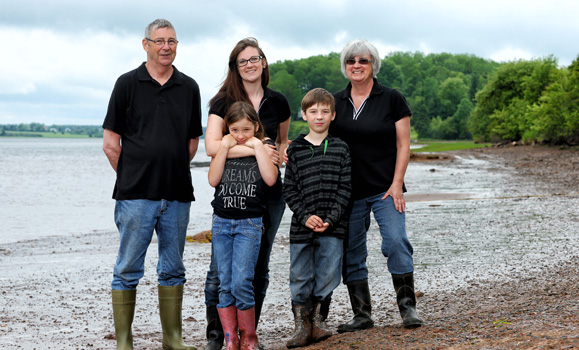 You can meet Charles Purdy and learn more about oyster farming at the Faculty of Agriculture's Community Open House on Thursday, July 24. The Open House has been a summer tradition for more than 20 years – come for a "backstage pass" to science, the critters who call the Agricultural Campus home and the playful side of agriculture. Full details here.