The weather wasn't very warm but the mood at the second Strawberry Social was much more welcoming.

Staff and faculty from across Dal's Halifax campuses came together in the University Club's Great Hall on Friday, June 27 to enjoy some fresh strawberry shortcake and sangria. While the weather pushed the event indoors, the event was still a great opportunity to observe the passing of another busy academic year at Dal and celebrate the hard work of staff and faculty.


Dal President Richard Florizone, marking the end of his first full-year in office, addressed the crowd.

"I knew that I would be in for a very busy year, starting with 100 days of Listening, and thank you for that engagement," he said. "It's been wonderful to have those discussions about what the future holds for our university and where we might go. Now we've been building a platform for the future and where we plan to go as an institution but I hope you all know it's also been a great year… and that's mostly due to your great work."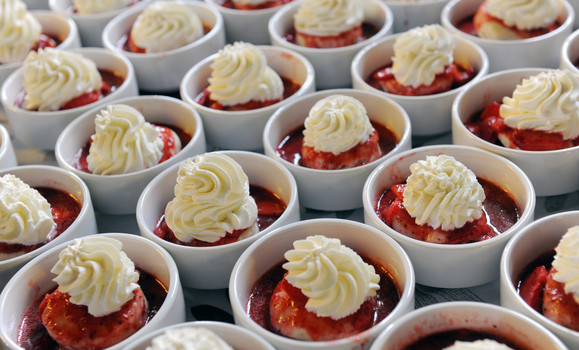 Light jazz played as more than 600 staff and faculty took a short break from their work day to enjoy a social afternoon. Event organizers were amazed by the turnout: they had planned for about 300. Although the sangria and other drinks were plentiful, some people who arrived a bit later in the festivities sadly missed out on the shortcake. While that was a disappointment, hopefully the chance to get together in an informal setting as staff and faculty was still a welcome one.

"It was a great opportunity to connect with colleagues across campus and hear about the different projects people are working on, and what people are engaged in doing," said Angela McMaster of Human Resources.