Employers of Dalhousie's Science, Information Technology,Engineering Co-operative Education Program (SITE) were honoured for their excellence at the 2014 "Top 6 Co-op Employers on the Planet" reception on June 3.
"In the Co-op Office, we're privileged to see so many exceptional employers and students," says Anne Marie Coolen, director of the SITE Co-op Office. "These awards provide a glimpse of the excellence we get to witness every single term"

To be nominated for one of the awards, employers must provide a work term with outstanding projects and assignments, exceptional supervision, an excellent work environment and, most importantly, inspire busy co-op students to nominate them for the award. This year saw 78 nominees, which demonstrates the quality experiences co-op students are having across a variety of companies and organizations.
This year's winners include:

Leonard LeBlanc, President of Gulf Nova Scotia Fishermen's Coalition
Leonard of Gulf Nova Scotia was nominated by Biology student Hilary Brewis, who detailed her co-op experience: "I was encouraged to ask questions and to learn new skills beyond what was outlined in the job description. I was expected to problem solve and challenge myself, something that made every day a valuable and interesting experience that allowed me to grow both as a person and as a scientist."

Vanessa Margueratt, Environmental Assessment Officer, Nova Scotia Environment

Vanessa of Nova Scotia Environment was nominated by Environmental Engineering student Alex Hayes, who recently graduated with his Masters in Biological Engineering. "I worked on an environmental assessment that was actually used. Being a part of the process for a project, and seeing my contributions directly, was a great experience," says Alex, who presented his work term report to the deputy minister. "Vanessa was a great supervisor. She got me involved with a variety of projects, helped me make contacts and gave me lots of valuable advice for after graduation."

Paul Arsenault, Mechanical Engineer, Ultra Electronics Maritime Systems

Paul of Ultra Electrionics was nominated by Mechanical Engineering student Andrea Felling, who is currently working on her master's degree at Dalhousie. "My assignments were given mostly in terms of the task that needs to be accomplished; the solution was not dictated to me outright." Andrea says of her work term. "This gave me the chance to refine both my practical engineering skills and my ability to think and come up with practical solutions to real world problems. Ultra has given co-op students the right balance of supervision and independence."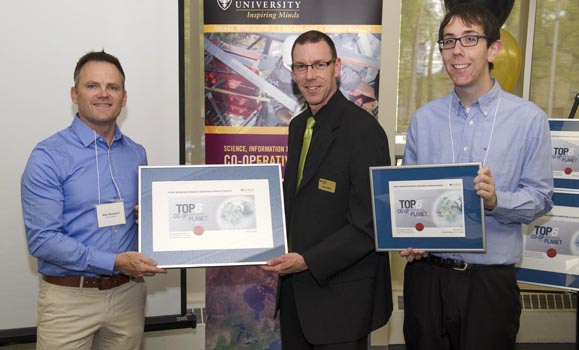 Mike MacPhail, Practice Director, T4G Limited

Mike of T4G (above) was nominated by Computer Science student Matthew Caines, currently completing his last study term. "I was able to work through some very tough and interesting problems that related directly to what I had just studied in my previous school term," recalls Matthew of his experience with T4G, where his projects included app development. "I was able to give direct input during all stages of development, and my input was valued and taken into account by all team members."

Patrick Chan, Manager of Reliability Engineering, Mobile Equipment Reliability, Suncor Energy Inc.

Patrick of Suncor was nominated by Mechanical Engineering student Cody Hollohan, who has since graduated and works for Suncor full-time. Cody recalls his work term experience with Suncor as "the best possible experience that any Mechanical Engineering student could have asked for because I was given a high level of responsibility, with free reign to search as deeply as I saw necessary to reach the objectives."

Jason Pagnutti, PCL Constructors Inc.

Jason of PCL was nominated by Materials Engineering student Andrew Burford, who has since graduated and secured full-time employment with PCL. "Although very busy, [Jason] always found the time to provide helpful and meaningful feedback on the work I completed," reflects Andrew. "The working environment, from a student's perspective was above and beyond my expectations. From the first day on the job, students are expected to contribute in a big way."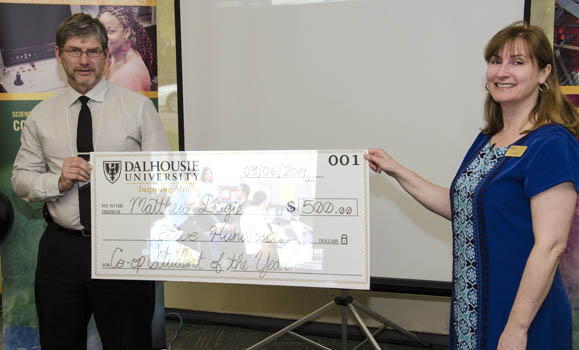 The Co-op Office also named their Engineering Co-op Student of the Year, Matthew Dugie (B.Eng Civil 2014), who was nominated by BGC Engineering Inc. Upon graduating, Matthew accepted a full-time job with BGC in Vancouver, and was unable to attend the ceremony. Matthews' father Dan (above, left with Employer Development Coordinator Lori Baker) accepted the prize in his absence.

In addition to an excellent academic record, Matthew also secured two outstanding performance appraisals, two exceptional work term reports, and a letter of support from both a work term supervisor and a faculty member.
 
During his final work term at BGC, Matthew's supervisor praised his outstanding organization and planning, learning ability, decision making skills and productivity, calling him "an asset to group harmony" and noting that he could "depend on him in any situation." Including this award, Matthew has accumulated over $40,000 in awards and scholarships during his studies.