There's studying history, and then there's doing history. Hillary MacKinlay has a knack for both.

Hillary is wrapping up one last elective this summer to complete her BA Honours in history. Not only has she written a 100-page honours thesis using primary research from the Nova Scotia Archives, she spends April till October guiding visitors through the exhibits at the Maritime Museum of the Atlantic as a historical interpreter.
Diving into history

Interpreting the past is what Hillary loves to do. Her thesis, Halifax on the High Seas: The Pacific Whaling Journal of Thomas Colton Creighton, focuses on the journals of a 17-year-old boy from Halifax who set sail on the whaling ship Rose in 1843. He sailed across the Atlantic around the Cape of Good Hope, through the Indian Ocean to the Pacific, spent two years hunting whales, and sailed back around Cape Horn to Halifax. Part of the affluent Creighton family of Halifax, there wasn't room for him in the family business, so he went to sea to learn how to be a captain.

Hillary studied Creighton's journals intensively, considering shipboard relations, Thomas's emerging identity and his relationship to the people he met on his voyage, particularly the indigenous people of the Cape Verde and Pacific Islands. "I get really got caught up in this," she laughs, "My parents will tell you, I can talk about this for hours. It's like reading an adventure story."

No scholar has ever studied Creighton's journals this closely. At the time, many believed that going to sea changed people permanently and made them unsuitable for life on land. Hillary was curious about what the journals would reveal about a boy who went to sea and grew to be a man on the voyage.

Her conclusion? "Life at sea is more a continuation of life on land. Halifax society still had a strong influence on life aboard the ship, even on the other side of the world."
Finding her calling

Jerry Bannister, associate professor in the Department of History, describes his student in glowing terms. "She's a really rare and wonderful combination of different kinds of intelligence, academic ability, and modesty. She's one of the very best students I've ever taught, and she's doing really exciting cutting edge research at a graduate level already."

A recipient of both a Social Sciences and Humanities Research Council of Canada (SSHRC) Graduate Scholarship and a Killam Scholarship, Hillary will go on to MA studies in September, continuing her work with Dr. Bannister.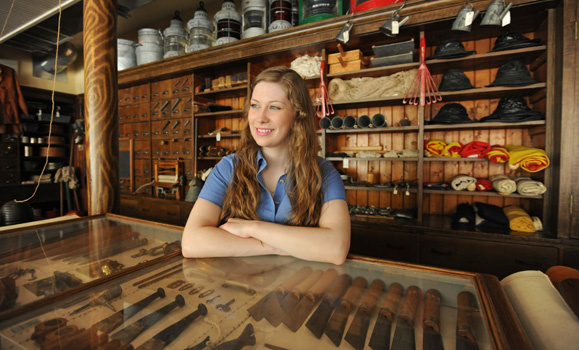 Hillary also seems to have found her professional calling. Her job at the Maritime Museum lets her put her knowledge of and passion for Maritime history to work. She's part of a growing number of students consciously combining study with work experience.

"I find there are things I learn at school that help me at work, and things I learn at work that help me at school. It gives you hope that you can do something you love when you leave school. There is work out there in history."
Ocean stories

Born and raised in Truro, Hillary jokes that even in her spare time she ends up reading about whaling. She manages to fit in a few episodes of Downton Abbey and her favourite sci-fi show, Stargate, and she's an avid runner.

Hillary muses that her humanities degree has given her real-life skills she uses every day at work. "We are taught how our skills apply at school, but not how well they apply in real life. I've learned how to analyze situations as well as texts, how to make a strong argument and express your ideas and yourself." She shares her enthusiasm for history with hundreds of people at the museum every year. "There's a lot to the stories in the museum that can't fit on the wall."

The last word goes to Dr. Bannister, who knows students like Hillary are the future of post-secondary education.

"First, oceans research takes place in different faculties, and it doesn't have to be environmental or scientific. Oceans have human and cultural activity; people live and work there. Second, all students should see their professional training as concurrent with their degree. Employers want this skill set, and students need to be proactive. Hillary's story represents everything that's good about Dal."