Most call it football; others (particularly if you're from North America or Australia) know it as soccer. What everyone knows is knows that it's the world's game — and every four years, the sport gets a truly global showcase.

The FIFA World Cup kicked off last Thursday in São Paulo, with the host country Brazil taking on Coratia. Given how soccer brings the world together, it was only fitting that the Dalhousie International Students' Association hosted a special viewing of the opening ceremonies and the Cup's first match at the Grawood. Dal students from across campus and around the globe gathered to see the first kickoff and a comeback effort from the Brazilians, who prevailed 3-1.

Brazil won the match and the hearts of some Dal students — but not all. We asked students for their impressions of the World Cup and who they were rooting for. (Condolences to those who predicted Spain: on Wednesday the defending World Cup champions, who many pegged as a potential repeat winner, were eliminated from contention.)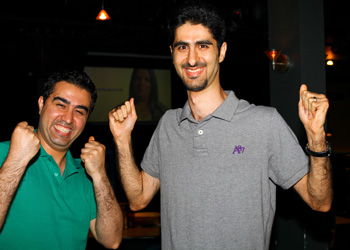 Vahid Aghaei; Amin Akbari (both from Iran)
Programs of study: Computer Science; Industrial Engineering

Vahid is rooting for his home country, but Amin also has a soft spot for Germany and Argentina. "Hopefully Germany," says Akbari, when asked who's going to win. "But I think Brazil has the best chance."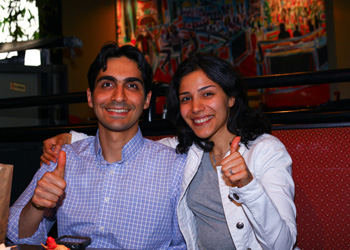 Raheleh Makki; Ehsan Maghsound (both from Iran)
Program of study: Computer Science

Rooting for Iran, Rahleh and Ehsan are split over who'll leave Brazil with the World Cup trophy: Rahleh says Brazil, while Ehsan predicts Argentina. "Because different countries meet each other," says Ehsan, when asked what he loves about the Cup. "And I think it's a peaceful game but fun."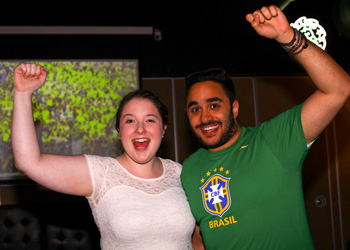 Hima Merdan (Egypt); Emily Curley (Canada)
Programs of study: Commerce; Dal alum

Both Hima and Emily are rooting for Brazil, and predict the host country will also take home the cup. "It brings the whole world together," says Hima. "We all sit down and watch."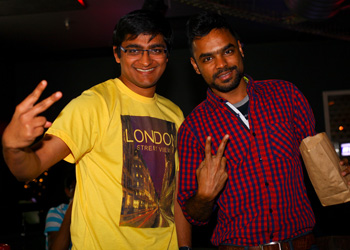 Kaushik Muralidhar; Revanth Nadanasabapathy (both from India)
Programs of study: Computer Science (masters); Internetworking (masters)

"The competition gets tougher at FIFA than the regular league," says Revanth, who's rooting for Brazil and Argentina but predicted Spain to repeat as champions. Kaushik, who's more of a casual observer, agreed — but it was obviously not to be.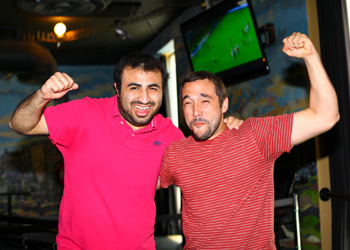 Alex Safatli (Canada); Sergio Haleap (Colombia)
Programs of study: Biochemistry; Computer Science

"I'm rooting for Colombia, but we are not going to be champions, though," admits Sergio, who thinks Brazil is a likely winner. "It brings the world together… it's getting together and cheering for the same thing."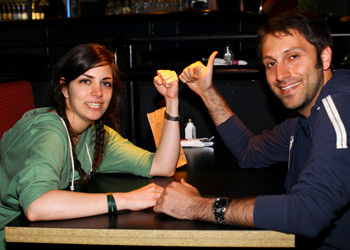 Yasaman Eskaneari; Reza Fathi (both from Iran)
Programs of study: Management; Physics

Both Yasaman and Reza are cheering for Iran, whose first match against Nigeria ended in a 0-0 draw. "The whole game is exciting," says Reza. "It's amusing and free!"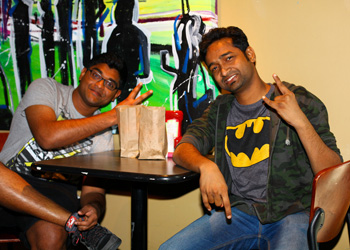 Jomel Varghese; Prabhakara Manickkavel (both from India)
Program of study: Internetworking (masters)

Prabhakaran and Jomel may be cheering for different teams — Brazil and Spain, respectively — but it's the togetherness that draws them to the world cup. "Seeing so many people together at one time is so good," says Jomel.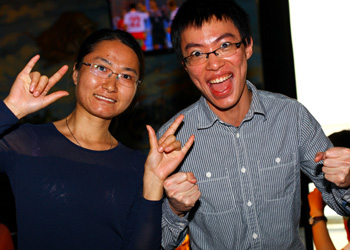 Hui Liu; Lituo Zheng (both from China)
Program of study: Chemistry

Lituo is cheering for Brazil but predicted Span to win; Hui is rooting for England but feels like Brazil will be the eventual winner. Lituo's favourite part of the Cup? "Coming together with friends."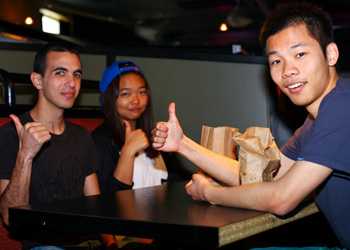 Hassan Abadi (Israel); Fanxzin Lin, Simon Xu (China)
Programs of study: Engineering; Science

Both Hassan and Simon are cheering for Germany — "they're good, I've always liked them," says Hassan — but like others they pegged Brazil and Spain as likely winners. Hassan's favourite part is the championship match: "It's intense and exciting, especially if my favourite team is there."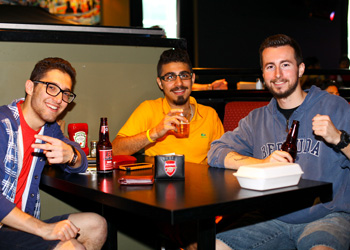 Soheil Nazari (Iran); Parsa Zandieh (Iran); Kyle Fisher (Bermuda)
Program of study: Engineering

The two Iranians are cheering for their home country, but Kyle is siding with the Commonwealth and supporting England. "I would like them to win, but I'm not getting my hopes up," he says.