Ian MacIntosh is the sort of grade 10 student who waxes poetically about fractals and game theory, and who can calculate square roots by hand.

In short: Ian loves math.

"I remember playing with a calculator once when I was in grade two, trying to figure out what all the buttons did," says the Citadel High School student. "I guess I've sort of always just been really into learning about math."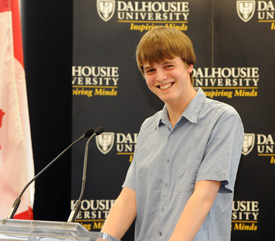 For five years now, Ian has been coming to Dalhousie's Chase Building once a month during the school year for a series of early-evening events hosted by Nova Scotia Math Circles, an outreach initiative of Dal's Department of Mathematics. Its goal: to encourage math education for young people both inside and outside the classroom.

Ian says the Math Circles events, which feature games and interactive activities, combine two of his favourite things: learning about complicated, unusual math problems… and pizza.

"What I like is that Math Circles organizers put together presentations on topics that aren't covered in school, present the information and then give us games to play, or problems to work on in small groups," says Ian, whose current plan is to study Engineering when he reaches university. "The atmosphere is always relaxed and very fun."
Enriching math education

Nova Scotia Math Circles began more than a decade ago, the brainchild of Professor Richard Nowakowski and a group of graduate students. In 2009, the program expanded beyond HRM and began visiting schools across the province, with Dal students and faculty offering in-classroom activities that supplemented and supported curriculum outcomes in a fun, engaging way.

To date, Nova Scotia Math Circles has reached more than 8,000 students province-wide. This year alone, the program will connect with 2,500 students from 50 junior and senior high schools from every school board in Nova Scotia, including the Counseil scolaire acadien provincial and the First Nation School Board.

And it's just getting started.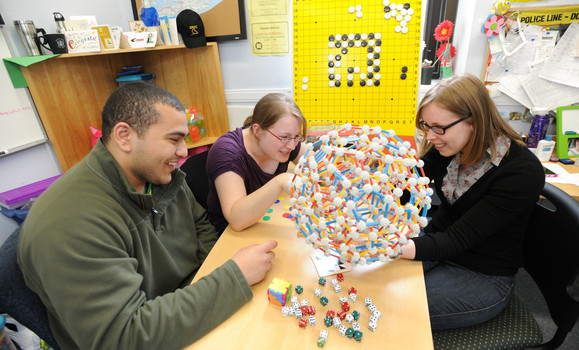 On Tuesday, Eastlink announced it is donating $500,000 to support Nova Scotia Math Circles, funding that will not only allow the program to continue its current programming but to also expand its reach into elementary schools.

"The opportunity to help enrich the academic environment, and support the communities where we live, work and play, is one that truly gets us excited," said Lee Bragg, CEO of Eastlink at an announcement event in the Chase Building's Learning Commons.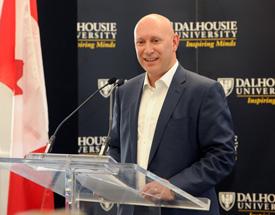 "We're delighted to play even a small part in further developing innovations in excellence in math learning through in-class interactive programs, summer math camps, problem-solving curriculum initiatives and expanding the scope to engage students at the elementary school level in schools across Nova Scotia," said Bragg, who in addition to being CEO of the Atlantic Canadian telecommunications company is a member of the Dalhousie Advisory Council.

Accepting the gift on behalf of the university, Dal President Richard Florizone championed Nova Scotia Math Circles as a stellar example of Dal's commitment to learning, as well as to supporting the development of key skills and talents for Nova Scotia's future.  

"We know math skills are critically important in today's economy and the economy of the future," he said. "We see this program as another way not just to help shape and transform students for the future, but another way that Dal, working together with our partners in government and industry, can help advance Nova Scotia's economy."

Karen Casey, the provincial minister of education, was also at the event, affirming the Province's commitment to math education and echoing Dr. Florizone's sentiments about the important partnerships that make Math Circles possible.

"We recognize it is our collective responsibility to provide our young students with the foundation they need in order to accept the challenges before them and capitalize on the opportunities," she said. "And I see this partnership — with us as government and public schools, industry through Mr. Bragg, and post-secondary through Dalhousie and its students — as [one] that's designed to provide those opportunities."
Offering "moments to shine"

Perhaps no one is more thrilled about the opportunity to expand Nova Scotia Math Circles than Danielle Cox, its program director.

Dr. Cox completed both her master's and PhD degrees in Mathematics at Dal. She first got involved with Math Circles as a graduate student, helping prepare and deliver the program's curriculum. In 2011, she took over as Math Circles' director.

"It's largely graduate students and honours students that go out to the schools," she explains. "Right now, we have about seven or eight graduate students and a couple of undergrads helping with the program. I lead the team, and also go to the schools with them, helping with the presentations and workshops."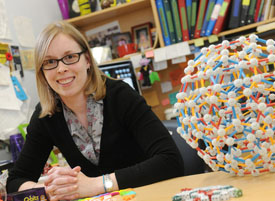 That means she gets to see the program's impact first-hand. She tells one story about a particular school visit, leading a high school class through an activity called "Toads and Frogs." The game has the students take on the role of game pieces, with a series of interlocking moves required to switch the "toads" and "frogs" between sides.

"There was one student that was just on the ball: she was seeing the patterns, she was getting the formula," says Dr. Cox. "Afterwards, I was talking to the teacher, and said, 'She must be the star student; she was getting everything really quick.' The teacher replied: 'No, she's my weakest math student.'

"It was just a different way of math being presented to [the student] that clicked with her learning style and gave her a way to shine. It's those little moments — giving students a chance to shine — that make it worthwhile."

Now, thanks to Eastlink's support, there will be many more of those moments in the months and years ahead.

"By the time students reach grade 10, they may have already started to decide whether or not they're going to continue with the sciences, or with advanced math courses," explains Dr. Cox. "With this Eastlink funding, we can now expand into the junior high and elementary schools, with new material, getting students engaged in mathematics earlier."

The funding will also allow more opportunities for Dal students to work with Math Circles, serving as role models for budding young mathematicians of all ages.

"It's fun, and it gives them a chance to practice their presentation and public speaking skills," she says of the students who work with the program. "It's a nice way to get more comfortable as well as engaging young people in math. It's a win-win all around."

Learn more about Nova Scotia Math Circles at nsmathcircles.com