Visitors to the Halifax waterfront on Saturday, June 7 were greeted with a splash of colour and a unique opportunity to celebrate their city.

Titled "The Unfolding at Nathan Green Square," the activity was one of 52 "interventions" taking place across Halifax as part of "100 in 1 Day."

"The event is something that began in Bogotá, Colombia, and made its way to Canada this year with four cities participating," explains Sarah Ravlic, a first-year Masters of Planning student who helped organize the Nathan Green Square intervention.

"It's about citizens and individuals putting in place the changes they wish to see in their city or raising awareness of social issues."

Eager to attempt an intervention, Ravlic and her fellow Dal students asked the advice of Dal prof Eric Rapaport. He recommended contacting Community Design alum TJ Maguire, an urban designer with the Waterfront Development Corporation. Together, the students and Maguire identified Nathan Green Square as an ideal location — part of the Halifax waterfront boardwalk, just north of the ferry terminal.

"It's a nice big open space, but one that people don't always walk through, especially if they stop at the ferry terminal," says Ravlic. "We wanted to make connections, be open and get people to stop and enjoy the space a bit more."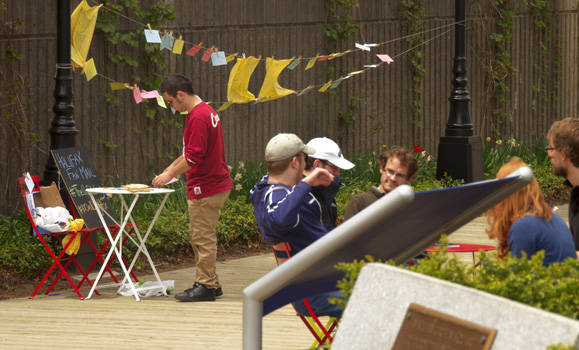 The team of eight students set out a series of patio seats, provided by the Waterfront Development Corporation, encouraging passers-by to stop and enjoy the view. They also had a "Halifax Fan Mail" booth, where individuals could send free postcards to organizations, businesses or notable personalities of their choice, sharing notes of appreciation that the Dal students would then hand-deliver.

"It was great," says Ravlic. "The first set of tables was barely set up when a mother and son came and sat down right away. The traffic was steady all day long; people really seemed interested."

In addition to Halifax, "100 in 1 Day" interventions also took place in Vancouver, Toronto and Montreal. To learn more, visit 100in1day.ca.