Inuit have spanned the arctic for hundreds of years and now, for the first time, some of the most important trails and tracks spanning the North American continent can be traced online.

Over the past four years, Claudio Aporta, associate professor in the Marine Affairs Program, has been collaborating with colleagues at Cambridge and Carleton Universities on The Inuit Pan Arctic Atlas. The result of their work, released today at paninuittrails.org, is a digital atlas constructed from historical records, accounts, maps, trails and place names that link historic information both relationally and visually on a map.

The atlas provides a unique window into the spatial extent and connectedness of Inuit occupancy, illustrating their historic sovereignty over a large area of Arctic land, sea and ice.
An oral tradition

The importance of trails and place names in the Arctic has often been overlooked. An intricate system of trails has long connected Inuit groups with their neighbors and with resources. For Inuit, trails are used in relation to the seasons, and in a sense act as a social space that provides a rhythmic connection to the animals they hunt.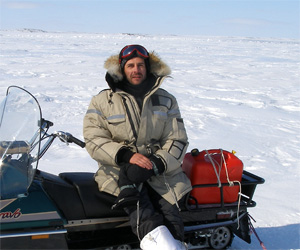 "The only way of understanding the dynamic of life in the Arctic is looking at these trails, says Dr. Aporta (left), principal investigator of the SHHRC funded project, "The Northwest Passage and construction of Inuit pan-Arctic identities."

Inuit trails span not only land, but sea and ice that change each year. As a result, trails and place names are an integral part of Inuit culture and heritage.

"For the untutored eye, these trails may seem indistinguishable from the surrounding landscapes, but for Inuit, the subtle features and contours are etched into their narratives and storytelling traditions with extraordinary precision," says Michael Bravo, a co-director on the project and head of Circumpolar History and Public Policy at the University of Cambridge's Scott Polar Research Institute. (The project's third co-director, Fraser Taylor, is from Carleton University.)

Many of those trails were recorded through hand-drawn and printed maps, the result of encounters between Inuit and outsiders, but most Inuit trails have been shared from generation to generation for centuries

"There has always existed a fascination with the Arctic," says Dr. Aporta. "We often perceive the Arctic to be an empty, harsh place. The Inuit Pan Arctic Atlas allows us a different view of the Arctic, one that focuses on the interconnectivity of people and that illustrates historic and geographic connections among Inuit groups across the Arctic."
Making connections

Traditionally, and even today, Inuit travel has a purpose.

"It could be exploring or visiting, but in many cases, especially when Inuit were living semi-nomadic life, and were not living in settlement, the travelling was mostly connected to availability of food," says Dr. Aporta. "Inuit travelers would be moving in these trails at one time or another based on the availability of food on land, sea and ice. That is why trails can be thought of as a social space."

The atlas connects accounts of these travels that were documented, recorded and mapped by explorers and other Arctic travelers. When viewed together, trails like the ones depicted in the atlas show links among Inuit groups that span from Alaska to Greenland.

"The atlas shows us that the sea ice has been a place of home, nourishment and connection for Inuit for generations," explains Dr. Bravo. "It invites us to question how our own childhood stories and myths have inhibited a true appreciation of the continent we call North America."
A political landscape

The concept and content of the Pan Inuit Trails Atlas is both a significant and timely contribution to our knowledge of the Inuit presence in the Canadian Arctic. The prominence of Canada's internal water in political debates has been heightened by an economic landscape transformed by climate change and the global demand for resources.

This has made the task of communicating evidence of Inuit historical presence in the Arctic more important than ever.

"This atlas can be explored as evidence of rich Inuit history in the Canadian Arctic supplementing that offered by other sources such as archaeology and oral history and can be seen as a first step on a project that will include Northern Quebec, Labrador, Alaska, and Greenland," says Dr. Aporta.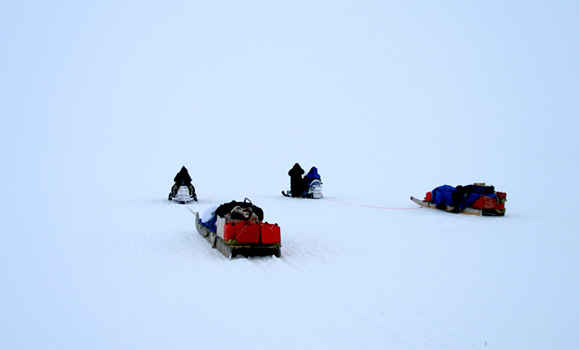 Travelers observe the trail during a whiteout (2006).