From the second paragraph of their newly released report Expanding the Vision: Why Nova Scotia Should Look Beyond Econocentric Immigration Policy, Dalhousie professor Howard Ramos and Saint Mary's professor Alexandra Dobrowolsky don't mince words.

"Immigrants are expected to do all the giving, while the province does all the taking," they write.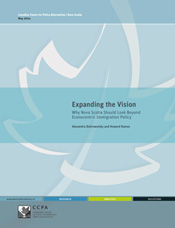 This kind of strong language is present throughout the report, prepared for the Canadian Centre for Policy Alternatives. The econocentric model of immigration, they argue, focuses on what new immigrants can bring to the economic fabric of Nova Scotia, neglecting what they bring to the cultural, social and human fabrics. This narrow view of immigration as a one-way street means immigrants often don't get the social support they need to succeed in their new home.

Dr. Ramos and Dr. Dobrowolsky observe that despite a number of promising policy changes at the provincial level, Nova Scotia still has trouble attracting and keeping immigrants. "We wanted to know: What are some of the things that people aren't thinking about? It's time to take stock of who we are."

This research has a personal connection for Dr. Ramos, an associate professor in the Department of Sociology and Social Anthropology. He's the son of an immigrant from Ecuador and the husband of an immigrant from Japan.

"About 20 per cent of Canadians are immigrants," he says. "An even greater number are the children of immigrants. Our country is a settlement country."
Changing the conversation

"If you listen to the language of government," continues Dr. Ramos, "we often say we want 'investors' in the province, giving to us. Investor-migrants have issues all over Nova Scotia and Atlantic Canada. They often don't perceive it as a fair exchange."

The report focuses on three types of newcomers to Nova Scotia: participants in the Provincial Nominee Program, or PNP; temporary foreign workers, or TFWs; and international students. All three face challenges.

Recommendations in the report include investing more financial resources in immigration, including data collection and research; refocusing the Nova Scotia nominee program to attract a more diverse range of immigrants; addressing problems in Temporary Foreign Worker Programs; improving supports for international students; redressing gender imbalances in immigration; making it easier for extended families to immigrate; broadening the focus of source countries for immigrants; and establishing an Immigrant Advisory Council.

Expanding the Vision has attracted considerable attention and media coverage since its release late last month.

"Dal plays a pivotal role and has an obligation to do this research," says Dr. Ramos. "We have the capacity to fill in the lack of data and make policies tailored to Atlantic Canada. The federal government certainly isn't producing that research."
Getting creative

As for the perplexing question of why 20-to-37 per cent of immigrants don't stay in Nova Scotia, Dr. Ramos points to policies that put the province in direct competition with the rest of Canada.

"We are trying to attract people who are highly educated and skilled to a weak economy. They are more likely to move." Integration is also very difficult. "How we welcome outsiders and come-from-aways and the exclusionary relationship we have with people make it difficult for any newcomer to Nova Scotia."

The word "creative" appears many times in the report to describe a better way to look at immigration policy. Dr. Ramos explains this choice of words by asking questions: "The problem we're trying to solve: is it about attracting people? Is it about a long-term commitment, and putting down roots and having children and grandchildren in Nova Scotia? This isn't the only province trying to attract immigrants. How can we distinguish ourselves from the pack? If we think creatively, it will give us a unique advantage."

Dr. Ramos hopes that the report will spark discussion and debate about two things: immigration policy and how Nova Scotians relate to immigrants.

"Our aim is to get people to really engage with these ideas rather than just being judgmental."

You can read Expanding the Vision at the Canadian Centre for Policy Alternatives website.