Fish swim in the aquarium. Orcas and sea turtles decorate an activity table. There is much to see in the waiting room of the IWK Health Centre's eye clinic, but determining what exactly Keagen, age four, does see is the job of an orthoptist in an examining room.

Today, Cara Andrews, a second-year student in Dal's graduate diploma in Orthoptics and Ophthalmic Medical Technology, is taking the lead. She covers one of Keagen's eyes, changes the image projected on the wall, and asks, "What do you see?"

It's a question Erik Hahn has probably asked a million times. He graduated from the IWK School of Orthoptics in 1986, and now teaches and leads clinical care.

"No one grows up wanting to be an orthoptist," admits Prof. Hahn, cheerily. "I remember having an older gentlemen come in and the first thing he started to do was take out all his orthotics for me."

Orthoptists are eye care specialists and at Dal's Clinical Vision Science school — co-located in the IWK's eye clinic alongside ophthalmologists — most of the patients are closer to Keagen's age. Orthoptists take the lead in diagnosing eye disorders, most commonly strabismus, where the eyes are not properly aligned. Orthoptists prescribe non-surgical treatment — often involving the use of a patch — to treat amblyopia, or lazy eye.
A North American first

Prof. Hahn maintains the bouncy step of an overgrown camp counselor. His summer work experience got him a job as a residence counselor at the Halifax School for the Blind in the early 1980s. Already interested in vision, he did his masters research on visual impairment with some of the blind students as subjects.
    
Now, 30 years after he finished training as an orthoptist, he's proud to send off in-demand graduates he helped to train. Boston Children's Hospital, part of the Harvard Medical Program, will call to ask for candidates.

"We're probably the smallest graduate program at Dalhousie, but we're the biggest program in North America in orthoptics," says Darren Oystreck, director of the CVS program and chief of orthoptics at the IWK Health Centre.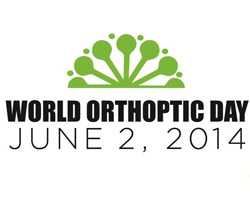 He returned to Canada in 2013, after 10 years abroad instructing and doing research to  what he refers to as the "ultimate" job in his field in Canada. (Karen McMain, Prof. Oystreck's predecessor, is now president of the International Orthoptic Association.)
    
"This is the first program [in North America] that has formally moved into the university setting," says Prof. Oystreck, noting that university-level training is common for orthoptists in the United Kingdom and Australia. "I'm realizing not very many places in North America could pull this off, because there are just so many stakeholders who need to be involved."

For example, students who chose to pursue not just a graduate diploma but an MSc in Clinical Vision Science often find research supervisors in departments across the university. Stephanie Sobey passed her board exams — which includes a patient exam in front of an orthoptist and an ophthalmologist — and qualified as an orthoptist in 2013 but, in between part-time work at the IWK Health Centre, she's working at a psychology lab in the Life Sciences Centre to complete her MSc in Clinical Vision Science.

"In order to be involved in research or to be involved at the IWK, you have to have a masters," says Sobey, whose particular interest is visual perception.

"I present images of faces on a screen and ask people to identify whether they're male or female, and we're using an eye-tracking camera to locate which areas of the face they're looking at to make these distinctions."

Other MSc students have looked at how neurons related to vision develop in the brain and examined the determinants of success for different surgical procedures.  

"There's something magical about Dalhousie to allow such a small program to be as successful as it has been," says Prof. Oystreck.
An up-close look

Just how small is the program? It admits only six students each year. The classroom, the size of a modest living room, opens off the hall that leads patients to reception. Proximity to a constant caseload of eye disorders is key to the students' learning.

"Sometimes we'll be in lecture," says student Cara Andrews, "and they'll come out and say, 'Oh, we have a really interesting case,' and they'll bring a few students out of class to see it."

"It's really much better than looking at slides all day," says Prof. Oystreck.

Andrews applied to study Physiotherapy and Pharmacy at Dal as well, saying she always wanted to combine her interest in science with her love for interacting with people.  

The mostly pediatric population of orthoptics was a good fit for Andrews. She congratulates young Keagen for good work as his suite of tests ends. It's his fourth exam in the past two years, as the team tracks a number of issues with his eye development.  He hops out of the chair, pops his glasses back on, and heads to see the model trains which volunteers maintain in the lobby.  

Andrews and all graduating orthoptists in Canada will do their national exams in Halifax in early June, immediately before the annual meeting of the Canadian Orthoptic Society, June 4-7.
Learn more