"It was a learning experience that none of us will ever forget."

That's how Matthew Kennedy (BEDS'09, MArch'13) describes the summer he and four of his fellow graduates spent at Camp Triumph, a Prince Edward Island-based summer camp dedicated exclusively to children who have a family member with a chronic illness.

The camp itself was started by another Dal grad, Dr. Jordan Sheriko (MD'11), who received the Dalhousie Alumni Association Christopher J. Coulter Award last fall in recognition of his efforts.

Immediately following their graduation from the Faculty of Architecture in 2009, Kennedy, Andrew Choptiany (BEDS'09), Samuel Lock (BEDS'09, MArch'13), Mark Erickson (BEDS'09, MArch'11) and Clayton Blackman (BEDS'09, MArch'13) headed to the camp's new 13-acre site in P.E.I.'s Cabot Beach Provincial Park.
The young men worked 16-hour days, completing the master design plan and building the kitchen, dining hall and washroom—the camp's first permanent structures. Until then, the camp had been operating using rented facilities.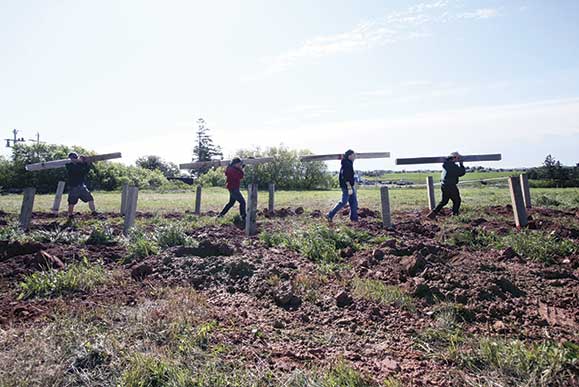 "The project taught us rich personal and professional lessons," says project lead Kennedy. That included lessons like the importance of perseverance, flexibility and collaboration and the positive vibe that comes with giving your time and experience freely to a great cause.

The team finished the heavy labour just in time to welcome the first campers of that summer, staying on as volunteer counsellors. "It was the best feedback you could ask for," says Blackman. "We learned so much from being in the space we'd designed and built, from using it and seeing how others reacted to it. No other experience could have given us that insight."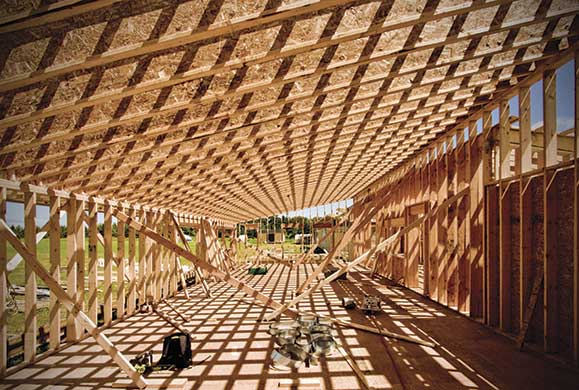 The impact of that summer still resonates today, more than five years later.

"That experience really launched our careers," says Kennedy. Their Camp Triumph project was featured in several architectural publications such as Twenty + Change, Archdaily and Canadian Architect. All five went on to complete a Masters of Architecture; four did their graduate work at Dal, including Clayton Blackman.

"Working on Camp Triumph showed me what I was capable of," says Blackman. "It had a big impact on the way I structured my master's degree.I took on bigger challenges and leadership roles because I knew I could handle it."

Today, while the men live in different Canadian cities, they remain close and collaborate professionally whenever they can. "We find ways to work on projects together," says Kennedy. "It's a lasting relationship."