When Roberta Barker was a high school student, she was asked what she wanted to do for a career.

"I said I wanted to be a university professor because I just think that's the best job on earth," she says.

Now an associate professor in the Department of Theatre, she still feels that way, approaching her work with an enthusiasm that rubs off on her students. Dr. Barker has long been one of the university's most popular professors — topping The Coast's readers' poll best prof in Halifax several years running — and now she's been recognized with Dalhousie's top teaching award: the Dalhousie Alumni Association Award for Excellence in Teaching.

The award was presented at Monday's Senate meeting, alongside university teaching awards for educational leadership, graduate teaching assistants and sessional and part-time instructors.
Sharing joy and inspiration

Dr. Barker has taught 16 different courses at Dalhousie and the University of King's College during her 13 years on campus.

"I teach theatre, literature and performance; these are things that I really love and that I look to for joy in my life," she says. "Just the opportunity to share that joy and inspiration with the students, I think this is an aspect of teaching that just grows over the years."

Dr. Barker says she's honoured to have been nominated and chosen for the award but adds that she can't take all the credit. "There are so many great teachers at Dal and King's," she says. "A lot of them have been mentors to me during my time as a student, and I still look up to them now as colleagues."

"I think that I'm also incredibly lucky to work with the students that I work with," she continues. "The Theatre students and the King's students — the students I teach most frequently — are pretty famous for being very passionate and having a lot to say, as well as being full of insight. It's not very hard to go into class with these students; the enthusiasm and engagement are very much there already."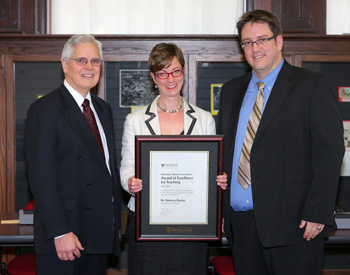 Dr. Barker's nominators had plenty to say about her. "She can command a room and draw attention to her words in ways few of us can," wrote one. "Students repeatedly speak not just of being captivated, but also of being challenged." Added another: "I am confident to say I have never encountered a professor with such striking dedication to her students' success."

Obviously, being such a dedicated teacher and mentor is no small feat. When asked about what keeps her going, Dr. Barker again mentions her students and the dynamic quality of the profession.

"If I'm talking about Chekhov or Beckett, talking about playwrights and performers, every class perceives that differently and relates to those works differently. They bring new insights," she says. "It's that aspect of teaching where you're learning all the time, and where things are changing all the time. It's always in flux and that's the aspect of the profession that is permanently surprising and refreshing. It's not just about giving knowledge, but it's also about gaining knowledge."
Demonstrating leadership

Another honouree among this year's teaching award winners is Anne Marie Ryan. The long-time instructor in the Department of Earth Sciences received Dalhousie's Educational Leadership Award, which recognizes an individual who has made a significant contribution to the enhancement of university teaching.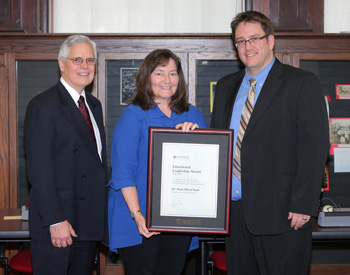 Whether she has taught them or not, many students have been impacted by Dr. Ryan's efforts to improve teaching and learning at Dalhousie. In addition to mentoring new faculty, she has co-developed a new Certificate in Science Leadership and Communication and acted as an academic advisor for first-year students. She also is an active researcher on issues of teaching and learning, and has presented her findings both across Canada and abroad.

"I didn't set out to be a leader," she says. "It sort of evolved." Teaching has been a passion of Dr. Ryan's some time. "It is something I've always wanted to do," she says. "It's my way of making a contribution to society, but also it's a creative challenge.

"I'm always learning from my students. I have to keep up with new ideas on teaching and new ideas in my discipline, and I find that really rewarding."

One nominator wrote: "She has become a true role model and a leader for many of her colleagues … [and] never hesitates to generously share her time and experience with others to enhance the teaching and learning environment at Dalhousie."

Dr. Ryan says that two of the most important aspects of good teaching are caring and making connections.

"I think it's important that we care for each other and for our students," she says. "Being able to create some time to make connections and to allow connections to grow is important, especially in classrooms, where I think a lot of students can feel disconnected."
More teaching award winners

Also presented at Monday's Senate meeting were the Sessional and Part-Time Instructor Awards of Excellence for Teaching and the President's Graduate Teaching Assistant Awards.
Sessional and Part-Time Award for Excellence in Teaching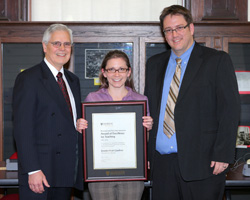 Jennifer Frail-Gauthier has been a lecturer in the Department of Biology since 2008, but began her teaching career as a teaching assistant in 2004.  In addition to her teaching responsibilities, she is a PhD candidate in the Department of Earth Sciences, works as a part-time tutor in the Writing Centre and as a Life Sciences Coach with the Studying for Success program.  She was a recipient of a Dalhousie Student Union Award for Teaching Excellence in 2009 and is a respected teacher by her senior colleagues. Her dedication to her work is also evident from her other academic pursuits: she has designed and developed the Coastal Ecology course for the SEASIDE program, managed and written laboratory components for a 300+ student course, and written chapters for a soon-to-be-released book on coastal wetlands.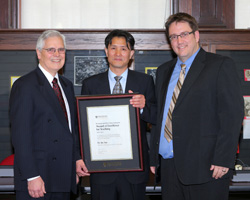 Jin Yue has taught in the Department of Engineering, Faculty of Agriculture since 2009 and previously in the Department of Math and Statistics from 2006-2010.  Before coming to Dalhousie he taught extensively in the US and China. His teaching accomplishments have been recognized previously with the Faculty of Agriculture Award for Teaching Excellence. Outside the classroom, Jin is actively involved in his department and was instrumental in organizing and staffing the Math Help Centre that resulted in his receiving, alongside a colleague and students, a Dalhousie Impact Student Leadership Award in 2013. Jin also recognizes the challenges incoming students face and makes an effort to review high school math notes, which he borrows from his students, in order to ensure a smooth transition for students into a university math class.
President's Graduate Teaching Assistant Award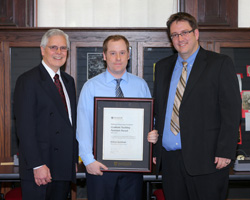 Joshua Goreham is a master's student in the School of Health and Human Performance in the Division of Kinesiology.  He has held six Teaching Assistantships over the last two years for introductory and advanced biomechanics courses and anatomy courses. Faculty, laboratory instructors and students alike find Joshua to be enthusiastic and helpful as he actively seeks innovative approaches to support students' learning. Joshua is currently working on his Certificate in University Teaching and Learning and as well as engaging in his own professional development of teaching also supports the professional development of his fellow TAs. As a senior TA in biomechanics he is not only responsible for setting up the labs to ensure that they run smoothly, but also teaches the first lab of the day so that he can invite the other lab TAs to sit in so they might more fully understand how they can effectively approach the lab to ensure students finish successfully. He has also participated as a speaker in the Dalhousie summer Supernova and Mini-University programs.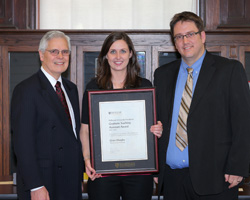 Grace Murphy is a PhD candidate in Biology and has been a TA in that department since 2008, teaching in 15 courses across first, second and third year. She has supervised more than 20 student volunteers on research projects and co-supervised six honours students, as well as a number of students in the new Experiential Learning Course in Biology.  She has also participated as a speaker in the mini-university as a marine biology instructor. Grace is both a mentor to new teaching assistants and well known and highly respected in her department for her mentoring of undergraduate students. She is approachable and supportive while encouraging students to learn independently. She is currently working towards the completion of the Certificate in University Teaching and Learning. Grace was the 2013 recipient of the Department of Biology Teaching Assistant Award and in 2012 received the L'Oreal mentoring Scholarship for Science in Canada.  

Alana Westwood is a PhD student in the Department of Biology. Since 2008 she has been a TA in 10 courses including the field course GIS in Ecology. In addition, she has been a TA for Ethics in Science, a course designed to meet a writing requirement course for undergraduate science students in the Dalhousie Integrated Science Program. She has also been a Senior Tutor for several years in the Writing Centre. Alana has had the opportunity to bring together her experience in the Writing Centre with her TA work in the philosophy course by proposing a writing assignment for Ethics in Science that included a blog writing competition that is wildly popular with students. Alana has been instrumental in supporting the teaching development of her fellow tutors in the Writing Centre, and won an award for being the most engaged tutor at the Writing Centre.  She is currently completing the requirements for the College Reading and Learning Association's ITTPC International Tutor Certification.
Award presentation pictures feature Lloyd Fraser (left, chair of Senate) and Brad Wuetherick (right, executive director, learning and teaching). Photos by Nick Pearce.