Engineering and Environment Science co-op students were recently bestowed with lucrative awards that will boost their already-promising early careers.

Electrical Engineering co-op student Jacob Starratt received the highly-competitive Natural Science and Engineering Research Council (NSERC) Industrial Undergraduate Research Award during his work term at Lockheed Martin Canada.

Jacob's research and development work at Lockheed Martin, combined with his high GPA, qualified him for the NSERC award valued at $4,500. His main project at Lockheed Martin is developing a cutting-edge computer training simulator.

"My role is mostly software-oriented, with a lot of time spent coding. Seeing it all come together and work the way you want it to is very rewarding," he says. "Before co-op, the only work experience I had was in fast food. Co-op has been a valuable introduction to the corporate environment and lets me apply what I've learned in class to real work."

Jacob credits in-class engineering projects, like designing a robotic ping pong player, with giving him a technical edge in his work at Lockheed Martin.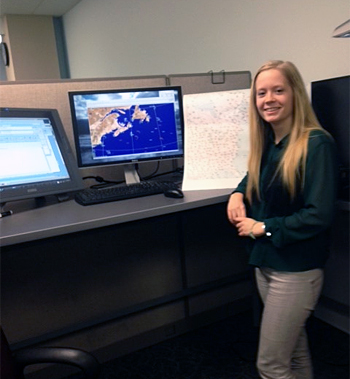 Likewise, Environmental Science co-op student Stefanie Mellon (left) received the Transatlantic Ocean System Science and Technology Research School (TOSST) Fellowship Award, part of a new initiative to join marine research institutes on opposite sides of the Atlantic Ocean. It's the first TOSST Fellowship award for an undergraduate student.

"For the first half of the work term, I'll be assisting a masters student with research in Kiel, Germany," says Stefanie. "For the second half, I'll return to Halifax to analyze core samples that contain over 100,000 years of information about past ocean climates."

Stefanie's passion for marine research has been nurtured by two co-op work terms, one with Dalhousie oceanographer Markus Kienast and one with Environment Canada. Her co-op experience in paleo-oceanographic core sampling, marine meteorology and air quality research will enable her to contribute directly to TOSST's mission of better international management of the planet's ocean.

"Because the ocean is so vastly interconnected, TOSST bridges two research centres on opposite sides of the Atlantic to collaborate and achieve a more complete perspective" says Stefanie. "It's a new approach, and a new opportunity."
Accomplished students, big opportunities

Jacob and Stephanie aren't the only co-op students to receive national attention lately. Earlier this year, Alex Harding, an Engineering co-op student, became the first Dalhousie student to receive the 3M National Fellowship Award.

Alex just completed his first co-op work term working in the Faculty of Engineering as an Assistant System Analyst, where he introduced SharePoint to revolutionize how the faculty shares and manages information.
"If I had one focus — and I think this is big for any co-op student — it's networking. You've probably heard of six degrees of separation," says Alex. "It's very powerful, and I think it's underused. We were able to get SharePoint up and going because we networked around."

During his four-month work term, Alex also implemented a new remote-tutoring system for the Imhotep Legacy Academy, created a database for an IWK research project, and established a more efficient and secure system for the Faculty of Engineering to share information with associate universities.

"So much of communication is something you can only learn through being there, and that's what co-op does. Classes give you the hard skills, but they don't give you the people skills." says Alex. "I think that's something that we all have in the back of our minds. We've all heard about how you can succeed in class, but fail in the real world, and I think co-op is that perfect balance between education and actually working."

Alex recently secured his next work term conducting research at Johns Hopkins University in Baltimore, Maryland, where he will develop cutting-edge cardiologic simulation technology and tissue engineering.