Next time you're walking through the Killam Atrium, take a quick glace at the left-hand wall by the front entrance.

There, you'll see a brand new AED (automated external defibrillator) device. With simple audio/visual instructions designed so anyone can use it — not just medical professionals — the AED is one of dozens on campus in case of a medical emergency where an individual's heart may be undergoing life-threatening rhythms.  

This particular AED installation was made possible through the efforts of Jewish students on campus, who raised the $1,500 needed the purchase the device through the Mikey Network — a national organization that seeks to place defibrillators in public spaces.

Hillel of Atlantic Canada, the Jewish Students' Association, hosted an unveiling event for the new AED last Friday. Naomi Rosenfeld, the organization's director of Jewish student life, worked with two Jewish student societies on campus — Hillel Halifax and Israel on Campus — to identify an opportunity to give back to the Dal community. She said they were guided by a Jewish value called "tikkun olamm," which translated to English means "repairing the world."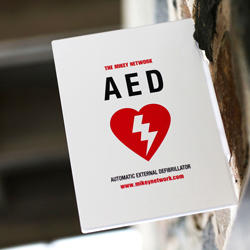 "We discussed it as an organization and thought this would do a lot of good for the campus and a way to really give back to the community that really does so much for us," said Rosenfeld.
When in need

The funding for the Mikey AED was mostly raised at concert event the societies held at the Grawood in March, with the support of the DSU.

"It was beautiful that we got everyone to come help out," said Jesse Zelunka, president of Hillel Halifax. "We had students, professors, all these organizations and committees come together to do a good thing for the school."

The new AED device becomes the 28th defibrillator on campus maintained by the Office of Environmental Health and Safety. (Additional defibrillators are managed by Dal Security and Dalplex, as well as those used in the hospitals.) Stephen Ellis, Dalhousie's health and safety officer, helped identify the location for the installation, noting that while there was already an AED in the Killam's basement (to support IT staff), the main atrium was without a device.

And if you think the machines are mostly just for show, think again: Ellis says that AEDs on campus have been used twice in the past three years, both times successfully.

"It will happen again at some point, and it's great to have it when we're ready," he adds.

In addition to thanking the DSU and the Safety Office, the students also credited Dal Libraries with helping get the installation up and running.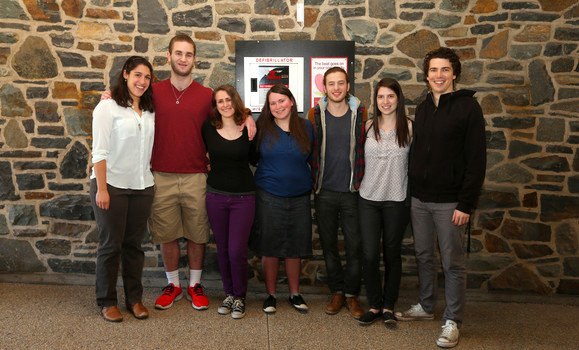 Left-to-right: Naomi Rosenfeld (Hillel of Atlantic Canada); students Shad Brown, Sarah Ellis, Tamar Ellis, Jesse Zelunka, Hilary Hendin; Danny Shanahan (DSU VP student life).