"What's the use of that?" It's a question many people find themselves asking every day, related to everything from gadgets and toys to concepts and ideas.

John Cullen, professor in the Department of Oceanography at Dalhousie and part of the Centre for Environmental Observation, Technology, and Research (CETOR), asked that question to an audience at a special lecture last month at Halifax's Discovery Centre — applying it specifically to scientific research.

"What do scientists do? They explore," he explained. "Exploration science is important because it explains how things work. The observe, discover, describe experiment, predict and explain."

While attending the Scripps Institution of Oceanography to complete his PhD in Biological Oceanography, Dr. Cullen developed a deeper understanding of the idea that "the needs influence the research" as he worked as a research assistant on the development of an ocean monitoring system.

As he explained in his lecture, the development of this ocean monitoring system was instrumental in much of the technology that makes oceanography possible today.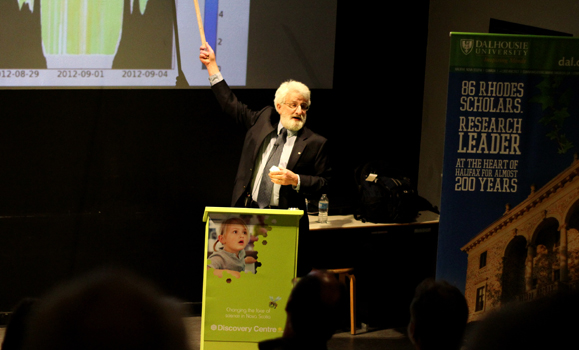 Over the course of Dr. Cullen's career, his main focus has been phytoplankton, examining its interactions with other water systems and new environments. He spoke about how this research was applied in the development of a water treatment system for ships, minimizing the interactions between different types of phytoplankton when water is taken on and released from the ship in different destinations.

During the question and answer period following the main lecture, a young woman in the audience asked, "What is the main message to take away from this lecture, to impart to young students and young people?"

"The most important message is that employers and grad students, even undergrads, must remember to explore," he answered. "Employers must give room for them to do that and students must take the initiative to do it themselves. The importance of exploration cannot be limited to one field."

Dr. Cullen's lecture was presented in partnership with the Royal Society of Canada Atlantic Chapter, Dalhousie, The Chronicle Herald and the Discovery Centre. The event's MC was Ian Thompson, associate publisher of The Chronicle Herald, and the April edition of the Herald Magazine, with an oceans theme, was also launched at the lecture.