PhD student Chris Burns had two important considerations at the top of his list when it came to choosing a graduate program: who he wanted to work with, and how his work would be funded.

Figuring those out brought him to the lab of Jeff Dahn, the NSERC/3M Canada Industrial Research Chair in Materials for Advanced Batteries at Dalhousie and one of the pioneering developers of the lithium-ion battery. Supported by federal and industrial funding, Burns' research developing high-precision battery testing equipment has led to his own startup company, QNova, offering testing services to companies around the world.

"Without those grants, I wouldn't have the opportunities I've had to work in Dr. Dahn's lab and start this company here in Nova Scotia," he said.

On Friday, Burns was on-hand as the Government of Nova Scotia came to Dal to announce its new scholarship program for graduate students. Starting this fall, the Department of Labour and Advanced Education will fund 120 innovation and research scholarships at Nova Scotia universities. Once the program is fully phased in over the next four years, it will fund 310 scholarships annually.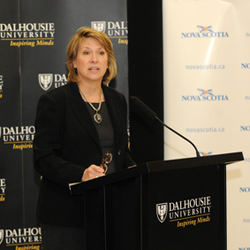 The annual awards, valued at $10,000 to 15,000 each, will be available for masters and doctoral students, with a third type of scholarship to help international graduate students cover differential fees.

"Nova Scotia universities like Dal compete for graduate students from other places across the country and around the world," said Kelly Regan, minister of Labour and Advanced Education. "Graduate scholarships will help our universities attract the best and brightest minds to Nova Scotia, and their work and research in key areas like life sciences and information and communications technology will benefit our economy, our citizens and help bring opportunity."
Investing in students

Prior to the announcement, Nova Scotia offered a relatively low level of government funding for graduate students compared to other provinces — an issue noted in Dal's 100 Days of Listening report as a competitive disadvantage. Martha Crago, Dalhousie's vice-president research, welcomed Friday's news, explaining that graduate students are a vital component of university research in the province.

"These are the motors, these are the drivers of the research that goes on in our universities," she said. "Without them, the quantity and quality of research and the discovery of new knowledge — the knowledge that helps society environmentally, economically, socially and culturally — would not be possible."

Universities will administer the innovation and research scholarship program using existing Canada Graduate Scholarship application processes and selection committees. In Dalhousie's case, departments can expect to receive a call for nominations in the coming days.

Applicants for the awards must be full-time graduate students enrolled in a non-professional doctoral or masters program with a thesis requirement. Other requirements include meeting established Canada Graduate Scholarship criteria and being supervised by a professor working on research linked to industry, related to innovation in social policy or with commercialization potential.
Opportunities in Nova Scotia

Following the announcement in the lobby of the Dunn Building, Burns and Dr. Dahn took Minister Regan and media guests on a tour of their lab facilities, showcasing the battery-testing machinery that Burns' company is translating into applications for the private sector.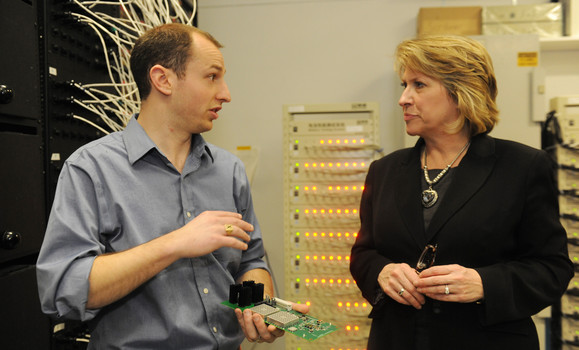 "With the international market, it really can work anywhere," he said, when asked about his decision to start QNova in Nova Scotia. "It's really about having the right people and the right knowledge base, and all of that knowledge base for our company was developed here at Dalhousie through our research. So there's no reason that we can't stay here, and with the local companies that we're learning about more and more, it's actually pretty impressive, the knowledge base that is here in Nova Scotia to support our business needs."

Like Dr. Crago, Burns praised the new scholarship program, hoping that it leads to more opportunities for students like him.
 
"I think it's phenomenal that the province is recognizing the need for this kind of support and scholarship program," he said. "This will help bring new students to our universities so that they can both contribute their research and any entrepreneurial efforts to the province."