Students, faculty and staff gathered Tuesday morning at the Ocean Sciences Building to celebrate Earth Day and commemorate Dal's sustainability accomplishments over the past five years.

The event was organized by the President's Advisory Council on Sustainability, and featured speeches about Dal's progress in sustainability in academics, in operations and student life, followed immediately by a tree planting outside the Ocean Sciences Building.

"Through mutual understanding and a shared sense of ownership, Dal has managed to build an approach to sustainability that's unique among North American universities," said Dal President Richard Florizone, celebrating the degree of collaboration it takes to make sustainability education and practice possible at Dal.

"It's not only about coming together across disciplines to inspire change within the university, but also within the city of Halifax."
See also: Inside Dal's sustainability success

And indeed, the students and faculty of the College of Sustainability have done just that. The college brought together students and faculty from across the university, uniting them under a common banner as they integrate sustainability into their studies. Steve Mannell, the college's director, spoke about its genesis.

"We'd done a lot and were doing a lot, but at the same time, there was always the sense that we could do more," Prof. Mannell said. "Not necessarily through working harder, but working differently."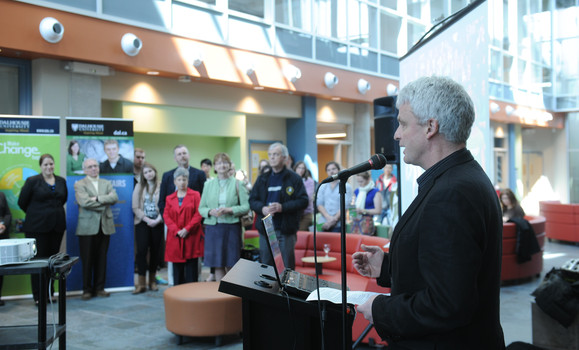 Other speakers at the celebration included Rochelle Owen, director of the Office of Sustainability and Samantha Luc, filling in for Uytae Lee, co-chair of YESSS (Your Environment Sustainability and Society Student Society).

At the student level, collaboration is just as important. Students established the Dalhousie Student Union Sustainability Office (DSUSO), were driving forces at the PowerShift Atlantic Conference and within the Fusion Sustainable Transportation Plan, and created the Loaded Ladle in the SUB which serves up free local and gluten-free cuisine to address issues of food security. They've also sparked the cause of fossil-fuel divestment on campus through the Divest Dal organization.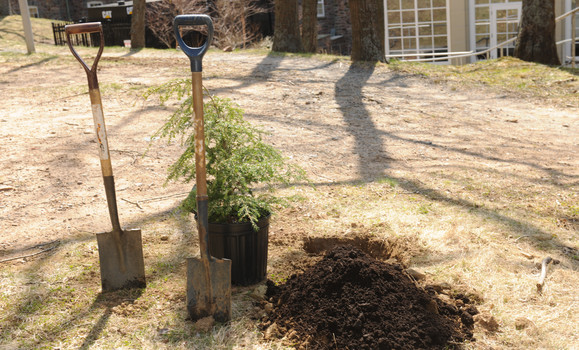 The event also highlighted a unique component of Dal's Natural Environment Plan. Stephen Cushing, a Dal grad student who works with the Office of Sustainability, spoke about his diameter replacement policy, which states that trees removed from Dal campuses must be replaced with a tree or trees equal to the diameter of the tree that was removed. For example: if a tree with a 50-centimetre diameter is cut down, it can be replaced with 10 trees each with a five-centimetre diameter.

The policy was introduced for the construction of the Dalhousie Ocean Sciences Building, where the Earth Day celebration was held. In total, 47 trees were cut down for its construction, but Dal will be planting upwards of 200 over the spring and fall to replace them. (Wood from the trees that were cut down was also used to build the benches in the building.)

After the presentations, Cushing led the crowd outside for a tree planting of five eastern hemlocks — the perfect way to mark a beautiful spring morning on Earth Day.