The mining industry faces a looming skills shortage — according to some estimates, a need of up to 50,000 skilled workers by 2020.

"The case for supporting the development of talent in our industry is clear," explained Peter Dey, speaking on behalf of Vancouver-based mining company Goldcorp at an announcement Tuesday at Dal's Faculty of Engineering.

To help support that cause, Goldcorp is donating $300,000 to Dal's Mineral Resource Engineering program. The funding will establish the Goldcorp Professorship in Mineral Engineering, to be held by senior professor Donald Jones. The position will focus on curriculum design in particular, expanding the program's emphasis on health and safety and environmental aspects of mining engineering.

"Having people who've worked in industry, as many students will appreciate — having professionals who are practically minded and have that practical experience, being exposed to real-life challenges — that provides a great opportunity to influence and inform our own education and research," said Dal President Richard Florizone, speaking at the event.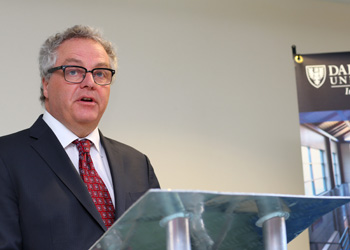 The lobby of Sexton Campus' Morroy Building was filled with students who came out for the announcement, reflecting just some of the ripples Goldcorp's gift is already causing across the department and the Faculty.

"This is the start of the rebirth of our Mineral Resource Engineering program," said Dean of Engineering Josh Leon, noting that the department has been able to make two new hires building on the momentum of Goldcorp's support. "It's a real day of growth."
New opportunities

Goldcorp is one of the world's fastest growing senior gold producers, employing 18,000 people in eight countries around the world, and frequently hires Dal co-op students and graduates.

Dey, a Dal law alum (LLB'66) and chair of Goldcorp's Governance and Nominating Committee, explained that the company sees education as "a fundamental building block to creating opportunity."

"At Goldcorp, we do more than just operate gold mines," he continued. "We're in many communities and we want to contribute to the long-term social and economic benefit of those communities."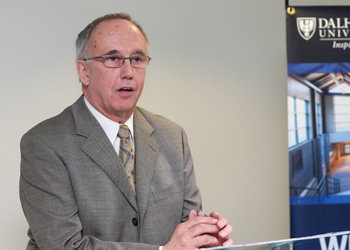 Dr. Jones, whom Dr. Leon celebrated for his years of commitment to the program and its students, noted Goldcorp's leadership in community and sustainable development and thanked the company for its support.

"I think it will lead to greater things, and I think we can really leap forward," he said. "We see ourselves contributing a lot of new talent to the industry," noting possible future areas for collaboration in terms of R&D and technology development.

Some of that new talent is already getting experience in the industry. Dylan Morgan, a fourth-year student originally from Barbados, has completed one co-op term with the Goldcorp and is returning this summer to work in the company's Misselwhite mine in Northern Ontario.

"It prepared me really well," he said, when asked about his education at Dal. "I found the skills I learned in Mineral Resource Engineering fit perfectly with what was expected of me."

He's also excited about what the company's support for Dal might mean for his program.

"Goldcorp is one of the biggest companies in this industry, and Dal is one of the best universities in Canada so it makes sense for them to try and join forces."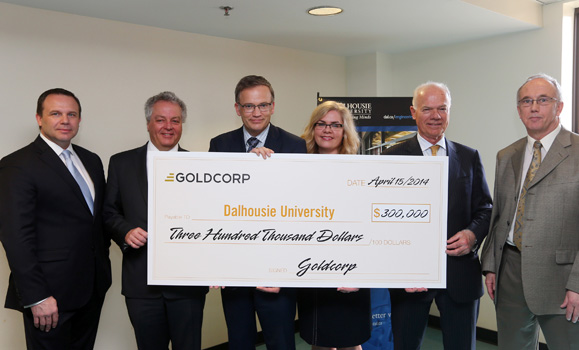 (L to R): Brent Bergeron (senior vice-president, corporate affairs, Goldcorp), Josh Leon (dean, Faculty of Engineering), Richard Florizone (Dal president), Christine Marks (director, corporate communications, Goldcorp), Peter Dey (chair, Goldcorp Governance and Nominating Committee), Donald Jones (Goldcorp Professor in Mining Engineering).