Partway through his lecture at Dal on Monday, Colonel Hadfield showed a photo of himself as a young boy, sitting inside a cardboard box that — with the help of some tape and some markers — had been transformed into a makeshift spaceship.

"If you really want to inspire a kid, give him a box," said Hadfield. "Not an X-Box — a box, because that's where imagination starts."

In the 50-odd years since that photo was taken, the quality of Hadfield's flying boxes has improved dramatically: from his days as an F-18 fighter pilot, to partaking in two Space Shuttle missions, to serving as commander of the International Space Station in 2012-13.

Yet, as impressive as his journey has been — the first Canadian to walk in space, to operate the Canada Arm, to become a full-qualified Space Shuttle crew member — what's even more impressive is that through his efforts, and his skill at sharing the experience of space flight, the now-retired astronaut has inspired imaginers of all ages to reconsider the possible.

He certainly inspired the capacity crowd in the Student Union Building's McInnes Room Monday morning. The energetic audience responded to his speech with laughter, applause and not one but two enthusiastic standing ovations.

Hadfield was on campus to celebrate Dal's efforts in last year's Movember campaign. Led by the success of the Rowe Mo' Bros & Sistas, Dalhousie finished as the top school in Canada in funds raised per-capita, bringing in nearly $95,000 for the cause of men's health and earning the visit from Hadfield as its prize.

In addition to his lecture, Hadfield hosted a private reception with members of the Rowe team, personally thanking them for their Movember efforts.
Read also: Movember student fundraisers hang with Hadfield

The power of preparation

Hadfield's lecture, titled "The Sky Is Not The Limit," took the audience on a trip through the stratosphere, into orbit and back down to Earth again. He spent the first several minutes detailing the experience of the morning before a space flight.

"This is the stuff of dreams," he said. "It's just a regular day, you're waking up, but by tonight you're going to be orbiting the earth, or you're going to be dead — one or the other."

The line earned laughs from the crowd, but Hadfield was quite serious: any multitude of things can go wrong in the eight minutes and 42 seconds it takes to go from ground to orbit, as past space travel calamities have made tragically clear. In those moments before lift-off, Hadfield said, you cycle through all your training, all those years it took to get to that chair inside the capsule.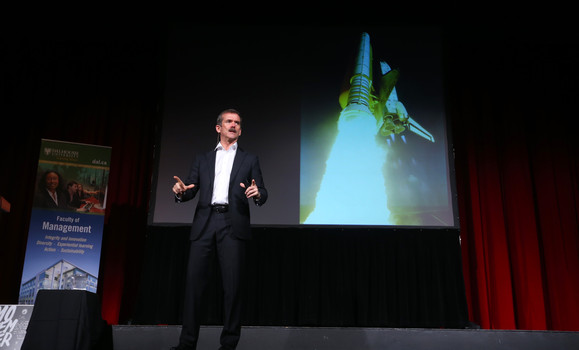 "It's maybe like when you graduate from [university]: you've spent years and years learning the theory of things, studying for exams and passing, and gaining, on paper, a lot of qualifications. But eventually you're going to get hired by a company and sit down and someone's going to be trusting you to be making the right call… This is like that, only magnified immensely, the cost of it and the consequences. Suddenly, it's extremely real."

While lift-off brings that physical reality to life, Hadfield said the experience of being in space really hits home when weightlessness arrives and, suddenly, you get a glimpse of Earth that very, very few humans have been privileged to witness with their own eyes.

Thankfully, individuals from around the world were privy to Hadfield's spectacular view during his time as commander of the International Space Station (ISS). He provided daily Twitter updates from orbit, performed songs live from space in collaboration with children coast-to-coast and became a digital sensation in the process

"Twitter is great because it forces you to be poetically succinct — or poetically honest, at least," said Hadfield, adding that it allows for, "honestly sharing the uniqueness of the human experience."
Life lessons from orbit

Hadfield's experience is certainly unique, but it's full of lessons that apply as well on terra forma as they did in zero gravity.

He noted, for example, that the ISS was only possible because 15 leading nations — some of whom had been enemies within living memory — were united behind a common goal (exploration) and a common enemy (complexity and cost). Finding common purpose, he said, "allows you to do something as rare and virtually impossible as build the first great spaceship, our first great step away from earth."
See also: #DalHadfield: A social media recap

Hadfield also detailed one particularly harrowing tale from May 2013 when the ISS crew discovered the station's exterior was leaking ammonium, a critical coolant used to regulate the temperature of the solar arrays that generate the station's electricity. If not repaired, the leak would have forced some of the crew to abandon ship and return to earth. The operation required a space walk within 24 hours — a feat which usually takes upwards of a week to plan.

What could have been cause for panic was handled professionally, and with great success, because of just how prepared Hadfield's crew was.

"Visualizing success is ok, but visualizing failure is way more useful," said Hadfield. "And don't just visualize failure: as you're looking at putting together anything, expect things to go wrong… Then don't just get all tensed up because things are going to fail: ask what are the most likely things to fail, and then get the people around who are going to have to react when that fails… work the scenario right through to its conclusion."
The fragility of Earth

Hadfield, who was presented with a Dal sweatshirt and a custom Dal ukulele as gifts following his speech, says that his view of Earth from the ISS also provided a window into how our planet is changing — from lakes and oceans shrinking in size, to wildfires and deforestation ravaging landscapes.

"You start thinking of the fragility of [Earth], not the immensity of it, when you see it in its real perspective," he says.

Hadfield says he's less worried about the planet itself — it has survived ecological disasters before — than about its current occupants. He noted there's only about seven kilometers of vertical space (two below the surface and five above) that can support life, and yet we've treated it as if it's always going to be there for us. "We are the most arrogant goldfish in the universe," he said.

In a speech full of messages about the importance of leadership and teamwork, Hadfield strongly implied that the crew of the U.S.S. Planet Earth has some work to do.

"We're all on this tiny spaceship together," said Hadfield. "We're all on the same crew."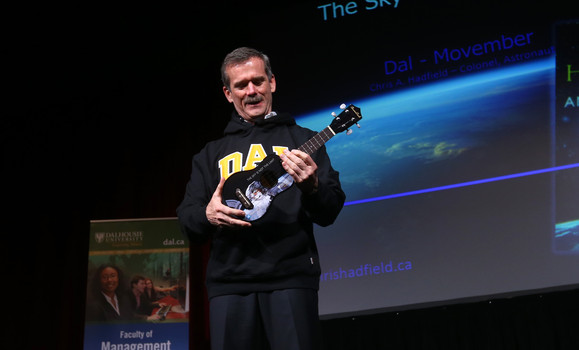 Editor's note: Hadfield's lecture was originally planned to be webcast live. However, the webcast had to be cancelled due to unexpected circumstances beyond the university's control. Dalhousie apologizes for the inconvenience.