It's a chance to showcase environmental research from across Dal — and hear from leading experts in the field.

The 10th-annual Sustainability and Environmental Research Symposium took place in the University Club's Great Hall earlier this month. The event featured a poster session for students and faculty and an opportunity for members of the environmental community to present important environmental research. The event also featured various environmentally focused organizations and businesses, giving students a chance to speak and network with potential employers.
Creating a toxin-free environment

Bruce Lanphear, an environmental health expert from British Columbia, gave the much-anticipated keynote address, titled, "Low-level Toxicity of Environmental Toxicants" Much Ado About Nothing?"   

Dr. Lanphear spoke about children being exposed to toxics in the environment, including lead, mercury and tobacco smoke, and the need to challenge the status quo. He highlighted the need to create cleaner environments with fewer toxins, as they can have adverse consequences to society

"After cigarettes were banned in public places, there was a 10-60 per cent decrease in heart attacks, there was an 18 per cent decrease in asthma attacks in children and a reduction in pre-natal birth defects," he explained.

While society may feel that toxins are not a major concern, Dr. Lanphear stressed that as the amount of toxins in the environment grows and society grows, so should our concern. Taking action right now can prevent costs and damages to society down the road, he argued.

"Most of the diseases that we are going to experience are man-made. We need to think for ourselves, even though our political structures haven't kept up."
Student research on display

The poster presentation featured upwards of 60 students and groups displaying their research findings.
Alana Westwood, in her third year of the biology PhD program at Dalhousie, presented her poster on field surveys and habitat associations for three landbird species at risk in southwestern Nova Scotia. Her group, working in the lab of Cindy Staicer, characterized the habitat of the birds and the ecosystems they use, in order to develop predictive habitat models.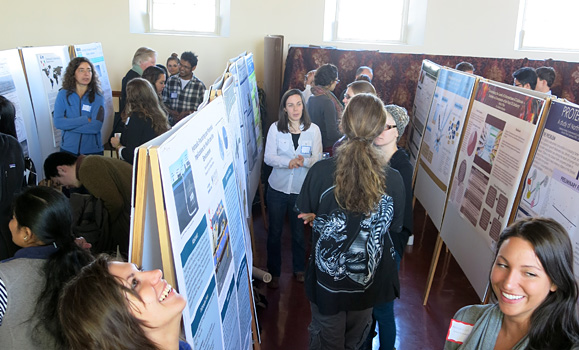 "This project will produce recommendations for the conservation of these species in the Maritimes and help guide planning for parks and protected areas," said Westwood.  

For her, the symposium was a beneficial experience as it made her realize that "All of our projects are connected, whether they be conserving a species or improving sustainable agriculture methods, they share the common goal of lightening our impact, benefitting the health and well-being of both humans and our environment." The symposium allowed her group to meet, make and discuss those connections. "Our combined efforts are far more powerful than each of us toiling alone," Westwood said.

Jamie Fraser, Alexandra Ord, Sarah Saunders and Jillanna Brown, all students in the Master of Resource & Environmental Management program, presented their project on hydraulic fracturing and the potential implications for health and the environment in Nova Scotia. The topic is important, as it has created controversy in the province in the past few years as shale gas became viable for extraction.

According to Fraser, "There are significant health risks associated with the chemicals, volatile organic compounds and naturally occurring radioactive materials that are, or can be, released during the hydraulic fracturing process. On one hand, people see natural gas as a clean alternative to coal because it is low in carbon dioxide emissions. On the other hand, it is high in methane which is a significant greenhouse gas emitter that is debated as having more impacts than CO2. We have learned there is still a big question mark about the potential implications."

Though her project group is constantly learning more about hydraulic fracturing, with new information being released continually by renowned institutions, the symposium provided the group with a valuable experience.

"We not only got to practice our presentation skills, but we were given the opportunity to interact and network with local environmental organizations," said Fraser. "We were also able to set up an interview for our project with a symposium attendee as well as learn some insight from others that we may not have thought of prior."
Prize winners
Two Faculty of Science students won the top prizes at this year's symposium.
Christine Angelidis (ENVS) won best undergrad poster for her research on "The effects of catchment liming on the calcium budget of an acidified Nova Scotia watershed."

Best graduate poster was awarded to Alana Westwood (Biology) for her work entitled, "Field surveys for three land bird species at risk and their wet forest habitat in southwestern Nova Scotia."
Each received a cheque for $150.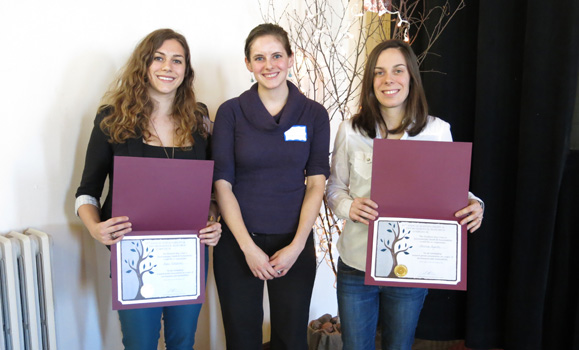 Alana Westwood (left) and Christine Angelidis (right) with Emily Dodge from the Elizabeth May Chair.