It was a black and gold fest in the Riverview Room on March 18, as over 70 Aggie students, staff and faculty celebrated some inspiring students at the second annual Dal AC Impact Awards.
The awards recognize student leadership in the areas of academic life, student life, community service and residence life. From first-years to master's students, environmentalists to DASA leaders, 11 Impact pennants were handed out to some of AC's top students who help foster campus and community spirit, each in their own way.
Congratulations to all of this year's winners! The following information has been edited from the award citations that were read out at the banquet. (All photos by Clyde LeCoure)
COMMUNITY SERVICE LEADERSHIP AWARD
Presented to a student who has volunteered their time off campus, unselfishly giving of themselves through involvement within the community.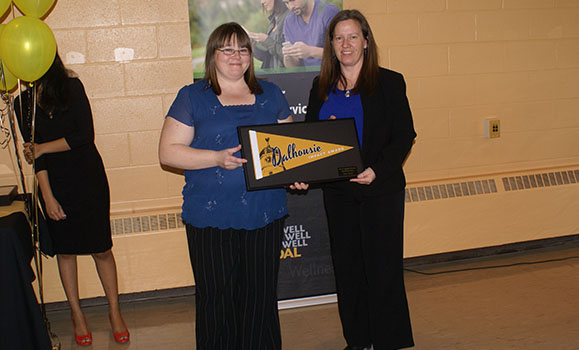 Erin Lynch
Erin has dedicated countless hours saving animals, through her own non-profit rescue organization and through other non-profits around Nova Scotia. She takes rescued animals to the vet and spends both her own money and money she fundraises to help them recover and heal. She then rehabilitates them and finds them loving forever homes. She also volunteers at her daughter's school, Dutch Settlement Elementary School, for the breakfast program, so that the children get a good and healthy start to the day.
ENVIRONMENTAL LEADERSHIP AWARD
Presented to a student for their commitment in providing environmental leadership across campus.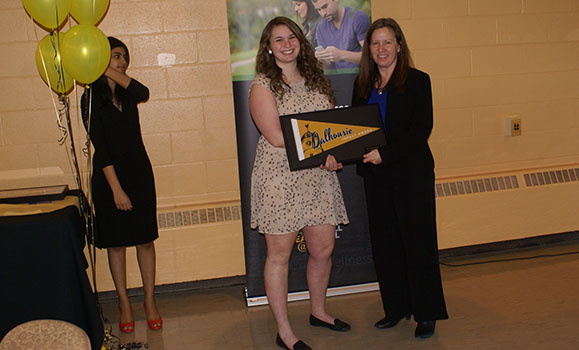 Victoria Oliver
Victoria holds the position of residence sustainability representative and is a member of the university's Green Residence Forum Committee. She organized and promoted Ecolympics on the Agricultural Campus, created a Residence Sustainability Facebook group, and created a residence sustainability club.  She can also be found promoting environmental events such as Earth Hour and World Water Day and such university-wide events as the Office of Sustainability's "Brightest Idea" contest.
HEALTH EDUCATION AWARD
Presented to a student who, through the creative use of resources, has worked to enhance the quality of student life and development on campus.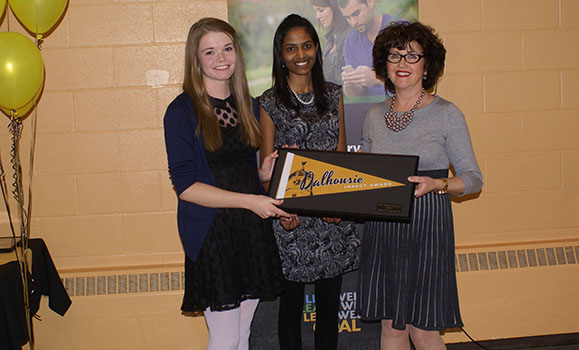 Jessica Compagnon
Jessica is currently serving as VP Internal Affairs for DASA and has been instrumental in getting Dal AC involved in an alcohol and sexual assault awareness study. She is currently working on a mental health campaign through the DSU and Students Nova Scotia, and can frequently be seen around campus putting up posters to encourage positive health education.
CLUB/ORGANIZATION AWARD
Presented to a student who makes a difference through the organization and development of a student club or organization.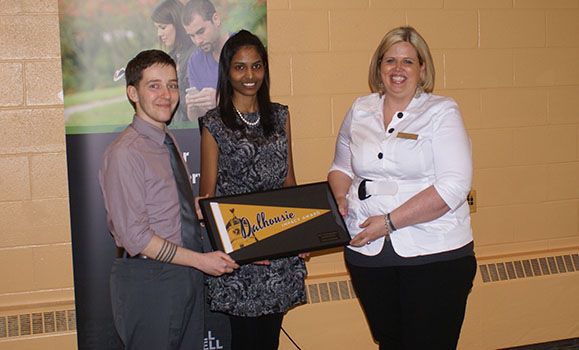 Owen Johnstone
As a first-year student in the Veterinary Technician Program, Owen saw a need on this campus and created DALOUT Truro. The club has contributed to student life at DAL AC as a referral source for Health Services, a safe space for students of all sexual orientations and gender identities, and as an educational/social resource. The creation of DALOUTT for LGBTQI students and their allies is already changing the campus landscape.
OUTSTANDING TUTOR AWARD
Presented to a student who, as a leader and academic role model, provides exceptional knowledge and outstanding service to his or her tutees.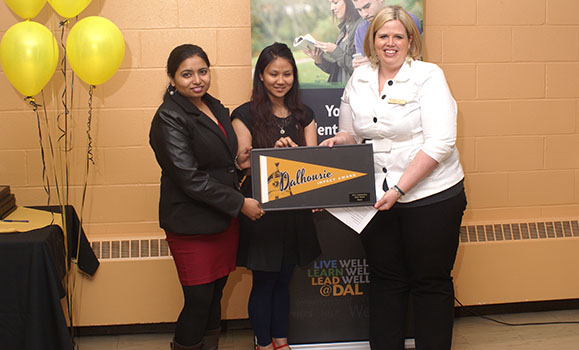 Swati
Swati tutors a large number of students in a diverse range of subjects. In addition to her knowledge she brings enthusiasm, empathy, and kindness to the role of tutor. Many struggling students have benefitted from her teaching style, patience, and ability to simplify even the most complex of materials.
RESIDENCE STUDENT AWARD
Presented to a student leader who has demonstrated significant leadership, commitment, and spirit to improving the quality of life for students in residence.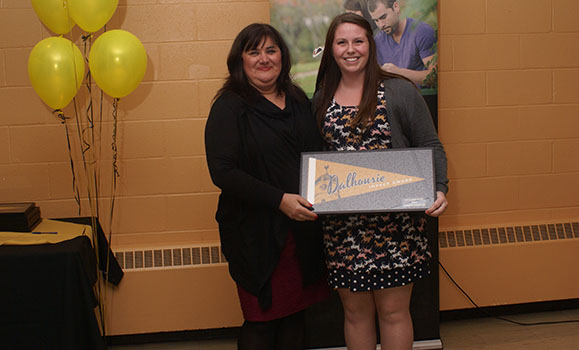 Amanda Armstrong
In the three years that she has been an RA, Amanda has grown into the leadership role. She goes above and beyond the typical RA duties to make residence a better place to live for all students, including ensuring that students outside her section are doing well. Students feel comfortable talking to her about their issues and concerns, and her calm demeanour allows her to make the correct judgment calls in difficult situations.
STUDENT GOVERNMENT AWARD
Presented to an outstanding student leader for their commitment and contribution to the campus as they have taken an active role in student government through the Dalhousie Agricultural Students' Association.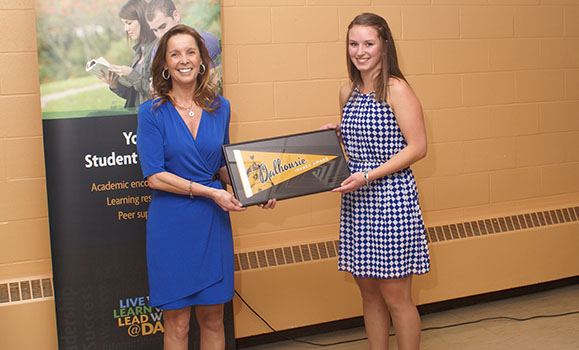 Rebecca O'Connell
Rebecca has been involved in student government since September 2011 when she was a Student Representative Council member. In 2012 she was elected as VP Finance, and remained in the position this year as well. Her ability to communicate has allowed her to engage with new and returning students, her work through 4-H has provided her with excellent leadership skills, and her outgoing personality easily motivates others.
FACULTY OF AGRICULTURE SPIRIT AWARD
Celebrates a student's contribution to multiple activities on our campus, thereby demonstrating school spirit.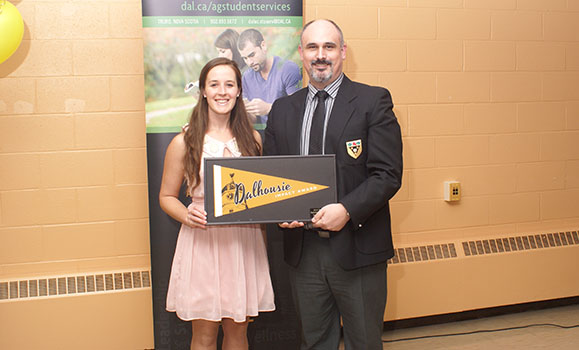 Bridget Wilson
Bridget has spent countless hours as coordinator of the Community Garden and was the 2013-14 editor of the Golden Ram, which reaches out to students, staff, and the community reporting campus news and community events. She has been involved in the Dal AC Christmas float, as a committee chair/member, and serves on the Student Representative Council. She also had a strong involvement in Drive Away Hunger this fall, harvesting carrots and collecting food.
RISING LEADER OF THE YEAR AWARD
Presented to a student who, despite being new to the Agricultural Campus, has demonstrated outstanding Dalhousie spirit through their involvement in campus life. Two outstanding student leaders were recognized: one undergraduate and one graduate student.
Undergraduate: Berdien Bakker
Since the first day of Orientation, Berdien has been an enthusiastic and positive role model to students in residence and across the campus. She has served on Chapman House Council, attends many sporting events to cheer on fellow athletes and students, is involved in the Truro community, and volunteers at various fundraisers such as the Shinerama campaign. She is also the newly elected DASA VP Administration for 2014-15.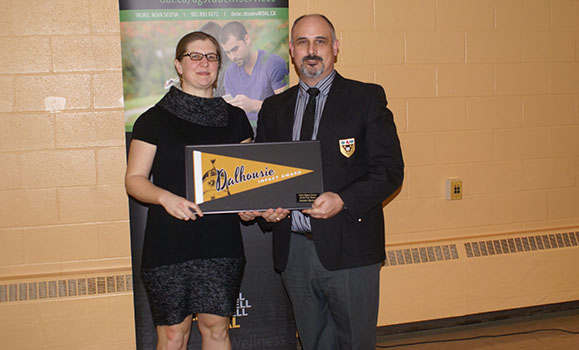 Graduate: Rosalie Madden
A first-year masters' student, Rosalie has served on a graduate student issues action group to shed light on important issues facing grad students, and works as a tutor at the Writing Centre. Along with another graduate student, she organized a discussion group called Ruminate, which serves as a forum to discuss new ideas, critique new papers, talk about career opportunities, and other matters relevant to the campus community.
PHILLIP STEAD MEMORIAL EXCELLENCE IN STUDENT LEADERSHIP AWARD
Presented in memory of Phillip Stead, a graduate of the Nova Scotia Agricultural College who devoted much of his personal and professional time to the advancement of Maritime agriculture. It recognizes a student at Dal AC who has demonstrated a significant and positive impact on campus and community life through their leadership skills and initiative; has demonstrated academic achievement; is committed to team work; has influenced the development of future campus leaders; and is recognized as a role model and effective leader by peers, staff, and faculty. The award comes with a $2,500 prize donated by the Stead family, the Nova Scotia/Newfoundland Branch of the Holstein Association of Canada, and the surrounding community.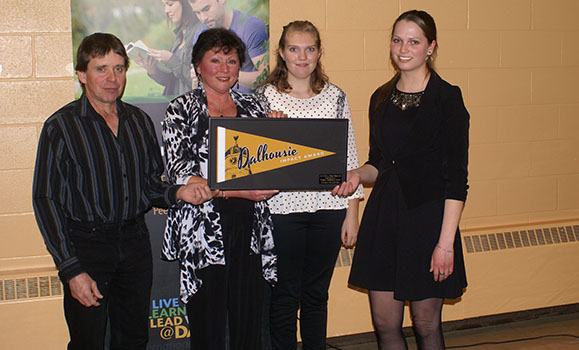 Robyn McCallum
This year Robyn served as DASA president, after serving as VP Internal for three years. She has been a member and co-chair of the Agrology Club, volunteered with the Athletic Centre, been on Student Representative Council for four years (including serving as chair), has been chair of the Judicial Committee for three years, participated in College Royal, and served as liaison for the College Royal, Orientation, Shinerama, Christmas float, Golden Ram, and Woodsmen committees. She has been on Faculty Council for the last two years, sits on the Alumni Association board, and has been captain of the Movember team for the last 3 years.
 
AC representation in Halifax
On March 25 the 3rd annual Student Impact Awards were held in the Student Union Building in Halifax. More than 400 people filled the McInnes Room to acknowledge 70 winners, including the Dalhousie Agricultural Association of Graduate Students, which won the award for Most Impactful General or Special Interest Society. The award is presented to a student society ratified with the DSU that caters to the general or niche interests of students, has demonstrated consistency in event planning and delivery, high participation and attendance of its membership, and sets an example for other student societies.