Over 200 grade 11 high school students spent a recent Saturday at Alumni Hall discussing their ideas, passions and concerns with student facilitators from Dalhousie and King's.

The collaborative forum was organized by Halifax area IB (International Baccalaureate) coordinators, reps from Dal's International Development Studies and Environment, Sustainability and Society programs, along with the University of King's College Registrar's Office team. The session was designed to help high school students find the connections between various the components of their IB curriculum.

Mentored by third- and fourth-year Dal and King's students, the grade 11s looked at how to translate their ideas into viable research projects for their extended essays, and then how to take this research further into community action projects.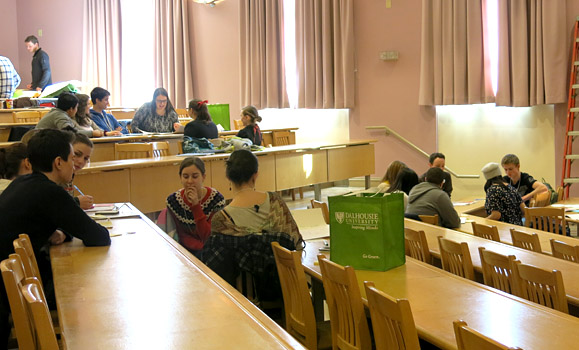 Top-of-mind topics included youth mental health, cyber-bullying, food security, climate change, social justice and the future of education.

"As an ESS/Marine Biology student, I was challenged by these grade 11 students to keep up with their lively discussion of gender discrimination," said Alex Di Lonardo.

The workshop sessions were punctuated with mind map-making and an active closing reflection, with the snappy saxophone tones of ESS student Ben Reid-Howell and Steve Coats' (Citadel High Vice Principal) stand-up commentary.