Once again, thinkers and leaders gathered at Dalhousie to share ideas and inspire one another at TEDxNovaScotia.

Hosted and organized at Dal, with the DSU as lead partner, TEDxNovaScotia is a variant of other conferences by TED, a nonprofit organization "devoted to ideas worth sharing." The theme of this year's conference was "Chances worth taking: innovation in a time of indifference."

More than 300 people attended this year's event to listen to nine unique speakers and three musical performances. TEDxNovaScotia began with a warm welcome from DSU President Sagar Jha and was hosted throughout by local musician Julia Feltham. Among the presenters were two with particularly strong connections to the Dal community: Jayme Melrose and Lyndsay Anderson.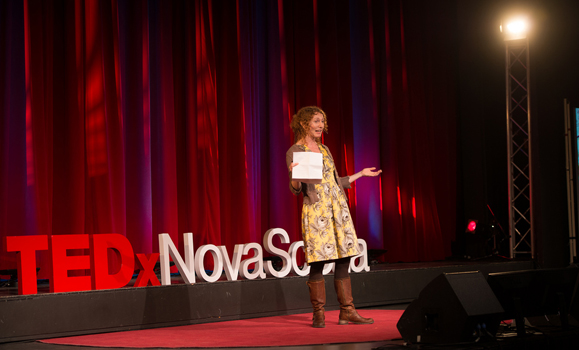 Melrose (above) has previously worked as the garden coordinator for the Seymour Green Organic Community Garden, which sits behind the computer science building on Dalhousie's main campus. During this work, she completed her degree in Community Design.

Melrose spoke at TEDxNovaScotia about her more recent work at Common Roots Urban Farm, a community garden that yields fresh fruits and vegetables for local Haligonians and patients of the QEII hospital. At TEDxNovaScotia, Melrose outlined her visions for a greener Halifax, with community gardens and harvestable plants spread across the city.

Lyndsay Anderson has spent the past 13 years living on campus as a residence life manager. More recently, she moved into a new role as manager of student dispute resolution, helping pilot Dal's restorative justice program.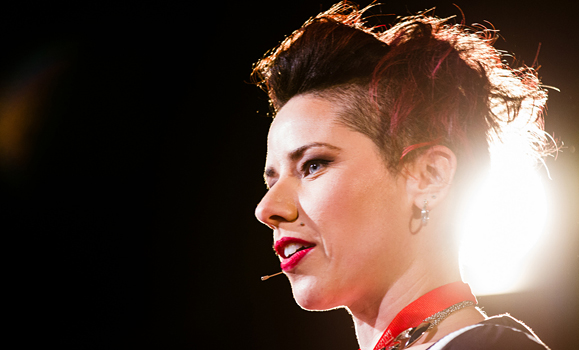 Pulling from past experiences as a residence life manager and her BA in Criminology, as well as a continuing master's degree in Gender and Women's Studies, Anderson discussed rape culture on university campuses.

"People in a rape culture think about the persistence of rape as just the way things are," Anderson said during her talk. "In a rape culture, we're surrounded by sayings that encourage rape." An oft-overheard example of this on university campuses is hearing that someone was "raped by an exam," or seeing a tweet with #rapeface tagged under a picture. According to Anderson, these sorts of sayings only reinforce rape culture, and the students that say them often do not recognize their significance.

"Fortunately, people are starting to take notice," she said. Anderson outlined a few ways in which rape culture can be addressed on campus, such as advocating enthusiastic consent, demystifying rape and simply talking about it.

"We need to start making consent part of our foreplay," she states, and we need to express, "our discontent with rape culture." For more information, Anderson provided an online resource for combatting rape culture: upsettingrapeculture.com.

TEDxNovaScotia is made possible every year by local community members, as well as past and present Dalhousie students who have volunteered their time. For more information about TEDxNovaScotia, including a full recording of the event, you can go to tedxnovascotia.ca.