3, 2, 1… go!

And so began Dalhousie's second annual Three-Minute Thesis competition.

The Three-Minute Thesis (3MT) model was developed at the University of Queensland five years ago. It's an opportunity for graduate students to practice their communications skills, sharing their research in three minutes, using only one static PowerPoint slide, to a general audience including judges from different backgrounds and fields of study.

The stakes: cash prizes, donated from the Vice-President Academic and Provost's office, and the opportunity to represent Dal at the 2014 Eastern Regional Championships, which will be held at Dal on April 24.
After a full day of heats, the finals of Dal's competition took place on Wednesday, March 5 in the Scotiabank Auditorium. Eight finalists, including both master's and PhD students, presented topics ranging from opium and representations of other drug usage in Romantic English literature, to soil degradation, to the uses and detriments of medical marijuana.
Their presentations were judged by a Dal all-star panel including Carolyn Watters (vice-president academic and provost), Bernard Boudreau (dean of the Faculty of Gradaute Studies) and John Newhook (professor of civil engineering and associate vice-president research).
Speech showdown

After the dust settled, the judges awarded first place and $1,000 to Thérèse Chevalier, a PhD student in the Department of Psychology and Neuroscience. Chevalier's thesis involves magnetic stimulation of different areas of the brain to explore the benefits of learning a second language as treatment for aphasia. Commonly brought on by a stroke, aphasia is a brain disorder responsible for disturbing the areas of the brain that process and formulate language.

"After reading some literature on strokes, I became interested in what else there was to learn about aphasia," she explained after the competition. "I also don't mind public speaking so I figured I'd give the Three-Minute Thesis a try."

The second and third place winners in the competition were Robert LaPrairie (Pharmacology) and Carolyn Marshall (Biology), respectively. The People's Choice award went to Khushwant Bhuller (Agriculture).

Be sure to check out the Three-Minute Thesis Eastern Regional Championships on April 24. Look for more details in the coming weeks.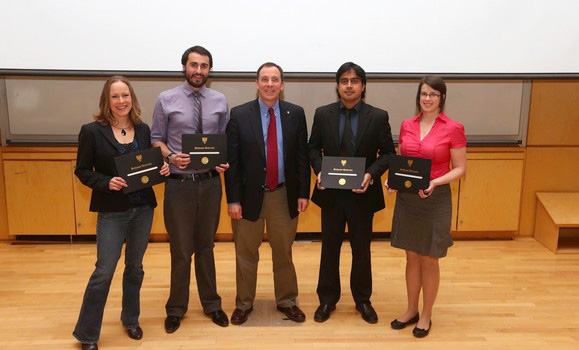 Left-to-right: 1st place winner Thérèse Chevalier, 2nd place winner Robert LaPrairie, Dean of Graduate Studies Bernard Boudreau, People's Choice winner Khushwant Bhuller and 3rd place winner Carolyn Marshall. (Nice Pearce photo)