Dal News student writer Sarah Beatty spent her reading week in Florida with Dal Action, a student society that provides students with opportunities with local, national and international charities, and affiliates with Habitat for Humanity Abroad. She agreed to write about her experience.

The words stand out from the mass of signatures on the wooden window frame in mid-construction: "Live the life you love, love the life you live."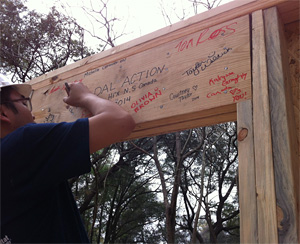 Signed by the student construction crew, the frame will stay behind in Florida after members of Dal Action return from their spring break, a permanent part of an even larger contribution: two future family homes.

Inspired by giving back

I, along with 47 other students, spent my reading week as a "voluntourist," braving 40 straight hours on a bus traveling from Halifax to central Florida with the goal of building houses with Habitat for Humanity.

Now, hammers, early mornings and the raising of wall frames doesn't exactly fit the stereotypical MTV image of "spring break." Why, then, would myself and these other students trade our vacation time for "cankles" from the long bus ride, manual labour and sore arms and calluses?

The simple answer comes from standing in front of four walls raised entirely by your own hands. Watching a blank slab of concrete transform into a house over the course of three days is a humbling and fulfilling experience without comparison.

"With other volunteer activities, you're doing small things to help out, but here you're actually building a house and a home for someone," said Travis LeBlanc, a fourth-year biology and math student.

"A lot of the time, we're so focused on our own lives. It's important to broaden your horizons like this and see the different kind of lives people live and realize that you can help them."
Bonding as "voluntourists"

The trip wasn't all work: we were fortunate enough to stop en route to explore Washington D.C. and New York City, and spent an afternoon at both Daytona Beach and Universal Studios. But it was the "voluntourism" aspect of the trip that meant the most to me.

With my prior construction experience limited to hanging pictures and assembling IKEA furniture, I learned the trick of swinging a hammer properly, the beauty of a well-aligned piece of wood and the value of community action.

With students all coming different areas of study, schools and construction skill levels, the teamwork and positive environment both on and off the build site left me with a smile from ear to ear.

Habitat for Humanity functions on the premise that building these houses is not a handout or simple charity, but a "hand-up." Many of the families receiving homes come from sub-standard housing but are active volunteers with Habitat for Humanity, assisting in building both their own homes and others.  

"It's not just a bunch of kids; it's a whole community project," said student Adrian Pearman. "It's what I'd call sweat equity: a community working for a community."

This community-focused approach caught the attention of the volunteer construction leaders, Doris and Bob Meyer. Volunteering with Habitat for Humanity for over 18 years, they are now full-time volunteers, traveling from build site to build site.

"All the people we meet, people who volunteer their time are so inspiring," said Doris. "The best part is giving the keys to the family, seeing the kids run around and explore their rooms, it's really humbling."
The continuing spirit of volunteerism

With a long history of building trips for Habitat for Humanity, Dal Action's support is reaffirmed every year.  

"Every smile and laugh on everyone's face, daily, reminded me of why I love to plan these sorts of trips," says Anna Baranowski, president of Dal Action Society.

"Habitat is always welcoming and informative," she adds. "As an organization it truly lives up to its mission statement."

Although the trip is only offered during reading week, Dal Action is active throughout the year with other on- and off-campus volunteer initiatives.

"Dal Action is a great way for anyone with the similar interest of giving back to meet," says Baranowski. "We are all fortunate for so many reasons; why not give some of that back as an appreciation to the surrounding community? A little goes a long way."