Full of people in transit, university campuses are often places of comings and goings — and, increasingly, visitors from around the world.

This week, for example, Dalhousie is co-hosting events on campus with the British High Commission in Ottawa, in what's being called a "Pop-Up Consulate" — an opportunity to learn about Canadian/British relationship firsthand. (See full details.)

Just before the holiday break, another notable delegation came to campus, and Dal News was invited to sit in on the debrief meeting for a look inside the discussions.

The delegation was from Nanjing University, one of the top five universities in China and a national leader in several key fields. With a particular interest in oceans research, the delegation was led by Wang Ying, executive director for the Collaborative Innovation Center of South China Sea Studies.

Dr. Wang has a bit of history with Dalhousie. She spent three years working in Halifax starting in 1978, right at the end of China's Cultural Revolution. Her work with Dalhousie oceanographers and earth scientists, along with researchers at the Bedford Institute of Oceanography, helped launch her career, and she's now a member of the Chinese Academy of Science.

Her December visit followed a prior trip to China by Chris Moore, dean of Dal's Faculty of Science, in the fall of 2012. His discussions at Nanjing University helped lead to the December visit to Dal, which was an opportunity for the Nanjing representatives to learn more about oceans research on campus and begin to explore the possibility of a Memorandum of Understanding (MOU) between the two universities.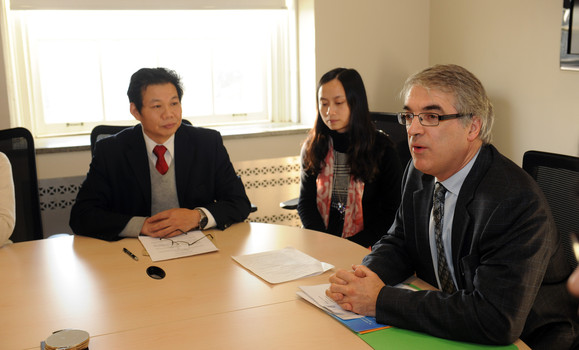 The delegation consisted of seven faculty members, all with various interests in oceans research, from geology and oceanography to law. It included, among others, Shu Gao, dean of the School of Geography and Oceanographic Sciences, and Pei Ni, deputy dean and professor of the School of Earth Sciences and Engineering. Over the course of four full days in Halifax, the delegation toured the Department of Oceanography with Department Chair Marlon Lewis, visited Earth Sciences under the guidance of Department Chair Rebecca Jamieson, and were hosted by David VanderZwaag and Phillip Saunders of the Dal's Marine & Environmental Law Institute. The delegation also met with representatives of MEOPAR (the Dal-hosted Marine Environmental Observation Prediction and Response network) and Dal post-docs in oceanography.

During the debrief meeting, Alain Boutet, Dal executive director of international relations, and Jinyu Sheng, Dal Oceanography professor and primary organizer of the Nanjing delegation visit, walked the group through a working draft of an MOU. "In this first stage, we've focused on earth sciences, oceanography and the law of the sea," they explained, "but there's room for it to grow from there." It would include further student exchange and collaboration opportunities, including possible joint supervision of PhD candidates.

There was enthusiasm for the arrangement on all sides, though also an acknowledgement that, as with most of these agreements, the early stages are more about opening the door to possibilities rather than locking in precise, concrete collaborations. As for next steps, the delegation brought the draft MOU back to China, with hopes at finalizing the agreement and hosting an official signing at some point in the next year.

The MOU would build on Dal's longstanding relationships with Chinese universities and researches, dating back decades and consisting of more than 30 active agreements. (Learn more about Dal's relationship with China, and several other countries, in our "International impact" overview.)