"Surveillance is no longer just the stuff of the state," said Patricia Kosseim, senior general counsel of the Office of the Privacy Commissioner of Canada.

Kosseim was the opening keynote speaker at Dalhousie's 2014 Data Privacy Day last Wednesday, February 19 — a conference dedicated to examining the growing problems associated with privacy in the digital age.

The event, in its eighth year, is part of a broader global initiative, with Dal's event organized by Information Technology Services. Increased interest this year event sparked a move from the McInnes Room to the larger Ondaatje Hall in the McCain Building.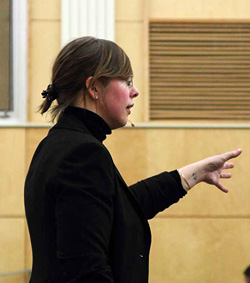 Speakers included Kosseim, identity theft prevention expert Graham McWaters, Dell Research chief scientist (and Dal alum) Carrie Gates and Tracy Ann Kosa (left), senior strategist of privacy and trust at Microsoft. David Fraser, a well-known privacy lawyer and blogger, was the event's master of ceremonies.

Kosseim kicked off the conference by sharing that at 45 hours per week, Canadians are the largest users of the Internet worldwide.

"Living online creates new incentives, and a whole new generation of conceptual issues," she said, speaking about the turbulent zones where privacy and technology collide. In her work at the Privacy Commission of Canada, she has witnessed a spike of concerns and complaints about privacy online, with 56 per cent of Canadians reporting that they don't know how to protect their information anymore, and 71 per cent agreeing that online privacy will be one of the most important issues in the next 10 years.

From advertising algorithms — where search engines track the websites that users visit in order to post personalized advertisements — to accurate facial recognition software being made available to the public, the digital space is a turbulent one. Social media sites and email providers constantly change to provide users with new ways to communicate, but often don't make users aware that with each update privacy settings need to be reconfigured — leaving a window where personal information may become public.     

With many companies moving records and receipts online, Graham McWaters highlighted the increase in cases of fraud where hackers steal information from computers or smartphones. He said the biggest mistake he's seen recently is smartphone users opening unknown email attachments on their phones, which can release personal information such as their contact lists, photos, emails or passwords to identity thieves.

Speakers shed light not only on the issues, but also offered tips to the audience about how to better protect personal information on the internet. Suggestions included regular checks of activity on bank, tax or other receipts; constantly backing up cellphones and ensuring they are password protected; shredding important documents before discarding them; and even appointing someone to clean up social networking sites in the case of unexpected death.

"We need a clear definition of personal information in this new technological reality," Kosseim said. "While we must be flexible, we must also stand behind mutable privacy rights."