"So, what is your thesis on?"

It's a question every grad student gets asked — by parents, family members, friends, acquaintances, peers — and it's sometimes a difficult one to answer. But being able to sum up one's work clearly and succinctly is an important skill for student researchers, one that Dal's 3-Minute Thesis competition helps develop.

The competition, hosted by the Faculty of Graduate Studies, invites grad students to sum up their research in a concise three-minute presentation. They're judged not on their work itself, but their ability to communicate it: their style, their ability to engage and their skill at explaining their research topic.
Learn more: Dal 3MT website

This year's showdown, the second annual event, takes place on Tuesday, March 4 and Wednesday, March 5.

On Tuesday, from 9 a.m. to 5 p.m., dozens of grad students who've pre-registered for the competition will deliver their presentations in room 303 of the Student Union Building before a panel of judges made of up Dal faculty and staff.

Then on Wednesday, at 7 p.m. in the McCain Building's Scotiabank Auditorium, the best presentations from each heat will compete for cash prizes, including a $1,000 cheque for the overall winner.

Both the preliminary heats and the final round are open to the public.
While the competition is the same format as last year — one PowerPoint slide only, no props or electronic media — there are two notable changes. One is that registration was open to non-thesis students who are doing tri-council eligible research. The other is that grad associations in Canada have partnered together to organize both regional competitions and a national showdown of the best presenters in the country.

Dal will host the first 3MT Eastern Regional Championship on April 24.
Top tips for competitors

So how should grad students prepare for the competition? Who better to ask than last year's winner?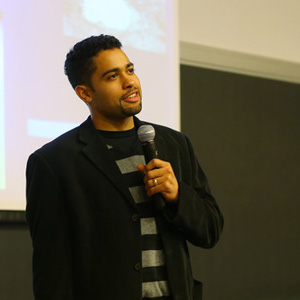 Jacob Cookey, a resident in the Department of Psychiatry and student in both the Clinician Investigator Program and Clinician Scientist Graduate Program, was in the early days of his research when he signed up for the competition last winter.

"I did it more for fun than anything," says Dr. Cookey. "I thought it was a cool challenge. I was just starting my project, so I didn't have results or anything, but I knew I would have to present in the future so it would be a good forum to try out my speaking skills.

"Plus, I knew that if it didn't go so well, it'd only be three minutes," he laughs.

He didn't need to worry about that: his presentation on the effects of cannabis use on the development of schizophrenia earned rave reviews from judges and audiences alike. We asked him to offer some advice for this year's competitors.

Remember it's a pitch: "As much as we may be scientists or researchers, try and put aside that hat and put on a salesmen's hat instead. It's about trying to make your research as interesting and accessible as you can."
Leave the jargon at home: "Use terms everyone can understand and relate to. It'll have a lot more appeal to the general audience in the crowd and among the judges."
Don't overstuff your presentation: "Don't try and squeeze too much into your three minutes. Most projects are pretty involved and lengthy. Choose two or three big points; that's much easier to present than trying to go start-to-finish through the entire project."
Practice makes perfect: "During the weeks prior, each day I'd run through it a bunch of times in my head, over and over. I'd practice in front of my wife too, who was probably sick of hearing me do it. I wanted it to be so in my memory that I really couldn't go blank up there over the stress or nerves."
Take your time: "Sometimes I can mumble or speak too quickly, so I just tried to make sure when I was up there I was speaking clearly and enunciating, keeping my posture up and toning down my gesticulations a bit."