Michelle Mahoney used to sit at home while her brother and sister left for a day of skiing on the slopes. She never thought that 30 years later she would be able to join them.

Born with arthrogryposis, a condition that involves lack of muscle in various joints, Mahoney's arms and legs are affected, making it difficult to do certain everyday activities.

"This is all I know," explains Mahoney, an administrative assistant in the School of Occupational Therapy. "This is how I was born, but I can drive a car, I can play the piano. I don't know what it's like to have my hands straight."

Mahoney started skiing this January through the Canadian Association of Disabled Skiiers (CADS) program at Martock Ski Resort. The national organization boasts more than 1,000 members and over 1,900 able-bodied volunteers across Canada.

"It's such a wonderful program for people with disabilities to actually get out and ski," Mahoney says, excitedly. For a membership fee of only $35, which covers insurance, participants get lift tickets for a year as well as all the instruction and equipment.

Mahoney heard about the program through first-year Occupational Therapy student Kristy Taylor.

"I love working here at the school. The students are learning to help me help myself," says Mahoney.
"The perfect thing to do"

Taylor started volunteering with CADS in 2009 at Owl's Head, near Montreal. She is now a certified level two instructor, meaning she is capable at both demonstrating and teaching the skills used by disabled skiers.

While she is most experienced with the sit-ski — the device that Mahoney uses to ski — Taylor is capable of helping others with disabilities such as impaired vision, amputation or limited leg strength.

"To see someone who has never actually slid on snow before is the best thing ever," she explains. Last month, she watched Mahoney do exactly that.

The sit-ski is an adaptive version of skiing, where the chair becomes the equivalent of a ski boot. It gives Mahoney full control to go wherever she wants on the hill.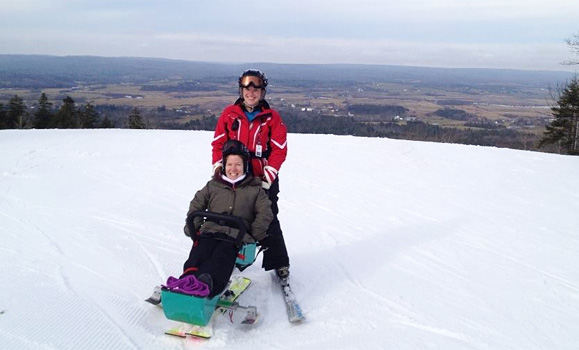 The program at Martock has 15 students, who alternate weekends depending on instructor and volunteer availability. Ten of the instructor volunteers are students from the Occupational Therapy program at Dalhousie.

It's a good fit for students learning a profession focused on helping people with disabilities and mobility challenges to adapt to the world around them.

"It's the perfect OT thing to do," says Taylor. "You are getting people out to do things they wouldn't normally do… We help people with what they want to do, and what they need to do."

Mahoney admits she cried the first time she went down the hill.

"I was so blown away by the fact that they were doing this for me," she says. "I couldn't stop saying 'thank you.' Who would have ever thought of me skiing?"